Richard T. Greener Memorial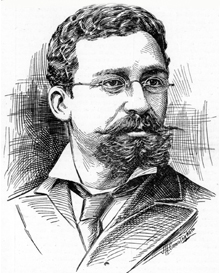 Richard T. Greener was the first African-American professor at the University of South Carolina, serving during the Reconstruction Era, from 1873 through 1877. The University of South Carolina is raising a statue to his honor to be located next to the Thomas Cooper Library.
About Richard T. Greener
Greener was the first African-American graduate of Harvard University. In addition to teaching philosophy at USC, Greener served as librarian and helped reorganize and catalog the library's holdings, which were in disarray after the Civil War. It was unheard of to have a black professor in a Southern university during that period and it would be decades before another black professor would be appointed at USC. While a faculty member at South Carolina he also attended the Law School. His law degree and law license were found in Chicago and later obtained by USC.
After leaving South Carolina Greener served as dean of Law School at Howard University, as a diplomat for the United States in Vladivostok, Russia, as secretary of the Grant Memorial, and he worked in private law practice. Greener was born Jan. 30, 1844, and died in 1922.

The Greener Sculpture
Sculptor Jon Hair as been commissioned to create the sculpture of Richard T. Greener after winning a juried competition in 2013. Hair's design was approved by the USC Board of Trustees Design Review Committee and then the Buildings and Grounds Committee.
How to Give
Your donation will help the University erect this sculpture at the Thomas Cooper Library.
Donate Online to the Richard T. Greener Statue Fund
If you would prefer to mail a donation, please send it to:
Richard T. Greener Memorial Fund
USC Office of Gift Records
1027 Barnwell Street
Columbia, SC 29208
Stay in Touch with us on Facebook
Contact Us
Christian Anderson
Associate Professor of Higher Education
christian@sc.edu
803-777-6702
Lydia Brandt
Assistant Professor of Art History
brandtlm@mailbox.sc.edu
803-777-2362
Katherine E. Chaddock
Distinguished Professor Emerita of Higher Education
chaddock@mailbox.sc.edu