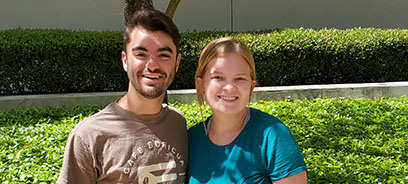 Aidan Thomason and Carlos Sanchez were awarded scholarships to go to Brazil. Aidan received a Fulbright Award and Carlos received a Boren Scholarship. Both students exemplify the value of hard work, rigorous study, and commitment to the Portuguese program.
Aidan will work in Brazil for a year teaching in a post-secondary institution giving guest lectures, workshops, and seminars as well as engaging in other related activities. Beyond Aidan's interest in teaching and Brazilian culture, she would like to analyze how the migration from Venezuela and other countries is affecting Brazil's education system. Her goals for the future include working on improving literacy and language education for displaced students and helping them develop vital skills in reading and language learning in their new contexts.
Carlos will study for a semester at the Universidade Católica de São Paulo (PUC-SP) as part of the CET Academic Program in Brazil. This program is about Social Justice and Inequality in São Paulo and will help Carlos build a foundation for understanding the dynamics of global poverty and inequality while taking Portuguese classes to improve his languages skills and to better engage with the community. His goals for the future include promoting U.S.-Brazil relations and sustainable development, while helping to ensure both global and national security.