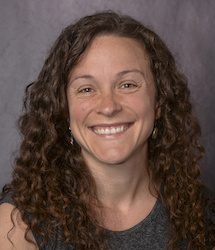 Jada Ach,
English

Jada Ach is a Ph.D. candidate in Nineteenth-Century American Literature at the University of South Carolina, currently working on a dissertation titled Sand, Water, Salt: Managing the Elements in Literature of the American West, 1880-1925. Her research focuses on the often messy relations between humans and environments in literature set in the so-called wasteland spaces of the Western United States at the turn of the twentieth century. Her ecocritical examination of desert spaces in the novel McTeague appears in a 2016 issue of Western American Literature. Jada is the past recipient of the Richey Teaching Award, the Rhude Patterson Trustee Fellowship, the Western Literature Association's J. Golden Taylor Award, and a North Carolina Arts Council grant. She has presented her research at various academic conferences, including the Modern Language Association Convention and C19: The Society of Nineteenth-Century Americanists Conference. In addition to teaching courses in composition and American literature at USC, Jada also leads wilderness writing workshops at South Carolina's Congaree National Park. She greatly appreciates the Bilinski Fellowship's support in helping her complete her dissertation.
---
Tiffany Beaver,
Philosophy

Tiffany Beaver is a Ph.D. candidate in the Department of Philosophy. She completed a B.A. in Philosophy and Psychology from Erskine College, and a Master's Degree in Social Work from the University of South Carolina. She worked as a licensed social worker for nearly five years before returning to USC to pursue her Ph.D. in philosophy. Because of her background in Social Work, Tiffany desires for her philosophical work to have a practical, actionable component. Her dissertation research in applied ethics focuses on issues of responsibility and obligation surrounding modern slavery. Put simply, it asks who is responsible for the current enslavement of millions of people around the world, and what are everyday global citizens obligated to do given the reality of modern slavery? Her dissertation especially presses readers to question their own involvement in the enslavement of global people. Tiffany hopes that her dissertation research will prove valuable to a wide audience including philosophers, practitioners and advocates in the modern anti-slavery movement, and average global citizens. At USC, Tiffany developed a special topics in ethics course (PHIL 103), teaching students about the reality of modern slavery, and empowering them to join the modern abolitionist movement. Tiffany also served as a teaching assistant for several contemporary ethics courses, as well as deductive logic. Tiffany has presented papers at the 2nd Global Conference: Slavery Past, Present, and Future in Prague, Czech Republic, and at the Evangelical Philosophical Society Southwest Regional Meeting. She has also done several presentations on modern slavery issues for campus and community groups and organizations. Her article "Synthesizing ideal and non-ideal theories into a cohesive theory of justice: The case of human trafficking as modern day slavery" can be found in the Journal of Trafficking, Organized Crime and Security (2015).
Tiffany is truly grateful for the support offered by the Bilinski Fellowship.
---

Brandon Boesch,
Philosophy

Brandon Boesch is a Ph.D. candidate in Philosophy. His work centers on the nature and use of representations in science (including models, equations, figures, diagrams, scale models, simulations, etc.), specifically describing how an account of human actions can be of use in understanding the nature of representational actions in scientific settings. He has been published in Philosophy of Science, The Internet Encyclopedia of Philosophy, The American Journal of Bioethics, and a volume forthcoming with Oxford University Press. He has presented at national and international conferences in the US, Finland, the UK, Denmark, Serbia, and Germany. While at USC, Brandon has taught a number of courses in the Philosophy Department, including Philosophy of Emotions, Introduction to Philosophy, Contemporary Moral Issues, and Introduction to Logic. He has also served on a few university committees, including three years on the Committee for Curricula and Courses. Prior to receiving the Bilinski Fellowship, Brandon was a Presidential Fellow and had received a SPARC Grant from the Office of the Vice President for Research (and matched by the Philosophy Department), which he used to study for a semester in Europe at the University of Helsinki and the Complutense University of Madrid. Prior to his studies at USC, he received his Bachelor of Arts from Benedictine College in Philosophy, Biology, and Spanish, with minors in Chemistry and Theology.
---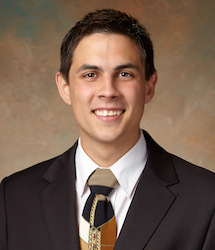 Gerad Gentry,
Philosophy

Gerad Gentry is a Ph.D. candidate in Philosophy. He was a 2016-17 Fulbright Research Fellow at Humboldt University of Berlin and the University of Potsdam. He was also a DAAD, SPARC, and Walker recipient, Lilly Fellow, and USC Presidential Fellow. He received his M.A. from the University of Chicago and B.A. from Houghton College. He is the primary co-editor for a forthcoming book with Cambridge University Press on the Imagination in German Idealism and Romanticism. Other publications include several peer-reviewed journal and chapter contributions on Kant and Hegel. He has presented six distinct APA (American Philosophical Association) papers at the Central, Eastern, and Pacific APA, ranging in subject from the transcendental structure of the imagination in Kant, Fichte, and Hegel, to the function of art in understanding, and pedagogical methodologies in current philosophy. Other work includes presentations at the North American Kant Society, North American Fichte Society, American Society for Aesthetics, as well as several book reviews including for the Journal of Aesthetics and Art Criticism. He is particularly grateful for the Russell J. and Dorothy S. Bilinski Dissertation Fellowship, which makes possible the completion of his dissertation.
---
Kelly Goldberg,
Anthropology

Kelly Goldberg is a Ph.D. candidate in the Anthropology Department at USC, focusing on historical archaeology of the Atlantic Slave Trade. Raised in New Hampshire, she received her B.A. in Anthropology at Hofstra University in 2009, her M.A. at USC in 2014, and is also currently pursuing a certificate in Museum Management. Her dissertation research investigates historic sites associated with the "illicit" slave trade period in coastal Guinea and seeks to understand how continuation of the trade affected the social, economic, and political environments of local Guinean communities. Kelly recently completed a Fulbright Student Research Fellowship, and was also the recipient of the Institute for African American Research Graduate Fellowship, the Ceny-Walker Graduate Fellowship, and the SPARC Graduate Research Grant. She has presented findings related to her research at national and international academic conferences, including meetings of the Society of Historical Archaeology, the Society of American Archaeology, the Society of Africanist Archaeologists, and the Southeastern Conference on Historic Sites. Her work has been published in the Nyame Akuma archaeological journal, and she recently designed and opened a temporary exhibit at the National Museum of Guinea. While at the University of South Carolina, she has taught courses on the Introduction of Biological Anthropology and instructed an Archaeological Field School. Kelly is extremely grateful to the Bilinski Education Foundation for the resources and time this Fellowship will enable her to apply to the completion of her dissertation.
---
Antony Keane-Dawes,
History

Antony Keane-Dawes is a Ph.D. Candidate in the History Department at the University of South Carolina. He earned a M.A. in History from Florida International University and a B.A. in History from St. Johns University. Antony works on themes of nationalism, race, and empire in mid-nineteenth-century Santo Domingo and its place in the larger Caribbean and Atlantic worlds. His research in the Dominican Republic, Spain, and the United Kingdom have previously been funded internally from the Walker Institute for International Studies and the Vice President for Research at the University of South Carolina, as well as externally from the Conference on Latin American History. Antony has published an article with Traversea: The Journal of Transatlantic History and presented at conferences such as The American Historical Association, Southern Historical Association, and the Southeastern Conference on Latin American Studies. Lastly, he has taught Latin American history courses for the History Department as a part of the "On Your Time Initiative" here at the University.

Dissertation Abstract (PDF)
---

Samuel King,
History

Samuel C. King is a Ph.D. candidate in the History Department at the University of South Carolina, where his research explores the historical relationship between Chinese restaurants and Chinese American immigration and integration. His dissertation, "Exclusive Dining: Immigration and Restaurants during the Era of Chinese Exclusion, 1882-1943," interrogates how luxury Chinese restaurants positively commodified Chinese culture in order to improve the sociopolitical status of Chinese American immigrants. Before entering the graduate program at USC, Samuel earned a B.A. in History from New York University, with a minor in East Asian Studies. His research has previously been supported by grants and fellowships from the University of South Carolina, the USC History Department, and the Historical Society of Pennsylvania, as well as a Presidential Fellowship from USC. Samuel is very grateful for the support of the Russell J. and Dorothy S. Bilinski Dissertation Fellowship.
---

Adam Lerner, English
Adam S. Lerner is a Ph.D. candidate in Rhetoric and Composition. He received both his B.A. and M.A. from Purdue University's Brian Lamb School of Communication. His dissertation research focuses on how uncertainty is strategically deployed in health and medical settings. While at USC, he has taught both writing and speech courses, often with explicit or implicit medical, scientific, or technological themes. Additionally, he has spent the last two years as an assistant director of the first-year English program at USC. His wider interests include public engagement with science, user experience design, and technical writing. Adam is grateful for the generous support of the Russell J. and Dorothy S. Bilinski Dissertation Fellowship program.
---

Daniela Negraia, Sociology
Daniela V. Negraia is a PhD candidate in the Department of Sociology at the University of South Carolina. Currently, she is working on her dissertation, which sets to further our understanding on how parenting (i.e., raising children) vs. not parenting, affects adults' subjective well-being (i.e., positive and negative emotions like happiness and stress). More broadly, her research interests include: family, population health, the life course and human development, social demography and social psychology. Daniela has presented her work during the annual meetings of the American Sociological Association and the Population Association of America. At USC, she has taught "Introduction to Sociology" and "Sociology of the Family" and has provided teaching assistance for "Introduction to Statistics for Sociologists". At the University of Groningen, Daniela has taught "Research Practicum for Social Sciences". Before attending USC, Daniela earned a M.Sc. in Sociology from University of Groningen, the Netherlands; a B.A. in Sociology and a B.A. in Psychology, from the University of Bucharest, Romania.
---

Stephen Ruxton,
Political Science

Stephen Ruxton is a Ph.D. candidate in the Department of Political Science at the University of South Carolina. His research interests focus on American politics, public opinion, and political theory, with specific attention being paid to the conceptual construction of representation in American institutions and the public. Previously, Stephen had been awarded a University SPARC Grant to conduct an original survey towards his dissertation research, allowing him to combine the empirical realities of what the public considers representation to be, with the normative implications of representation on democratic principles. He has presented his research at numerous conferences from New Orleans to San Diego. Over the last two years, Stephen has successfully taught courses ranging from Introduction to American Politics to Contemporary Political Theory, being given the Best Graduate Student Teacher Award from the Department of Political Science in 2016-2017. Before attending USC, Stephen earned a Bachelor of Arts in Political Science and Religious Studies at Randolph-Macon College. Stephen is deeply appreciative for the support of the Russell J. and Dorothy S. Bilinski Dissertation Fellowship Program and its contribution towards the successful completion of his dissertation.
---

Holly Smith,
Geography

Holly L. Smith is a Ph.D. candidate in the Department of Geography. Prior to studying Geography at the University of South Carolina, Holly earned her B.A. in Intercultural Communications from Eastern University and her M.A. in Political Science from the University of South Carolina. Her dissertation, "Ammani Youth: Urban Experiences, Regional Changes, and Uncertain Futures" explores how youth living in the "eye of the storm" in Amman, Jordan are experiencing geopolitics in an urban setting dramatically impacted by the consequences of the Arab Spring. Her research is inspired by living in Tunisia immediately after the Jasmine Revolution and witnessing nascent youth movements challenging entrenched state power in the Middle East North Africa (MENA) region. By using ethnographic methods she first illuminates daily experiences and dreams from the often over-looked perspectives of Urban Youth in the Middle East, which she then juxtaposes with narratives about youth in the region using critical discourse analysis. More broadly Holly's research interests include the Urban Geographies, Social Geographies, and Youth Geopolitics. While at USC Holly discovered her passion for teaching and was awarded an "Outstanding New Teacher" award by her department. Holly is most grateful to the Bilinski Foundation for the privilege of being able to focus exclusively on completing her dissertation.
---

Jillian Weber,
English

Jillian Weber is a Ph.D. candidate in the Department of English. She completed her B.A. at the University of Illinois in 2009 and received her M.A. from the University of South Carolina in 2013. Since returning to USC for her doctorate, Jillian has been the recipient of a Presidential Fellowship, an Institute for African American Research fellowship, and a SPARC Grant to fund her research. Over the last six years she has taught literature, rhetoric, and composition classes at the University, as well as contributed to several digital humanities projects about South Carolina literature and culture. Her current focus is on 19th Century American Literature, with an emphasis on African American Literature. Her dissertation deals with athletic female characters during the 19th century and the ways in which they are represented in literature and periodicals. Jillian is incredibly grateful for the support of the Bilinski Fellowship.