In just 10 years, Jessica O'Neill went from the classroom to the head of the table in the boardroom. The 2012 University of South Carolina graduate (B.S., sport and entertainment management) is now president of the Houston Dash of the National Women's Soccer League and chief operating officer of the Houston Dynamo of Major League Soccer.
"I love the energy. I love seeing thousands of people packed in a stadium that are all cheering for the same thing," O'Neill says. "Despite the fact that they might have different political views, religious views, backgrounds, they're all there sitting next to each other and they want the same thing."
O'Neill, a Tampa native, has been a sports fan since childhood. Her love of college football in particular drew her to the SEC when it was time to choose a college, and when she and her mother came to South Carolina for a visit, she learned about the major that would lead to her career.
"I did not know at that point that a path of working in professional sports was possible," she says. "But we spent time with Frank Roach [then a senior instructor in the USC Department of Sport and Entertainment Management] and it just felt right. I knew this was a place where I could grow and learn and see if a career in sports was right for me."
It was. O'Neill excelled as a student in the sport and entertainment management program, which consistently ranks among the best in the United States and is now the first graduate to serve as a pro sports franchise president. The focus on real world experience in the College of Hospitality, Retail and Sport Management led her to internships at Colonial Life Arena and with the Charlotte Knights, then to her first post-graduation job as an intern with the Chick-fil-A Peach Bowl in Atlanta. While there, an opportunity came to take a yearlong position with the Carolina Panthers. O'Neill considered declining it since it was not a permanent position, but her boss in Atlanta gave her advice that changed everything.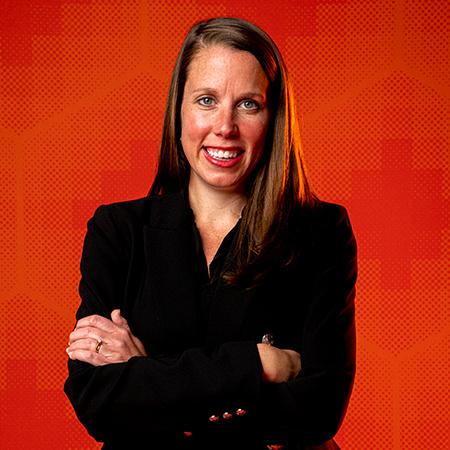 "He said 'Don't worry about the end date. Get there and make sure they don't let you leave,'" O'Neill recalls. She took the position and after six months, a full-time member of the ticket sales staff left. O'Neill was promoted and would remain with the Panthers for eight years, moving up from sales associate to account executive, sales coordinator, ticket sales manager and director of ticket sales.
"If you are contributing to an organization, doing it the right way, going above and beyond, I promise you they will recognize it," she says. "Don't worry about when they're going to promote you. Do the job well and consistently and it will happen."
The move from one kind of football to another for O'Neill came in 2019. Panthers' owners David and Nicole Tepper were bringing an MLS expansion team to Charlotte, and O'Neill was hired as the new club's director of marketing and communications. She played a key role in building Charlotte FC from the ground up, leading to the team's first match on March 5, 2022. That debut for the team came in front of a crowd of 74,479, the largest single-match crowd in MLS history.
Her success in Charlotte caught the attention of Houston Dash and Houston Dynamo owner Ted Segal. That record-setting first match for Charlotte FC turned out to be the farewell performance in Charlotte for O'Neill, who headed for Texas for a new challenge.
Her first season in Houston was a big success. The Dash made the NWSL playoffs for the first time, and their fans packed the stadium. The playoff game was played before a sellout crowd of 21,284, the largest in NWSL playoff history. For the season overall, attendance was up by 54% from the previous year.
That led to yet another promotion for O'Neill, as Segal appointed her COO of the Dynamo in addition to her role as president of the Dash.
O'Neill's success as a young woman in a sport industry historically dominated by men garners much interest in the challenges she has overcome.
"I really believe in focusing on what you can control. There's hatred in this world, there's bigotry, there's discrimination," she says. "I choose to focus on the good energy, the good talented individuals, the incredible impact on the community. There have been ups and downs in the last 10 years. I wouldn't trade any hard moment that I've had. The victories are so much more rewarding when you've gone through the difficult times."