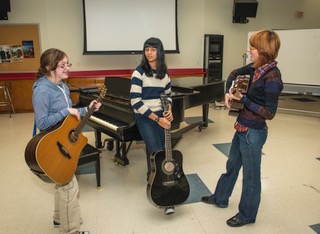 Whether you are looking to play guitar from scratch or enhance your existing skills, this new guitar camp at USC has you covered! Through fun activities and games we will explore the basics of music reading, strumming, picking, and finger-picking techniques in both solo and group settings. The last day of camp will feature a "Guitar Show" starring all participants demonstrating how much they learned.
Recommended age: 8 and up
2018 Dates
June 25-29
Monday through Friday from 9:00 a.m. to 12:00 p.m.
Tuition
$195

*Minimum enrollment required
For more information, contact Summer Guitar Camp director Alma Sehic Van Duys at avanduys@mozart.sc.edu.