Blake Frazier, '12 BSN
Mayo Clinic School of Health Sciences, Student Registered Nurse Anesthetist
Doctor of Nurse Anesthesia Practice Program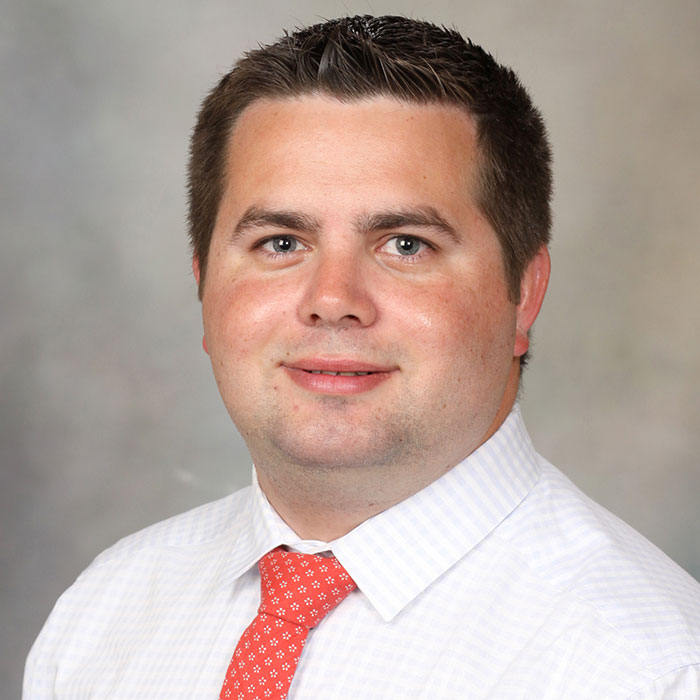 Tell us a little bit about you.
I grew up in the small town of Latta, SC. My aunt worked at a small hospital in the area and got me involved one summer as a volunteer at the hospital. I ended up shadowing various healthcare professionals and that helped me decide to go to nursing school. I wanted to attend the University of South Carolina ever since I can remember, but did not settle on nursing until my senior year of high school. Throughout nursing school, losing my father and other experiences in nursing school led me to my passion of my critical care nursing. Life after nursing school took me to the Mayo Clinic in Rochester, Minnesota. As a nurse for the past six and a half years, my entire career has been spent working in the intensive care unit. I am now enrolled full-time in graduate school to pursue a career as a Certified Registered Nurse Anesthetist (CRNA).
What is the most interesting thing you've seen or done as a nurse?
As a nurse in the Adult/Pediatric Cardiac Surgery/Transplant Intensive Care Unit at the Mayo Clinic, I have been involved in so many incredible cases. There were several kids (and adults too) that would not have made it out of the hospital alive, but Extracorporeal Membrane Oxygenation (ECMO) was able to give them a chance to live until new organs could be found for them. In addition to being a nurse in the unit, I was also an ECMO Specialist so it was awesome to expand my knowledge on mechanical devices and care for these special patients. I cared for many of my most memorable patients in this unit and loved taking care of the pediatric and ECMO patients.
When you aren't at work, where can you be found?
I love to travel! If it's in the fall, you can probably catch me on a plane traveling to South Carolina to enjoy Carolina football at Williams-Brice. My favorite place to visit in the winter would be the Caribbean. Minnesota winters get long, so it is a must to get out in the winter and enjoy a nice vacation somewhere warm.
What does it mean to you to be a Carolina Nurse?
I am so proud to be a Carolina nurse. Being a Carolina nurse means to me that I embrace excellence and innovation. As a Carolina nurse, I was taught that nurses would lead the way in transforming healthcare. My education at USC College of Nursing prepared me well to enter the work force and to attend graduate school.
You're a member of the College of Nursing Alumni Council. What about the council interested you, and what would you tell an alumnus who is thinking of applying?
I was interested in the alumni council because I felt that after all of the opportunities that USC College of Nursing has given me, I wanted to give back. As an alumnus that is still actively engaged with the college, I want to be a role model for other alumni and encourage alumni to be active in supporting the college. Being a member of the alumni council does require a level of commitment, but it is very manageable so do not let that hold you back from joining the alumni council.
What advice would you give to a current nursing student or a new graduate?
My advice to current students would be to study hard and get involved. I was very active in the Student Nurses' Association as a student and it provided me so many wonderful leadership opportunities. Working as a student nurse technician and trying to get a summer nursing internship or externship is also a great step to gain experience while still in school. Enjoy your time as a student—it passes so quickly!

To new graduate nurses, my best advice would be to always ask questions and never stop learning. Find a job in an area that you like and with supportive co-workers. You will have hard days, but keep pushing and remember why you chose to become a nurse. Nursing is an amazing profession and the opportunities are endless.
---