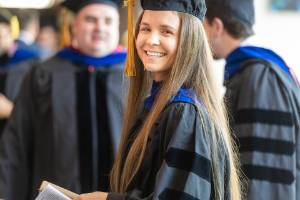 Agnes Bucko, PhD, recently graduated from the Exercise Science doctoral program in the Arnold School of Public Health at the University of South Carolina. Previously, she received her Bachelor's degree from Loyola University Chicago, double majoring in Psychology and Spanish Language and Literature. She went on to receive her Master's degree in Psychology from Arizona State University. Wanting to combine her interests in child development and health behavior, she joined the Children's Physical Activity Research Group (CPARG) in 2017 and pursued her PhD in Exercise Science, with a focus on the health aspects of physical activity.
"Working with the CPARG team helped me gain experience with longitudinal study designs and taught me the various ways physical activity can be measured and analyzed," Bucko says. "Most importantly, it allowed me to understand the various levels at which researchers can intervene when trying to increase physical activity levels, specifically among children."
Her work with CPARG and Dr. Pate also gave her the opportunity to explore the field of sleep and understand how it is associated with physical activity and the development of weight status in children. She recently joined Dr. Catrine Tudor-Locke's research team at the University of North Carolina at Charlotte, where she will be a Postdoctoral researcher for the SKyRoCKeT study. She is excited to use her previous experience working with children to assist in developing cadence cut points. These cut points can be used to further improve upon physical activity research and interventions in children and adolescents.
In her spare time, she likes to cook and bake, especially the traditional Polish foods that have been passed down to her from her mother. She recently developed a passion for Formula 1 and spends most of her weekends during the season watching Grand Prixes. She also enjoys spending time outdoors and hiking, biking, and skiing whenever she can.