Paradise found
Carolina alumna and benefactor Darla Moore has turned her ancestral home from family farm into must-see botanical garden
Back in the day, Eugene T. Moore Sr.'s farm in Lake City, S.C., was abuzz with tractors, the crops planted within a stone's throw of the farmhouse back door. His eldest granddaughter, Darla Moore, remembers the pungent aroma of tobacco leaves in the drying shed and the steady drone of cotton and soybean harvesters at summer's end.
Something was always in motion at the farm, and Darla liked being right in the middle of it. Though her grandfather and father have since passed, the thousand-acre Moore farm, in the family since the 1790s, is still under cultivation. But something extraordinary has happened to a 65-acre parcel surrounding the farmhouse — a horticultural metamorphosis that makes the transformation of a caterpillar to butterfly seem almost trifling by comparison. It began with a few flowers — and, as you might guess, Darla Moore was in the middle of it.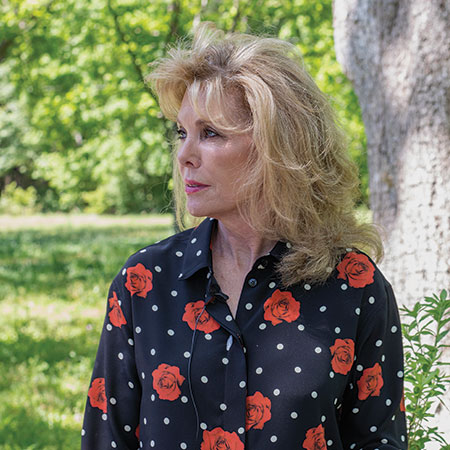 "I never said, 'Let's start a botanical garden,' " says Moore, a 1975 University of South Carolina graduate and namesake of the university's business school. "This was all organic, all iterative."
She's referring to a part of the property that's become a lush paradise of flowering plants, trees and ornamental shrubs, an oasis sculpted with water features and winding pathways that seem to have sprung to life from the pages of Southern Living. The clichés — hidden gem, secret garden, diamond in the rough — barely begin to describe the Moore Farms Botanical Garden, which is currently open to the public on select days and by appointment.
Though not actually part of the garden, the Moore farmhouse was the epicenter of the garden's development.
"Through the years, I started coming back here more frequently, and when my father became ill, that made me come back even more often," she says. "I had this home, my family's homeplace, and I started to add to it, plant bushes and landscape."
Jenks Farmer, a plantsman, helped give direction to Moore's newfound gardening interest and the gardens began to grow — a lot. Moore and Farmer would take a little more of the farm each year and say, "Why don't we add an orchard here or another flower bed there?" "We let the land inform what we did with it," she explains. "It was never, 'OK, we're going to take 60 acres and design a world-class botanical garden and go find all the plants we need to fill it up.' It was a gradual thing."
The tipping point came as the staff required to maintain the ever-expanding garden increased. Moore made the decision to put the garden, the farmland and the forests surrounding it in a nonprofit organization, funded by the Darla Moore Foundation.



Not your garden-variety botanical garden
"In comparison to other botanical gardens around the country, this one is very young, but it has the infrastructure and design of something much more mature," says Carlo Balistrieri, executive director of the Moore Farms Botanical Garden. Plantings look mature beyond their years, and pre-existing trees were preserved wherever possible.
An interesting attribute of the garden is its extensive horticultural outreach effort in downtown Lake City. As part of Moore's pledge to give back to her community, the garden staff designs, plants and maintains street plantings, pocket parks, alleyways and other gardens covering 15 acres in the downtown area.
The garden itself had 10,000 visitors in 2017 — 3,500 of them K-12 students who came in school field trips arranged through the garden's education and event department — and is already 2,000 visitors ahead of this time last year. About 1,400 a year visited prior to 2013 when public programming began in earnest.
"Our visitation is driven primarily by events, classes and programming," says Balistrieri, who has held positions at several premier gardens during his career. The garden also does research and conservation work — including wildlife management and ornamental horticulture. Tying these disparate threads together into one forward-looking institution is a challenge. "Part of why I was brought here was to eventually lead the garden through a strategic planning process that will determine its direction for years to come."
Word about the Moore Farms Botanical Garden is getting out, though, and that's feeding into the growing phenomenon of garden tourism. Balistrieri predicts that interest in the unique attraction will continue to grow. With many visitors traveling more than 100 miles, the nearby town of Lake City stands to benefit. That's part of what Moore had in mind when she created the garden and launched ArtFields, an annual art exhibition/competition that attracts artists and thousands of visitors to her hometown.
"Because it's a destination garden, it serves a role as an economic engine for this region," she says. "We're out in the country, but it's not hard to get here — and more people are discovering that all the time. My father loved this place so much — he'd be ecstatic if he could see what we've done."