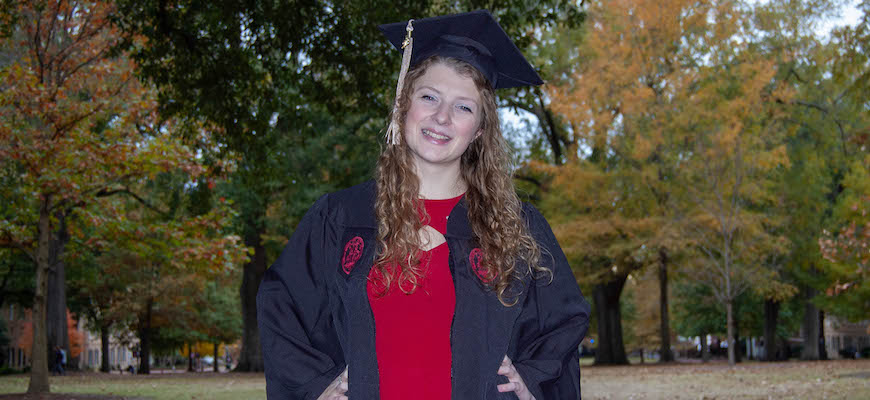 Aloha
Passion for her chosen field combined with hard work takes Tayler Metivier to multiple job offers at graduation
---
By Allen Wallace,
awallace@sc.edu
, 8037775667
---
An old saying tells us that if you find a job you love, you'll never have to work a day in your life. Tayler Metivier has embraced that philosophy, and it's led her to finding her path at the University of South Carolina and a solid foundation for an incredibly successful career.
"I have fun with work," says Metivier, who will graduate with honors this month with a Bachelor of Science in Hospitality Management and a job in Maui, Hawaii, as an operations corporate management trainee with Hyatt Hotels.
"I've never been one to hate work. I picked the field I'm in for a reason.", she says. "I enjoy being in class all day, and I enjoy my job," currently with the Hilton Columbia Center.
Metivier did not know a career in hospitality management was a possibility until she heard about the major from UofSC College of Hospitality, Retail and Sport Management recruiter Collin Crick during a visit to campus while she was still a high school student.
"People always ask me how I get all these cool job offers. It's because I'm involved in things outside of class."

Tayler Metivier
The major appealed to her because of her love for travel and meeting new people. While excelling in class, she found time to expand her professional growth on campus — joining the UofSC chapter of the National Society for Minorities in Hospitality and the Eta Sigma Delta International Hospitality Management Society. She applied and was chosen to serve as a college ambassador and to attend the Young Hoteliers Summit in Lausanne, Switzerland. She also studied abroad in Australia for a semester.
"Being able to take my degree abroad was cool," she says of those journeys. "It's my passion for travel but also related to my degree and making friends."
Metivier gained real-world experience in the hospitality industry throughout her time at UofSC, working with Hilton during the school year and as an intern with Hyatt last summer. She says the extra commitments have made all the difference to her college experience.
"That's the number one thing I would tell anybody," she says. "People always ask me how I get all these cool job offers. It's because I'm involved in things outside of class. In NSMH, we go to a conference every year. I got three job offers from there. I go to career fairs. I go to info sessions. I attend the things the college and my professors promote and I get opportunities from them."
Metivier, who was born in British Columbia, moved to Myrtle Beach, S.C., as a high school sophomore. While the move was difficult at the time, it taught her that it is possible to make new friends anywhere, a lesson that helped give her the courage to take chances, try new things and go to new places. Asked for advice for those who are afraid of being in a place where they don't know anyone, she gives a simple reply.
"Just do it. It's not as hard as you think it is," she says. "I think it's all about just being open to meeting people and making friends. You'll find somebody."
She has done that as a student, stepping forward and building relationships with her peers and with her teachers as well. "They're my friends, too," she says of the UofSC faculty and staff. HRSM's Crick, Andy Gillentine, Glenna Gillentine and Scott Smith have been particular influences, but she says "Everyone at the college deserves recognition because they are all so wonderful."
Having earned her degree in under four years and having received multiple job offers as graduation approached, Metivier will head west in January to another new place for another adventure. Leaving the university she loves is not easy, but she knows she can handle it.
"I feel ready for the outside world. I think that has a lot to do with the experience I've gained here," she says. "Course work helps as well, but the outside things like clubs and internships and studying abroad really make you a fully rounded person."
---
Share this Story! Let friends in your social network know what you are reading about
---