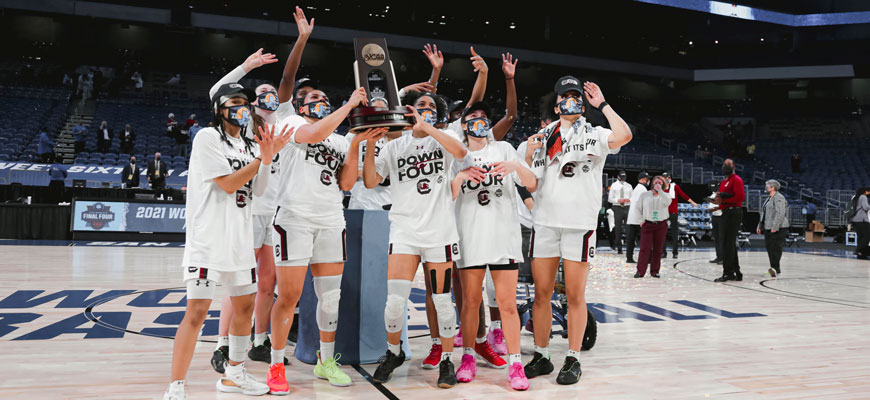 Utility players
Diana Koval, Cynthia Jordan work behind the scenes to help women's basketball shine
---
By Page Ivey,
pivey@mailbox.sc.edu
, 803-777-3085
---
The players have their names on their jerseys and women's basketball head coach Dawn Staley is announced to thunderous applause at home games (sometimes at away games as well).
But behind the scenes at one of the University of South Carolina's most successful athletics programs are two women — one all of 5-foot-3 and self-described as "not much of an athlete" and one who was a standout in Staley's first recruitment class at Temple — who make sure the team runs just as smoothly off the court as on.
Diana Koval and Cynthia Jordan — CJ to her friends and co-workers — play two very different roles with the women's basketball team.
As director of athletics communications and public relations for the team, Koval makes sure the team gets its due in the media and that visiting reporters and game announcers know every fact, figure and feel-good story there is to tell about the team.
As director of basketball operations, Jordan, a former collegiate star herself, makes sure the planes and buses run on time and tries to make sure everyone gets the food they want.
Though they come to the team from different disciplines and backgrounds, they both play key roles in making the team the best it can be.
"Both CJ and Diana play integral roles with women's basketball, ensuring that they have that success off the court," says Maria Hickman, executive associate athletics director and chief diversity officer for Athletics.
True team player
Jordan says the only common element between what she does as director of basketball operations for the Gamecocks and what others in the same position do around the country is the title. The tasks and duties are as varied as the coaches who head the programs.
"At the end of the day, the job duties are described by the head coach and what they're comfortable with," says Jordan, who has been in her position since 2011. During a game, her tasks include being the extra set of eyes on the shot clock when the Gamecocks are on offense to help prevent a turnover.
But off the court, Jordan is the person who makes sure the team gets where they are going and that they are fed — a task that creates some of the greatest challenges.
"CJ is that person on the staff that does a lot of that grunt work, the behind-the-scenes things that other people don't want to do, but she keeps that unit functioning and is always willing to jump in and complete a task that is going to make them more successful," Hickman says.
Jordan says those tasks range from budgeting and game scheduling to academics and managing graduate assistants.
"I pretty much am involved in the top to bottom of the program to really put the coaches in a position to focus on coaching," she says. "A lot of that is just attributed to my time with the program and really understanding Coach and her confidence in what I bring to the table."
Jordan has worked with Staley since the beginning of Staley's career at Temple. The Virginia native was a part of Staley's first recruiting class and played professionally after playing four years at Temple — including three Atlantic 10 tournament championships and playing in three NCAA tournaments.
After graduating with a marketing degree, Jordan played professionally in Europe before returning to Temple as a graduate assistant working for Staley. In addition to learning the ins and outs of creating a successful women's college basketball program, Jordan earned a master's degree in sport management from Temple.
When Staley came to Carolina in 2008, Jordan came along, first as video coordinator, now as director of basketball operations. Jordan says Staley's goals for her teams have always been the same — to win the national championship. But it is her commitment to her players that lasts well beyond the playing years that are the real mark of success.
"It's really not about the four years or however many years you have left if you transfer into the program," Jordan says. "It's really about a lifetime. So that's really what this program embodies — that's who Coach is. She's a player's coach, but she's ultimately a family member and somebody that, as a former player, you can count on later on in life."
Preparing players for the spotlight
Koval echoes that sentiment about family.
She likes to tell the story of Staley, after winning the 2017 national championship, sending trophies that she had made to all the people she ever played with and coached to let them know they had a hand in the title because they had a hand in making her the coach she is today.
"That's just who Coach is," Koval says.
Koval's path to working with a national championship basketball team began appropriately in North Carolina, but was a bit more circuitous. She earned a business degree from the University of North Carolina, while also writing for the Daily Tar Heel, before going to work in the banking and finance industry in Charlotte. She literally started in the mailroom at a brokerage firm, but after moving up in the office over the next few years, she decided that high finance was not for her. She got accepted into the sports management program at the University of Connecticut and landed a job in the athletics department, where she actually got to work with the famed women's basketball team.
From there, she worked as an intern in a small athletics office in Elon University.
"I was the first intern they ever had there and it was a one-man sports information department," Koval says. "And it ended up being the best thing that ever happened to me because I could take on as much as I wanted to. And it was a blank slate for me to do with whatever I wanted. And so the level of experiences that I got there were amazing."
She made a brief stop in Western Carolina before spending eight years working at Saint Louis University, where she worked with men's basketball, women's soccer and baseball.
She then decided to return to the Southeast to get closer to family and the opportunity to work for a large program came up at South Carolina in 2007. In addition to being the sports information director for the women's basketball team, she also works with the men's tennis team, who had its first national singles championship winner in Paul Jubb in 2019 — leading some in the athletics office to joke that Koval might be the key element to winning a national title.
"The joke in our office is 'Diana has your sport, start piling up trophies, she's going to get some more rings.' But really I have nothing to do with it."
She does have some impressive hardware particularly with the success of the women's basketball team over the past 10 years. And some of the off-the-court success individual players have can be attributed to Koval, Hickman says.
"Diana does a great job of getting to know the students, their parents, where they come from and assisting them on how to interact with media, how to present themselves in front of the camera, what questions may be coming," Hickman says. "She does a great job of prepping them for what's to come so they don't get in front of that camera and look like a deer in headlights."
And that gives Koval some of her greatest job satisfaction.
"You can bring in a player who's not very comfortable with interviews at all and by the time they're graduating, they're all pros at it," she says. "Maybe it's just them getting more confident over time. Maybe it's little tips that you gave them along the way. Maybe it's some of the formal media training we did. Maybe it's a little bit of all of that, but it just makes you feel really good.
"They're going to go the WNBA now and know what they're doing or they're going to go out in the world and really be able to present themselves because they had this opportunity to step into the spotlight and really shine."
It is that growth and development of the student athletes under her watch that provides Koval's favorite part of the job.
"I just enjoy being around them and seeing them be college students instead of this iconic person that everyone else sees them as," she says. "And seeing them grow over the course of their four-year careers and seeing the bonds that they have: It constantly reminds me of me and my college friends and how the bonds you form in college become typically the bonds for your whole life."
---
Share this Story! Let friends in your social network know what you are reading about
---
Story Topics