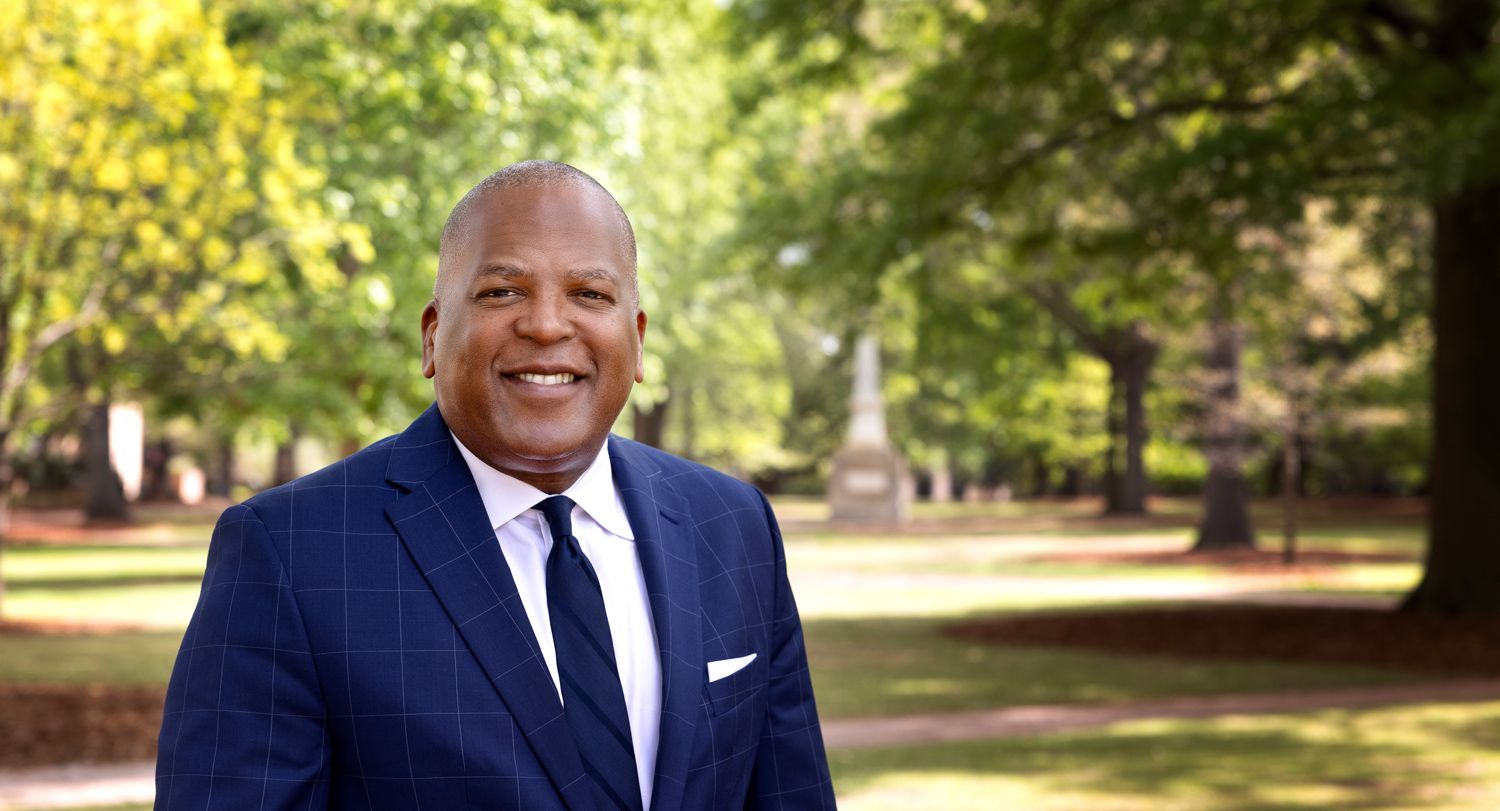 Steve Benjamin, former mayor of Columbia and two-time graduate of USC, is director of the Office of Public Engagement and a senior adviser to the president and the White House.
Benjamin sat down with USC Today earlier this year to discuss the job and how his experiences as a political science major and law school student prepared him for his 12 years as Columbia mayor and for his new role in the White House.
Benjamin was also student body president while at USC and president of the Student Bar Association at the School of Law.
---
So tell us about your new job at the White House. How did that come about?
I received the phone call just after the New Year, asking if I'd be interested in joining the administration, supporting the president at the White House. The role is senior advisor to the president and director of the Office of Public Engagement. The office is important to having a government that's accessible to its citizens. It's considered to be the front door to the White House, and I believe represents the sacred relationship the president and the vice president have with the people that they serve. So we interface with every group, everyone imaginable, from the business community to labor community to civil rights community to every trade association, major league sports, the Boy Scouts and the AARP. It's about making sure — as the president asked me when we had our first chance to meet — that not only are we sharing the successes of the administration and relaying them in relatable ways, but more importantly, presenting an ear to receive constructive criticism as to how we can do the job better.
Out of all the skills that you have acquired over your adult life, which one do you think is going to be called on the most in this role?
I believe that being a mayor prepares you in a unique way for this role. Local government is usually the most relevant form of government in people's everyday lives. We engage not only in issues of high finance and policy, but we're literally accessible to the people. When I get things right or even wrong, as I did over 12 years, I was able to get advice and counsel from my citizens at church or at the post office or the traffic light. And I believe that level of accountability and accessibility is important in every role of public trust and certainly one that's meant to be the eyes and ears of the White House.
Also, I learned from my parents and grandparents growing up that God gives you two ears and one mouth for a reason. You're supposed to listen twice as much as you talk. So I plan to listen and work with people who share opposing views to come up with pragmatic, thoughtful solutions to complex problems. That's the way my parents raised me. And that's a skill that I hope will be very useful in this office.
As a Democratic mayor in a Republican state, you probably had to do that all the time, bring people with different viewpoints together.
I'm a student of politics and a significant number of our citizens didn't necessarily — if you had to pick red or blue — align with me. But we worked to make sure that we represented all of our citizens. When I left office, I left with a 77 percent approval rating, and I take it as a badge of honor that we were working hard to represent the interests of all our citizens.
So now after 12 years as mayor of Columbia, did you just say, "That's enough"?
We don't have term limits in South Carolina, but in our home, we have term limits. We planned to do eight years. We planned to do two terms. But there were some really important projects — particularly the Bull Street Project, which is seeing incredible success right now — that I wanted to see through. I thought an extra term was important to make sure it was a success. And it is an amazing investment approaching $1 billion on that campus.
But 12 years was definitely enough. We dedicated much of our professional lives — and it's a family affair, so our personal time as well. So I felt that that chapter was over, and it was time for new challenges and more time with DeAndrea and the girls.
I will tell you that it was it was the professional joy of my life. I loved serving as mayor of Columbia. And if I was half as good to the people of Columbia as they were to me, then all's well.
Tell us a little bit about your time at USC. Obviously, being student body president had a big impact on you, but what were some of the other experiences that you think helped as you navigate your professional life?
As a college freshman, I found a diverse community of people from all across the globe, committed to — yes, academic excellence — but really committed to the issues of the day. I mean, whether it was ending apartheid in South Africa and calling for disinvestment of our pension funds or taking the Confederate battle flag off the state Capitol or encouraging active participation in this great country through voter registration, I found a whole lot of folks who thought like I did and pulled me into any number of social activities. I found a core group of mentors who were fellow students as well as administrators like Dennis Pruitt, Jerry Brewer and Ralph Johnson, who at that time was assistant dean of student affairs for minority affairs. They created a very safe environment to engage and lead and pull people together.
I led the USC chapter of the NAACP for two years, starting the end of my freshman year. Before I became student body president, I was a student senator. And the leadership journey along the way was as robust outside of the classroom as it was inside the classroom. The impact of extracurricular life helps you understand that your experience at the university is meant to serve as a microcosm of society, a representation of the world that you're going to be stepping into. And my experience as a Gamecock truly prepared me for the real world in some meaningful ways.
Also, your fellow students will be your peers when you get in the professional world, right?
That was certainly my experience in law school. We wound up practicing law with, working with, opposing, practicing in front of judges, who were our classmates. It is a wonderful and healthy ecosystem that changed dramatically over the last few decades as the university has established even more of a national and international footprint. I think the opportunities for the students here are that much greater.
Did you meet your wife — federal appellate court Judge DeAndrea Benjamin — at Carolina?
I was a law student and she was a senior at Winthrop University. Two friends introduced us and we just kind of kept "meeting." I think she was stalking me — I'm just joking.
A fraternity brother of mine was dating a sorority sister of hers. And then I wound up attending church with one of my closest friends, who's a law school classmate and didn't realize that they grew up in church together. So I met her again at church and we just kept "meeting" and decided I needed to keep her around. Best decision I ever made.
So this job that you're stepping into could easily be limited by a possible change in administrations in two years. Are you going in saying this is going to be a two-year gig, a four-year gig, a six-year gig?
I consider it an honor to serve our country by serving this president. And I'm not putting any timestamp on it. I'm just going to go work my butt off on behalf of the American people. We're going to hit the ground running.
I'm really just focused on wanting to do a good job. We're stepping in at such a historic moment. The amount of serious policy that's been passed by the president and Congress. We're talking about a historic infrastructure bill, the Inflation Reduction Act, making unprecedented investments in climate change and resiliency efforts; the CHIPS Act bringing high-tech advanced manufacturing back to the States from across the world. There's just so much going on right now.
The president has made it clear to anyone who speaks to him that he believes in growing this economy from the bottom up and from the middle out, and continuing to work alongside of him to make that a reality for every family will be my only focus.
So what are you looking forward to about being in D.C.?
I'm a bibliophile. I love to read. I love museums. So I will probably be spoiled taking in all the different Smithsonian museums across the district. But I look forward to truly appreciating the fabric of the center of our democracy, the people's house. And I look forward to opening up those doors to as many people as possible. We're thankfully in a relatively post-pandemic environment. We had a few years there with the White House where the campus itself was not as accessible to people. And now we're beyond that. So I hope to welcome more and more people onto the grounds there.
That's got to be so cool to go to work in the White House every day.
I think it's going to be exciting. I've talked to people who've worked in this administration and the Trump administration and the Obama, Clinton and Bush administrations and actually some Reagan alums as well. And they say that the magic of the place never gets old.
I think when you've been blessed with the opportunity to work there for the American people, it should be incumbent upon you to make sure that as many people as possible feel that same magic.
For Gamecocks and South Carolinians, how would you envision that they would interact with this particular office?
I would encourage people to go online to learn more about the Office of Public Engagement. The role we play is meant to serve as a gateway to other more relevant parts of the American government.
I hope that people would reach out to our office directly. At very least we can help connect the dots for people. I want to encourage people to do the White House tours. This is the people's house. It has an effect on all of us, but particularly on children.
Did you go to the White House as a kid?
No, but I remember going to D.C. as a sixth-grader and it was formative. I was kind of an odd kid. I knew more about politics than a 12-year-old probably should at that time. But I think I think every child should have those opportunities.