Global Service Leadership : YOU Creating Change
USC Encourages Faculty, Staff, and Students to
Create Change through Global Service Leadership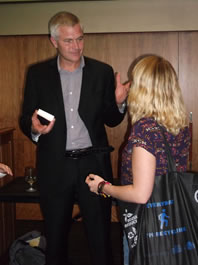 Social Entrepreneur in Residence,
Greg Van Kirk
100% of surveyed students said they are more likely to implement integrative learning methods or collaborate with others
Global Service Leadership Week focused on three of the five USC Connect Pathways – Global Study, Community Service, Peer Leadership – and provided opportunities for students to consider and international venue for the pathways of Research and Internships. In addition, the week provided multiple opportunities to bring together over 500 faculty, staff, and students together to talk collaboratively about integrating global study, service, and leadership into their coursework and professional lives.

"I realized that while school is very important, …you need to try to integrate everything that makes you passionate"
(Student participant)
Follow up work with participants showed that 100% of those surveyed found their attendance and involvement helpful in making connections to specific theories, concepts, or ideas in their work.
"[I] learned more about Social Entrepreneurship Corps, and had some discussions with other staff/faculty on campus about collaborating to increase service learning opportunities for USC students"
(Staff participant)
The week-long event featured International Social-Entrepreneur-in-Residence, Greg Van Kirk. Highlights included a keynote address and targeted sessions for faculty (see the presentation), advisors, and students with Professor Van Kirk.
"[An] Understanding of the speaker's approach to service learning [was helpful]"
(Faculty participant)
Global Service Leadership Week was sponsored by USC Connect in collaboration with the Office of Study Abroad, the International House at Maxcy College, the Center for Teaching Excellence; and the Moore School of Business.
Contact Us
Please contact us with any questions or comments:
USC Connect
Thomas Cooper Library, Suite L132
University of South Carolina
Columbia, SC 29208
803-777-3272
Irma Van Scoy, Executive Director
Damara Hightower-Davis, Assistant Director
Natalie Smith-Kenner, Administrative Coordinator
Nick Vaught, Student Services Coordinator
Lisa Camp, Student Advisor
---