Student Gateway
sc.edu/students
Check your grades, find out how to get involved and catch the latest university announcements. The Student Gateway connects you to everything you need across sc.edu.
Preparing for Classes
Academic Advising

Academic Bulletins
Academic Support
Check Grades

Exams and Commencement
Graduate School Resources
International Resources
Register for Classes

---
---
---
The three-year campus wall renovation project has entered its final phase, with work scheduled for completion in fall 2018.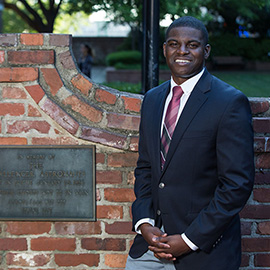 Political science alumnus James Anderson credits Gamecock connections for his success as he embarks upon the next phase of his career in foreign policy work. The Air Force officer, who helped found My Carolina's Veterans Alumni Council, will study U.S. and Canada relations as part of a Fulbright Scholarship in September.
What do you get when you cross an educator, an avid sci-fi fan and a tinkerer? Morgan Stefik's family got a highly curious child who took things apart to figure out how they worked or how better to rebuild them.
View More Stories