« Back to Exploring USC Connect
Exploring USC Connect
Jessica Bunting at Discovery Day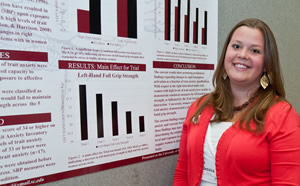 My USC Discovery Day Story
By Jessica Bunting
Senior, USC Lancaster
I was nominated by Associate Professor Kate Holland, Ph. D. to present research at the USC 2012 Discovery Day. Although I was hesitant to present alone and without the comfortable buffer of my fellow lab assistants, I graciously accepted the nomination.
Admittedly, I was nervous about what types of questions I would be asked regarding my research. Therefore, I rehearsed my presentation over and over to ensure that I could convey the information in an understandable way. I also tried to make my poster as clear and precise as possible. This made presenting the information easy to explain and understand. Also, having a poster with graphs and charts gave onlookers a visual that I could reference for extra clarity.
To my surprise, I actually learned more about my research through my rehearsal and preparation for Discovery Day. Practicing my presentation and creating my poster required me to learn the information inside and out.
Coming from a small regional campus, being able to meet and interact with students from all different majors was my favorite aspect of Discovery Day. Like the research, the student presenters at Discovery Day had such diverse interests that it made conversing interesting and easy. Overall, USC Discovery Day was a fantastic learning experience and I am excited to attend again in April 2013.

---
Contact Us
Please contact us with any questions or comments:
USC Connect
Thomas Cooper Library, Suite L132
University of South Carolina
Columbia, SC 29208
803-777-3272
Irma Van Scoy, Executive Director
Damara Hightower-Davis, Assistant Director
Natalie Smith-Kenner, Administrative Coordinator
Nicholas (Nick) Vaught, Student Services Coordinator
---