Faculty and Staff Resources
Integrative Learning and USC Connect
Three components to help students integrate learning:
Educationally purposeful Beyond-the-Classroom Experiences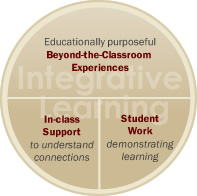 Field work, internships, study abroad, research, fine arts performances, student organizations, special events, and community service are just a few ways students can engage in meaningful experiences beyond-the-classroom.
In-class support
Connect coursework & beyond the classroom experiences with thoughtful questioning, class discussions, small group activities, demonstrations, case studies, and other opportunities for students to share perspectives. These activities help students to understand connections between course material and outside class experiences.
Student work

Professor David Miller describes an example of integrative learning
Papers, in-class presentations, reports, e-portfolios, artwork, performances, conference presentations, blogs, Wikis, websites, original programs/events give students opportunities to learn and apply their knowledge to new situations.
We will continue to build our resource pages for Faculty and Staff. Please share strategies that work for you: E-mail articles, syllabi, or recommendations.


---
Contact Us
Please contact us with any questions or comments:
USC Connect
Thomas Cooper Library, Suite L132
University of South Carolina
Columbia, SC 29208
803-777-3272
Irma Van Scoy, Executive Director
Natalie Smith-Kenner, Administrative Coordinator
Katherine Hilson, Graduate Assistant
---