Part of The Research Institutes Funding Program
Funding for this interdisciplinary research institute was generously provided by the USC Office of the President and Office of the Vice President for Research.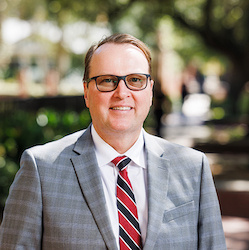 The Importance of the Institutes to USC
The Research Institutes Funding Program was offered as a competitive one-time funding opportunity in 2023 to support promising interdisciplinary research with the potential to enhance the lives of South Carolinians.
USC research is committed to supporting the health, wellbeing and prosperity of our neighbors throughout the Palmetto State. To do this, USC's world-class faculty join forces—and perspectives—bringing their unique expertise to bear on complex issues that demand comprehensive responses.
USC has the state's most extensive slate of academic disciplines,making our faculty a powerhouse of interdisciplinary research excellence. The Research Institutes Funding Program aims to harness this deep well of knowledge, skills and talent to both address pressing issues affecting our state and develop our faculty's interdisciplinary research networks to grow their impact.