Our planners have working knowledge of which venues work best for groups of 30 or 3,000. Whether you contract directly with a venue's onsite planner or rely on our full-service team, expect attention to detail. You'll have a dedicated contact for your event ready to address venue, catering, guest accommodations, audio visual, set up and parking needs.
Featured Venues
Managed by Continuing Education and Conferences, the University Conference Center is the premier conference space on USC's campus. Located just across the sidewalk, Barringer House and Finlay Gardens offer intimate gathering spaces for your next special event.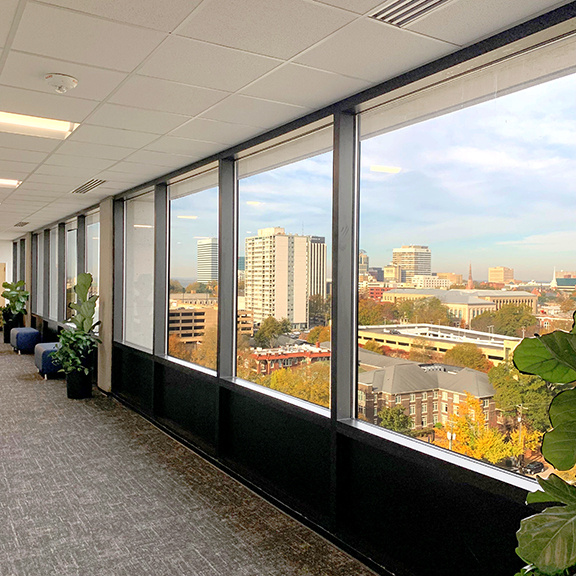 University Conference Center
Housed on the 8th floor of the Close-Hipp Building, this space is newly renovated and boasts a 150-seat auditorium, two 100-person multi-purpose rooms, four breakout classrooms and a board room. Did we mention sweeping views of the capital city?

Barringer House
The former home of Flora M. Barringer, located on the corner of College and Barnwell streets, served for many years as the university's Alumni House. Barringer House offers gathering space for small receptions, lectures or meetings.
Finlay Gardens
Looking for the perfect backdrop for your outdoor event? Two beautifully landscaped gardens behind Barringer House play host to luncheons, receptions and departmental gatherings.
Additional Campus Venues

Auditoriums
Choose from an array of auditoriums with seating from 75 to 500, including the W.W. Hootie Johnson Performance Hall in the Darla Moore School of Business.

Campus Room
Blend modern and historic in the Campus Room at Capstone House residence hall. Customize technology and layout to suit a meeting, reception or seated banquet.

Carolina Alumni Center
Add Gamecock flair at the Carolina Alumni Center. With more than 20,000 square feet in Columbia's bustling Vista district, the state-of-the-art center is a memorable site for weddings, conferences and more.

Carolina Coliseum
Go big in the concourse with 30,000 square feet that's perfect for an exhibit or trade show. The Cockpit is well suited for up to 125-guest receptions, up to 80-guest theatre set-ups, and 64-guest banquets or classroom seating.

Classrooms
Choose from more than 200 education-centric classrooms, which are available as breakout spaces when classes are not in session.

Colonial Life Arena
Have a ball in the Colonial Life Arena. The 17,000-square-foot floor can host large galas or dinners for 600-800 guests. The Frank McGuire Club, and plush executive suites are perfect for smaller gatherings.

Conference Rooms
Find a quiet, distraction-free workplace for your next business meeting or brainstorming session. Choose from a wide variety of conference and board rooms all across campus.
Darla Moore School of Business
Meet in ultra-modern comfort in the Darla Moore School of Business. Choose from rooftop reception areas, an outdoor courtyard, the Sonoco Pavillion or one of many luxe meeting rooms.

Drayton Hall
Add historic ambiance in Drayton Hall, a 404-seat proscenium theater. The theatre hosts many performances by the USC Department of Theatre and Dance.

Koger Center for the Arts
Create a feast for the senses in the Koger Center for the Arts. Gonzales Hall, which seats as many as 2,254 and features three levels of easy-to-access continental seating.

Longstreet Theater
Host with the ultimate in theatrical staging at the historic, 312-seat Longstreet Theatre. Change scenes below stage with a hydraulic elevator and open to an in-the-round, or 3/4 thrust audience.
McCutcheon House
Host a sumptuous dinner or reception on the historic Horseshoe. McCutcheon House is home to Carolina Catering, the university's official catering partner.

Russell House University Union
Find a perfect fit at the Russell House University Union. Choose from a 600-seat ballroom, 300-seat theatre or convenient meeting rooms.

Rutledge Chapel
Welcome your guests with historic style. Generations of Gamecocks have married, gathered or celebrated in the historic Horseshoe's iconic 200-seat Rutledge Chapel.

Spigner House
Infuse your event with the sweeping, Southern charm of the Spigner House. This once-private residence offers formal and salon areas for up to 50 guests.
Top of Carolina
Gaze across Columbia in every direction atop one of the state's most unique venues, Top of Carolina. The slowly revolving restaurant, which seats up to 123 guests, puts a one-of-a-kind spin on receptions and events.

Williams-Brice Stadium
Head for the roost of the Gamecocks, Williams-Brice Stadium. Entertain in a stately suite or party above the field in The Zone, a 11,000-square foot banquet space with a spectacular end zone view.
No one knows the campus better than our team of professional meeting planners. We're ready to help you.