Daily Crime Log / Fire Log
Access a chronological record of all criminal incidents and residential fires reported to the USC Police Department within the past two months. Our Records Unit maintains updated current and past Crime/ Fire Logs. You can download one of these logs here or contact our Records Unit (803-777-5282) for the most updated copy or past copies. View Log [pdf]
Older Crime/Fire Logs
Contact our Records Unit at 803-777-5282.
Copy of Incident Report
Call the Records Unit at 803-777-5282.
---
Crime Bulletins
If a situation or incident is not immediately life threatening or is contained, a crime bulletin may be posted to provide a timely warning to the university community. Crime bulletins are issued when pertinent information is available and may also include relevant safety tips. Unless an on-going threat is present, Crime Bulletins may be removed at the end of each semester.
---
Type of Incident: Assisting Other Agency (Columbia Police Department)
Armed Robbery During Marketplace Transaction
Date and Time of Incident: October 30 at approximately 4:30 p.m.
UPDATE: November 1, 2022 - Suspect information from CPD: Terrell Carter, age: 25, black male, height: 6'05, weight: 176 (see image below)
Location of Incident: City of Columbia – 900 Assembly Street
Alert Status: Due to time delay, social media notification and web page posting only
On Sunday, October 30, an individual was the victim of a reported armed robbery near campus.
The individual conducted a Facebook Marketplace exchange at an off-campus location. During the transaction, the buyer attempted to steal an item of value from the seller. The buyer then presented a firearm and took off with the item.
Investigators are looking for any information related to this incident. The suspect is described as a black male last seen wearing a camo jacket, blue jeans and white sneakers.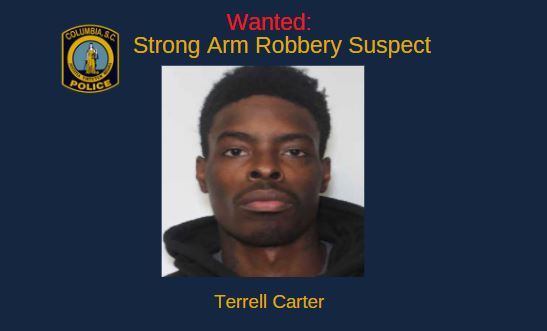 Anyone with information concerning this incident is asked to contact the Columbia Police Department or USCPD. Tips can be submitted using the RAVE Guardian Safety App.
Tips can also be made through Crimestoppers. Submit CRIMESTOPPERS tips in 1 of 3 ways:
1. Mobile Tip
The P3 Tips app is available for Android and iOS platforms and can be downloaded from the Apple App Store or Google Play. Download the P3 Tips app by clicking on the orange Mobile App button. You can attach videos and images to the tip. Be as detailed as possible. Save your Tip ID & password that is provided once your tip is submitted.
2. Web Tip
Web tips can be submitted by clicking on the orange Submit a Tip button. Provide all pertinent information in the web tip form. Be as detailed as possible. You can attach videos, images, documents, and audio files. Save your Tip ID & password that is provided once your tip is submitted.
3. Phone Tip
Tipsters still have the option to call the tip line by dialing 1-888-CRIME-SC (888-274-6372). Save your Tip ID & password that is provided once your tip is submitted.


How to Stay Safe While Shopping and Selling Online
USCPD knows many students use online marketplaces to buy and sell items. Officers encourage students, faculty and staff to practice safe exchanges and reduce risks by taking these steps:
Use the RAVE Guardian Safety App while making a transaction. You can use the safety timer, panic button and texting features to keep USCPD notified of your location.
Contact police immediately if the situation seems unsafe. If you get a bad feeling about someone or the location, or if the situation seems suspicious, call 9-1-1.
Always pick a very public and safe place to make an exchange. Students can use the parking lots of police stations to meet buyers and sellers.
Bring someone with you during the transaction. There is safety in numbers. Having another person as a witness can deter criminal activity.
Never disclose personal information. Don't share your home address, where you work or other personal data. If you must share some details, proceed with caution.
Be aware of fake profiles. The person on the other end of the transaction may not be who you think. Fraudsters use fake profiles to lure potential victims. Verify sellers using marketplace ratings.
If it's too good to be true, it probably is. If the price seems like a steal, be very cautious of the listing. It may be a counterfeited good.
Limit risks by how you handle money. If you pay in advance, you may not receive your item. Use instant electronic transfers or small amounts of cash at the time of exchange. Be very cautious if the other party wants to use gift cards as payment.
Watch out for scams. Scammers use marketplaces to defraud victims. Don't send deposits for high-value items without seeing the goods first. Confirm ownership before making any payment.
Trust your instincts. Taking steps to ensure your exchanges are as safe as possible will reduce the risk of being scammed or swindled. When in doubt, reach out to USCPD.
---
Type of Incident: Community Warning - Lethal Amounts of Fentanyl Found in Counterfeit Pills
Date of Bulletin: August 27, 2021
UPDATE: September 28, 2021 - DEA Warns that Pills Purchased Outside of a Licensed Pharmacy are Illegal, Dangerous, and Potentially Deadly
Location of Incident: UofSC Campus and Surrounding Areas
Alert Status: Social media notification and web page posting only
USCPD and other law enforcement agencies have seized heroin and other illegal drugs that have been laced with Fentanyl and other substances. Fentanyl is now being found in counterfeit prescription medication and is approximately 100 times more potent than morphine. According to the United States Drug Enforcement Administration (DEA), a significant number of college students purchase potentially counterfeit Adderall and Xanax from dark web drug markets and/or through social media.
USCPD is aware that some UofSC students have purchased prescription drugs illegally online, from friends, or from contacts made on social media. Law enforcement agencies across the country have found that many of these purchased drugs are counterfeit and contain lethal amounts of Fentanyl or Methamphetamine. USCPD is warning students who purchase Adderall, Xanax, Oxycodone, or other drugs without a prescription that in addition to potential criminal penalties, these counterfeit pills may kill you.
Due to national trends involving counterfeit pills and other Fentanyl laced drugs, as well as the presence of these substances in the Columbia area, USCPD is issuing a warning to the Carolina Community.
A document from the DEA can be found here: COUNTERFEIT DRUGS FACT SHEET.
UofSC Good Samaritan Policy
The Medical Overdose Treatment policy was created to encourage students to make responsible decisions and seek assistance for fellow students who may be experiencing an alcohol or drug overdose.
Students or student groups, who may be in violation of code of conduct policies or public health directives, but seek medical assistance for others experiencing an alcohol and drug overdose, will receive educational and supportive measures over disciplinary sanctions.