"Last week we had about 19,000 people come through our doors," says Evette Bridges, head of circulation and visitor services at Thomas Cooper Library.
"And we just don't have enough staff to handle that type of traffic, so our student workers are an integral part of our ability to serve the campus and community," she says.
University Libraries simply cannot function without student workers. They are critical to all aspects of operations, from getting patrons in, out and around the building and helping them find research resources to more "back office" functions like shelving books and pulling them out for checkout.
Students learn all industry-standard aspects of librarianship while they're working at University Libraries, and they support all aspects of the libraries' operations.
For many student workers, the library is also a place to learn valuable work skills while they're earning money.
To support its student workers, the libraries established the Student Learn and Earn Program at the UofSC Libraries, which it's promoting through this year's Give for Garnet campaign, the university's annual day of giving, which is taking place May 18.
Student workers are a critical component of the libraries' operations and its ability to accomplish its mission to support researchers both on campus and around the world.
These are a few of the libraries' student worker stories.
Alexis McCutchen
Alexis McCutchen, a sophomore studying criminal justice with a minor in media arts, has done just about every job a student worker can do at Thomas Cooper Library in her two years there.
As a circulation student assistant, she sits at the entryway, watches the access monitor and makes sure patrons are scanning their CarolinaCards to access the building. She works at the reserves desk where books are checked out and returned. She pulls books from the shelves that people have checked out. And she does security rounds to determine how many people are in the library and ensure everyone is safe.
"I've done all the jobs," she says.
McCutchen says that while working in a library isn't directly related to criminal justice, what she's learned while on the job will significantly impact her career.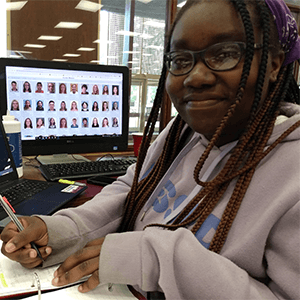 McCutchen also learned to multitask while working at the library.
"This job has definitely taught me to juggle work, classes and studying at the same time. I feel like I can do just about anything now," she says.
Jake Stewart
A graduate student in the Library and Information Science School, Jake Stewart is in his element working for the Irvin Department of Rare Books and Special Collections.
"The reason that I went into this degree was for archiving, which is what I'm doing right now, archiving a new collection of historic letters that has just been placed at the Irvin Department for safekeeping."
Stewart is a big history fan. He loves his work because he gets to work hands-on with history.
"As an archivist, I basically go through the materials that someone gives us, I organize them, put them in protective sleeves, write detailed descriptions of the items and determine how they should be organized so that they can be found by researchers," he says.
Stewart began working for the Irvin Department as an intern, working for archivists and catalogers in the department.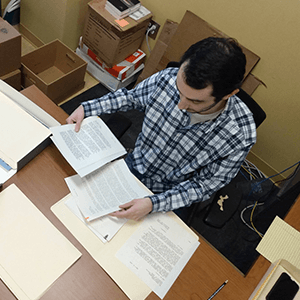 Stewart says he's learned a lot about how archives work in his time with the Irvin Department.
"From the actual archival work itself to the wide range of items archives work with, this has all been a great learning experience for me. I thought I had a pretty good idea as an undergrad, but the best way to learn is just doing it. Experience is the best teacher," he says.
Chauna Carr
It took six people three days to digitally scan, section by section, a delicate, Victorian-era quilt top owned by McKissick Museum.
It then took Chauna Carr three months to knit the images together in Photoshop, reconstructing the quilt digitally.
Carr worked for five years splitting her time between the South Carolina Political Collections and the library's Digital Collections, first as a graduate student in the College of Information and Communications, then full-time after she got her degree.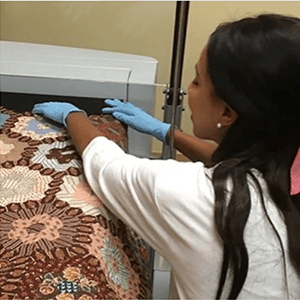 And all artifacts, at some point in time, will disintegrate.
"Our work keeps artifacts alive digitally and permanently in a format that can be easily shared around the world," Carr says.
More than 60 students have passed through the department over the years, and most of them have successfully gone on to other archival or digital collections positions. Carr, for example, recently accepted a position as digitization archivist at the North Carolina Department of Natural and Cultural Resources.
"Not only did my work at Digital Collections give me the skills for the position I have now, it also prepared me to work in a professional environment, take on responsibility and work in a leadership position," Carr says.
Sydney Hampton
Sydney Hampton, a senior studying marine science with a concentration in biological oceanography, has been a student ambassador for the Reference Department at Thomas Cooper Library for three years.
Her job is to help patrons with research, from starting a research paper to looking for data for a thesis.
"I help with research of all varieties. Any sort of question that anyone could have about finding materials in the library, whether it be books, navigating articles or databases or journals, I help them," she says.
She's also an expert in helping patrons with routine questions like how to use the Wi-Fi, how to print, and locating other departments found within the building like the Student Success Center, the Career Center and the special collection departments within University Libraries.
In her time at the library, Hampton has become an expert researcher, which has helped her with her own studies.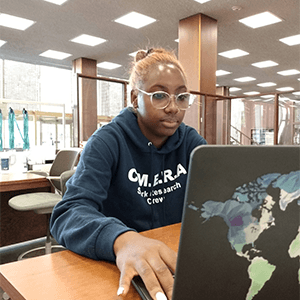 Hampton says she's learned a lot of skills working as a library ambassador that will easily translate into her career.
"I definitely have learned problem solving skills. I learned to help people as best as I can. I've learned so much about navigating research tools. As a STEM major, and as a person who will be going into research, this has been invaluable to me," Hampton says.
Laura Stillwagon
When she was working toward her Masters in Library and Information Science at UofSC, Laura Stillwagon applied for two jobs at University Libraries, one at Thomas Cooper Library, and one in Digital Collections.
"I took the job at Digital Collections because when I was in library school, I didn't take any of the classes that focused on archiving or digitization, and I thought why not get a job doing it and see how I like it," Stillwagon says.
And she's been there ever since.
Now a UofSC graduate, Stillwagon is working full-time as a project manager in Digital Collections. She's currently working on scanning, digitizing and making metadata, information that allows items to be found online, for the South Carolina Council on Human Relations project, which is comprised of approximately 36 boxes of items concerning the South Carolina civil rights movement. In total, the collection contains about 30,000 to 40,000 items that must be scanned.
"What I like about the job is that we take something that is physical and real, like a photograph or a pamphlet, and by scanning it and putting it online, we can make it available to the world," she says.
Stillwagon's area of interest is how people search for items online, and how they're found through search engines.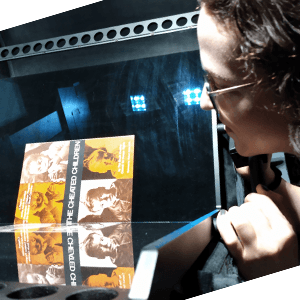 Stillwagon says her work at Digital Collections has helped guide her career and the trajectory that she is on now.
"Library science school gives you the framework to work in library science, but to be really good at it, and to really learn, you have to experience the application of what you've learned, which is exactly what I'm doing right now."
If you're planning to donate to the university for Give for Garnet this year, please consider supporting the Student Learn and Earn Program at the UofSC Libraries.