Columbia, SC - Isabelle Borduas, graduating senior at the University of South Carolina College of Social Work, has been named the National Association of South Workers South Carolina chapter BSW Student of the Year. The award recognizes Borduas' commitment to promoting diversity, equity and inclusion at the college, the university and in the Midlands.
Borduas has been a student senator at the University of South Carolina, a member of the USC Senate Inclusion and Equity Committee and the Senate Student Life Committee. Through her committee work and her collaboration with other student leaders and university officials, she has advocated for policies that represent the diverse needs and interests of social work peers and the larger undergraduate student population.
As the lead member of the Undergraduate Social Work Student Association at the College and through her field practicum with Statewide SEACH South Carolina, Borduas has been a strong advocate for raising awareness and promoting and protecting the rights of individuals with disabilities. Her advocacy skills and efforts have directly contributed to the creation of more inclusive policies and services.
Borduas has also represented the College of Social Work in a multifaceted manner. She organized the college to attend SC Disability Day at the Statehouse and has done multiple social media takeovers for the college's platforms to amplify the social work message.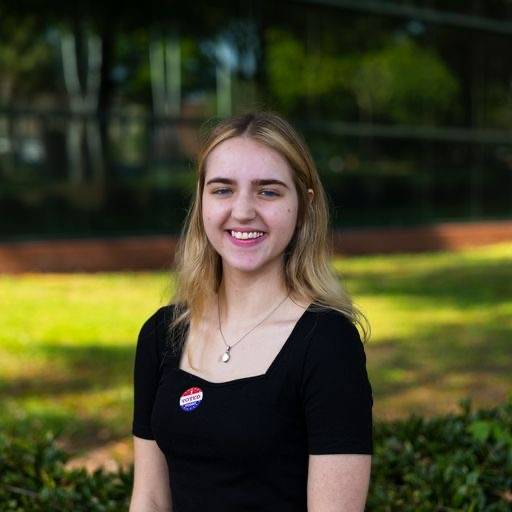 Other NASW-SC award winners include Social Work professor Melissa Reitmeier, the recipient of the South Carolina National Association of Social Workers Educator of the Year Award.
Reitmeier has been a faculty member at the college since 2012 and was a part-time faculty member from 2004-2012. She is the USC College of Social Work's Director of Field Education, responsible for the field practicum education for BSW and MSW students and oversees all field practicum seminar courses.
She has successfully led and participated in multiple federal and other grants that have significantly enhanced the learning experience of all USC social work students. Her grants include multiple years of two HRSA grants that trained MSW students in team-based HIV care at Prisma Health. She is a leader in the Huntington's Disease Society of America Center of Excellence Program, working with students and other professionals to provide team care to people with Huntington's Disease in South Carolina.
I am humbled and feel lucky to be in such a collaborative role steeped in a collaborative teaching model of experiential learning," said Reitmeier. "I'm also fortunate to be surrounded by not only inspiring and collaborative colleagues but by as equally inspiring social work students who teach me every day and make me a better educator."
Reitmeier served on the national Council of Social Work Education's Council on Field Education including service as chair. She is a member of the Council of Social Work Education's Commission on Educational Policy. She volunteers as a social worker for the Palmetto Health and USC Medical Group Neuroscience Movement Disorder Clinic and the Prisma Health and USC Medical Group Neuroscience Huntington's Disease Society. This is her second award from NASW-SC.
NASW-SC offers the annual awards to recognize outstanding contributions to the social work profession in South Carolina, given to individuals who demonstrate exceptional service, leadership and advocacy in the field.