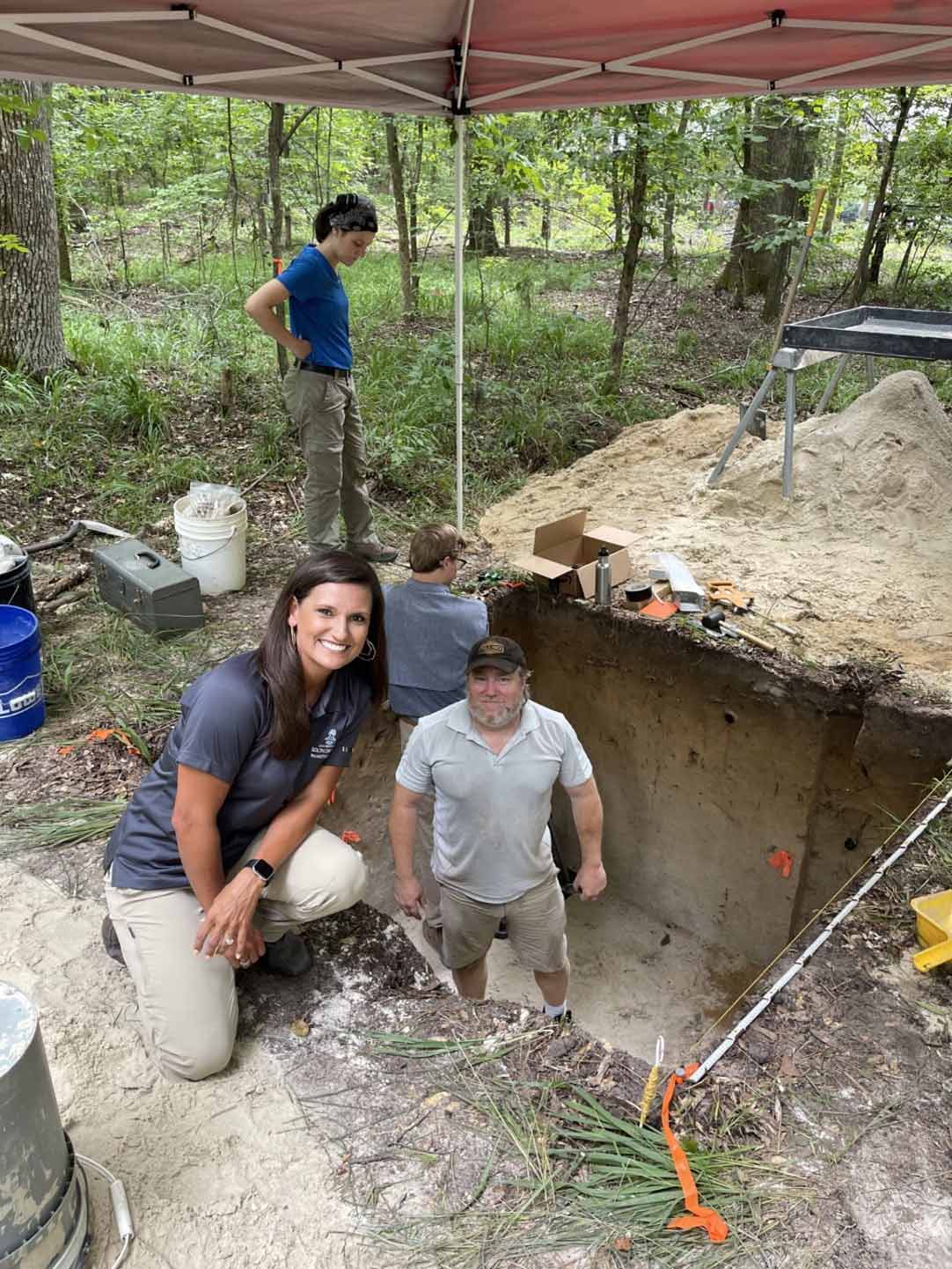 USC Salkehatchie Dean April Cone recently participated in a Topper Site excavation, the first at the site in almost 10 years. The Topper Site, which is located around 15 miles from USC Salkehatchie's Allendale campus on the Savannah River, is significant in that artifacts excavated from the location seem to indicate human habitation of North America much earlier than previously believed.
"It was an absolute honor to accompany Dr. Moore and his crew. This was my first visit, and it was quite impressive to witness," Cone said. "USC Salkehatchie is home to the first permanent display of artifacts from the Topper Site, and, although I've seen the exhibit on many occasions, seeing the site in person was an inspirational and intriguing experience. I greatly appreciate Dr. Moore's willingness for me to be a part of this historical dig, and I look forward to his findings."
The purpose for the 2023 dig was to collect sediment samples to test for the platinum anomaly that has been found from other sites across North America. The elevated platinum is believed to be from a fragmented comet that collided with the Earth's atmosphere around 12,800 years ago at the very end of the Paleoamerican Clovis period. The depth where the platinum peak is found is an indicator of the beginning of the Younger Dryas climate event 12,800 years ago.
The crew consisted of Daniel Holt, Maddie Blaze, Caroline Hall, and Reece Spradley. Hall and Blaze are part of the SCIAA-Archaeological Research Division (ARD) crew, and both are going into the MA program under Adam King at the University of South Carolina this Fall. Spradley has previously worked in the Topper Lab during her undergraduate studies at USC and is now at SCDNR. Holt is currently a senior at USC and has worked at the Topper Lab for 2 years. J.J. Lindler (crew chief) is in the MA program under Adam King and has worked at the Topper lab for 5 years. Also participating were Sean Taylor (Heritage Trust Program, SCDNR) and Dr. David Anderson (retired professor from UTK).
Dr. Al Goodyear was instrumental in the establishment of the Topper Exhibit at USC Salkehatchie. Goodyear is a retired professor at the South Carolina Institute of Archaeology and Anthropology and is founder and director of the Allendale PaleoIndian Expedition. His first dig at the Topper Site changed conventional archaeological thinking.
Those interested in seeing some of the artifacts from previous excavations can visit the Topper Exhibit at Salkehatchie's Allendale campus. The exhibit is open Monday – Friday from 8:30 a.m. – 5 p.m.