Many students have questions about the registration process and obtaining overrides. Please refer to the following Registration and Overrides FAQs below to help answer your concerns.
HRSM Registration FAQs
This means you are not coded for a degree program that requires the course for graduation. If you click on the course title and its course information, you will see notes about who the course is available to, and when. If you think you should be able to register but are still receiving an error, please make sure you are coded correctly in the my.sc.edu system. If you see that you are not, please contact your advisor about getting coded correctly.
Email your advisor and they can add your minor to your curriculum.
If you click on the title of the course and then its course information, the notes on the course will tell you when the course will be open to minors for registration. Also, make sure you are registering for a section that is open to minors and not just majors in the college.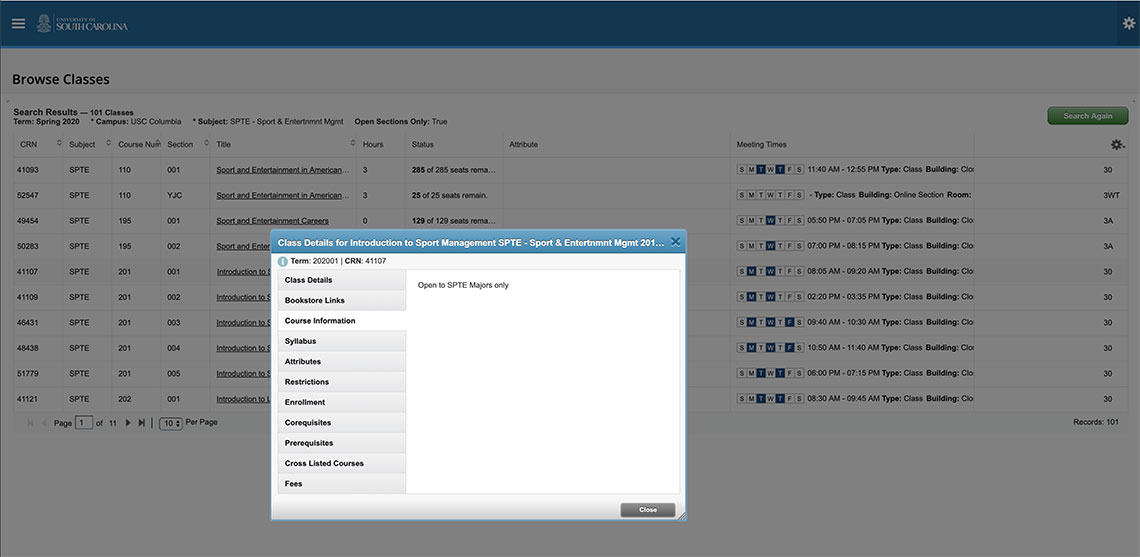 These sections are for special populations on campus. H is for South Carolina Honors College students, P is for Palmetto College students, T is for Trio Scholars students, C is for Capstone students, Q is for international graduate students and S is for several different populations on campus. Unless you are in one of these populations, you will not be able to register for these sections.
Please fill out the student petition form for an overload of credits. Once you go over 16 hours, you will be billed for additional hours. Please consult with the Bursar's Office if you have any questions regarding your bill: 803-777-4233.
Please refer to your major's internship link for information about how to apply for your practicum/internship.
HRSM Override Requests
In some cases, you may need an override to get into a course, but we encourage you to consider other options before requesting an override. Please read the FAQs below before you fill out our form.
To request an override for HRTM, RETL or SPTE courses, please fill out the HRSM override request form.
Submitting this information does not guarantee a seat in the section or course you are requesting. Once your request is submitted, the appropriate department will receive your information in their office.
Please note:
You will only be notified by USC email if your override request is approved. Wait time for specific courses can vary and you may not be notified until the start of the semester.
Priority will go to current term graduates.
Repeated email or phone calls will not expedite the process.
Some requests may not be processed until the first week of classes.

HRSM Override FAQs
Minors and students who are in other majors but need HRTM, RETL or SPTE courses for their degree will be able to register for courses on certain dates of registration week. Please click on the title of the course and then its course information.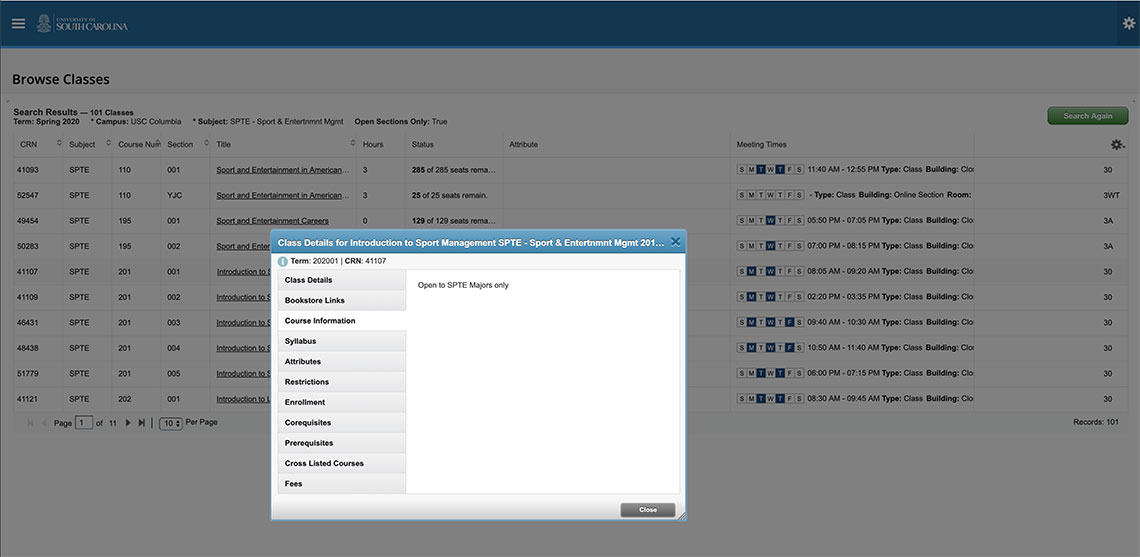 No, we cannot accommodate work schedules or personal preferences.
No, we cannot make an exception. This would not be fair to the other students who also really need this course.
Most commonly, it is the case that the room is at room capacity. We cannot give a student access to a course in which there will not be enough physical seats in the room. The Fire Marshall provides us with strict guidelines, which we must abide by in terms of building and room occupancy and safety.
Professors may not realize capacities in the room where a course is held; therefore, they may not be aware that a section is full at room capacity, and there is not a physical seat in the classroom. Enrollment limits are set by the department.
Capacities are set for online courses also. Your department's administrative coordinator does not have the ability to override those capacities.
HRSM advisors or department administrative coordinators are not able to provide overrides for courses outside of our college. You will need to contact the department which houses the course for an override into their courses. For example, if the course is MATH 122, you will need to contact the Math Department. Individual department contact information can be found through visiting sc.edu; using the search bar, type in the individual department name.
You will be notified if your request is approved or additional seats/sections are opened in the course you requested. Wait time for specific courses can vary, but may not be processed until the start of the semester when many students are changing their course schedules. You are encouraged to wait until the first week of classes to inquire about your override request.