Congratulations to the Matthew J. Perry Jr. Chapter of the National Black Law Students Association at the University of South Carolina School of Law, which was named NBLSA Large Chapter of the Year for 2021-2022 in March.
According to Alexis Watson, president of South Carolina Law's BLSA chapter, it is the first time the group has earned this national recognition. They have been named the Southern Region's Large Chapter of the Year three times in the past four years, including this past February.
The BLSA mock trial team also placed fourth in the nation at the Constance Baker Motley Mock Trial Competition, another component of the national convention. The team earned its spot after its third-place finish at regionals. Third-year students Deyjenay Gregory and Gabrielle Williams, and second-year students Sulaiman Ahmad and Briana Marshall, competed against the other top regional winners from across the country—16 teams in all. The BLSA mock trial team is coached by adjunct faculty members Joseph Bias '10 and April Sampson '98, and Lamar Fyall '14.
This year, the chapter's theme was "Together We Stand: Expanding Our Reach," and focused on the following areas:
Black Empowerment
Communty Involvement
Blazing the Trail
Academic Excellence
Career and Professional Development
Over the past year, the chapter lived this theme by engaging in a multitude of events at the local, state and national levels, including mentoring high school students, volunteering with nonprofit agencies, conducting academic workshops, as well as holding events that raised awareness about domestic violence, social justice and mental health issues.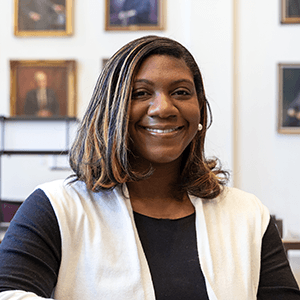 "None of these accomplishments would have been possible without the continued support of our UofSC Law family," says Watson. "We are truly grateful and appreciative of the opportunity to represent UofSC Law and shine light on the hard work of its students."