Wednesday, April 22, 2020
Jett, the youngest dolphin at a rescue center in the Florida Keys, made a new friend about a year ago.
That's when Dani Ramsey became Jett's primary trainer. Through swims and training sessions, they built a bond. "Jett is a very brave dolphin. He loves to learn," says Ramsey, a 2016 marine science graduate of the University of South Carolina.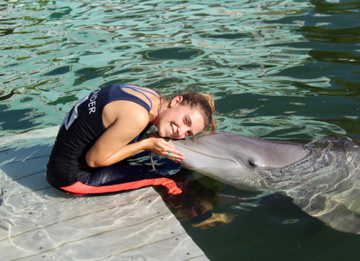 She has taught Jett tricks like how to give a round of applause with his flippers. More importantly, she's helped him cooperate for veterinary checkups. Sometimes that means letting Ramsey hold his tail for blood draws, or lying across Ramsey's lap while the vets use an ultrasound. The dolphin follows her lead because he trusts her. "My relationship with Jett is absolutely one of my favorite things about my job," Ramsey says.
Ramsey is a mammal trainer for Dolphins Plus Marine Mammal Responder, the only dolphin and whale rescue operation covering 10,000 square miles in the Florida Keys. "The trainers spend a lot of time building relationships with the dolphin family we have on site, maintaining their health care behaviors," Ramsey says.
I fell in love with the connection the trainers and the animals had.

―Dani Ramsey
Ramsey kicked off her career with the help of another UofSC graduate. In 2016, Kate McAlister ('12 marine science) became the internship coordinator for the Gulfarium Marine Adventure Park in Fort Walton Beach, Florida. She reached out to the College of Arts and Sciences to offer internship opportunities to her fellow Gamecocks. Ramsey leaped at the chance.
Before that, though, McAlister had been the intern. After she graduated, she interned at the Gulfarium and found it the perfect starting point for her career, and ultimately accepted a job there. "I quickly fell in love with the animal training field," she says. "I not only observed the emphasis the trainers placed on building relationships with the animals under their care, but also observed all of the hard work they put into caring for these amazing animals behind the scenes."
McAlister also enjoyed teaching Gulfarium visitors about marine life, something that continues in her full-time job today. She recently was featured in a video teaching about dolphin reproduction and birth.
Ramsey had a similar experience with her internship. She had originally planned on working in research, but she changed course. "I fell in love with the connection the trainers and the animals had," Ramsey says. After the Gulfarium internship, she got an internship at Dolphins Plus, followed by the full-time job there.
Both experiences have prepared me to take what is in front of me and come up with effective solutions ― and having fun with it.

―Kate McAlister
McAlister is pleased to see Ramsey enjoying her career. "It is very encouraging to see previous interns like Dani build a strong foundation of marine mammal care through our internship program at the Gulfarium, and utilize it moving forward to successfully build a career in this field," she says.
Both alumnae said South Carolina's marine science program helped them get set for their careers. "UofSC prepared me for my career by challenging me academically ―presenting me with interesting questions or thought processes and giving me the resources and confidence to develop solutions," McAlister says.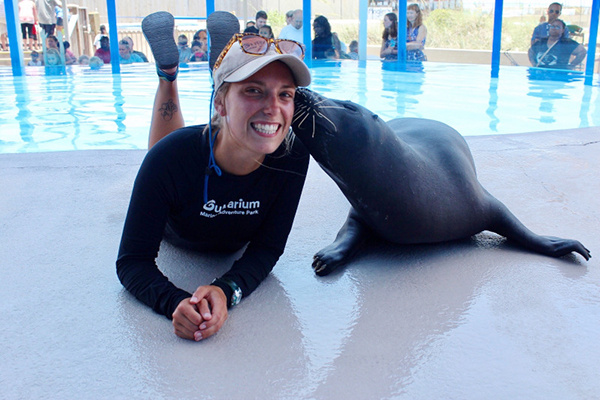 The internship added the practical skills for working with animals and helping them learn behaviors. "Both experiences," college and the internship, "have prepared me to take what is in front of me and come up with effective solutions ― and having fun with it," McAlister says. "My advice for anyone considering a career in marine mammal training is to go for it."
Ramsey has a similar perspective. "There is a lot involved with caring for animals, such as cleaning, diet preparation and habitat maintenance, but the connection you form with the animals makes it more than worth it. The best advice I can give any future intern is to persevere, stay dedicated, and have fun with every opportunity. You can always learn more and continue growing."
---
A version of this story was published in the 2020 edition of In Focus, an annual magazine from the College of Arts and Sciences. Read more In Focus stories here.