The College of Arts and Sciences joins the nation in remembering the late congressman John Lewis for his legacy of leadership and civil rights activism.
The son of Alabama sharecroppers, Lewis was a central figure in the Civil Rights Movement, risking life and limb to challenge Jim Crow segregation and advocate for African American voting rights. For more than 30 years, he served as U.S. Representative of Georgia's Fifth Congressional District. He died on July 17th at the age of 80.
Bobby Donaldson, history professor and director of the Center for Civil Rights History and Research, highlights Lewis's legacy and special connections to South Carolina in a recent article for The Post and Courier.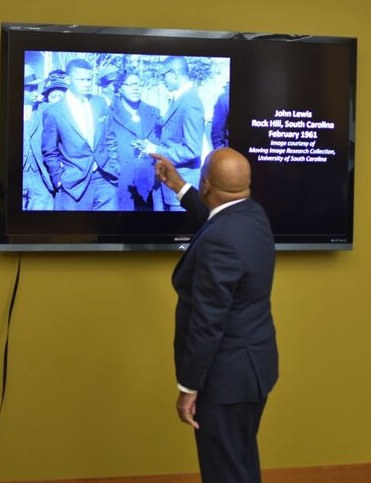 In February 1961, Lewis came to South Carolina to conduct sit-ins while fellow members of the Student Nonviolent Coordinating Committee (SNCC) had been jailed for their desegregation efforts. This visit was months before Lewis's famous Freedom Rides to desegregate bus lines and one of his earliest visits to the state. It was a moment that was largely lost to history.
In 2015, the Center for Civil Rights History and Research uncovered video footage of the February 1961 visit. The following spring, when Lewis came to UofSC to accept an honorary degree and speak at commencement, he met with members of the Black Faculty Caucus and Donaldson showed Lewis the video.
"The footage unlocked a flood of memories about an event that he had long buried amid a lifetime of experiences," Donaldson writes in his article.
Lewis's life experiences included countless moments of heroism and leadership, as outlined by the biography on his website. At the age of 23, he was an organizer and keynote speaker of the historic March on Washington. On March 7, 1965, Lewis led more than 600 voting rights advocates in a march across the Edmund Pettus Bridge in Selma, Alabama. During the march, he was brutally beaten by Alabama state troopers. The stark cruelty of that moment, now famously remembered as "Bloody Sunday," ultimately hastened passage of the Voting Rights Act of 1965. Lewis continued as a leader in the Civil Rights Movement and an advocate of the philosophy of nonviolence. He was elected to Congress in 1986.