Brian Gaines, a two-time alumnus of the Department of Political Science, is now the top accountant in South Carolina Government.
Governor Henry McMaster appointed Gaines as South Carolina's Comptroller General. With this appointment, Gaines becomes the first Black statewide Constitutional officer in South Carolina since Reconstruction.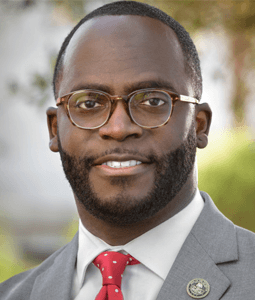 Chief Justice Don Beatty swore in Gaines at a press conference on Friday, May 12, with Gaines' family in attendance. He will serve in the role until the South Carolina General Assembly elects someone for the remainder of the term after the previous comptroller general resigned.
Gaines clarified to reporters that he does not intend to run for this office in the 2026 election, but he recognizes the significance of fulfilling these duties in the interim.
"I'm sure as time goes on, I will have an opportunity to fully digest what this means for not only me but for the state of South Carolina," he said. "I think the fact that I am standing here today is a momentous occasion and is a great thing for not only our state but also for myself."
Gaines holds a Bachelor of Arts in Political Science and a Master of Public Administration from USC's College of Arts and Sciences. He has worked in financial leadership roles in state government for 16 years, including his position as budget director for the governor's office.
Check out these news stories for more on McMaster's selection of Gaines:
Watch the governor's May 12, 2023, press conference announcing Gaines' appointment.