Rudy Mancke, a South Carolina naturalist, public television host and University of South Carolina fixture, died Tuesday night, at age 78.
Mancke is well known as co-host of South Carolina ETV's long-running NatureScene and SC Public Radio's NatureNotes. His field trips, broadcast nationwide, earned him a legion of dedicated viewers, and his knowledge of complex ecosystems and his great admiration for the natural world made him the perfect guide for viewers and listeners across the state and beyond.
Celebration of Life scheduled to honor Rudy Mancke
10 a.m. Monday, November 27
University of South Carolina Horseshoe
Join us to celebrate the life and legacy of Rudy Mancke, longtime naturalist, educator, and host of South Carolina ETV's NatureScene and SC Public Radio's Nature Notes.
He also served as a naturalist in residence, distinguished lecturer and adjunct faculty member at the University of South Carolina for more than 20 years. In these roles, Mancke fostered a deeper understanding of the natural world, biodiversity and environmental issues among students and the broader community.
"Rudy Mancke was a South Carolina treasure. He had a profound impact on the education of South Carolinians of every age," says Joel Samuels, dean of the College of Arts and Sciences. "From nature talks on the USC Horseshoe to his beloved series on public radio and television, he was the epitome of a high-impact scholar dedicated to sharing his love for science and the natural world. He will be greatly missed."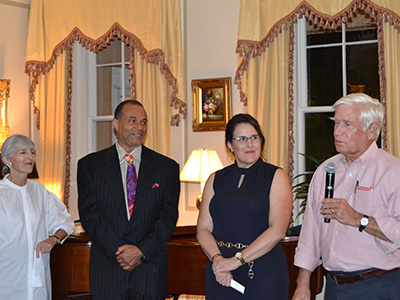 Mancke grew up in Spartanburg, South Carolina, and earned his bachelor's degree at Wofford College and a master's degree in zoology at USC. After teaching for several years at Spartanburg High School, he became curator of natural history at the South Carolina State Museum. While working at the museum, Mancke founded the South Carolina Association of Naturalists.
His work at the museum brought him into contact with producers at South Carolina Educational Television and led to the NatureScene  television series, which was produced for more than 25 years and is still broadcast regularly today. With hosts Beryl Dakers and later Jim Welch, Mancke led viewers on nature walks in many locations in the United States as well as to sites abroad.
One such trip brought him to the site of the Chernobyl nuclear meltdown. Harris Pastides, USC president emeritus, recalls joining him for that trip and witnessing Mancke's dedication to science firsthand.
"While most of us were gawking at the reactor, he was collecting clover," says Pastides, who appointed Mancke as naturalist in residence during his tenure as president. "He did a mini study, counting the percent of aberrant clovers within the sample to see whether there was a harbinger of radiation effects on these pretty little sprigs."
"Rudy was one in a million," Pastides says.
Mancke's expertise helped many organizations throughout the state to better understand and care for their natural resources. USC alumnus Mark Dutton says Mancke trained park docents when Dutton was the naturalist for the SC State Parks. Later, when Dutton became natural resources branch chief for Fort Jackson in Columbia, Mancke filmed an episode of NatureScene on the base to highlight some of its over 50,000 acres.
"To have Rudy come out and survey the natural history of Ft. Jackson was very special," Dutton says. "He was the best naturalist I ever met. He had a gentle spirit, and I will miss him."
Mancke maintained a longtime relationship with the McKissick Museum at USC. His quarterly nature talks on the Horseshoe were regularly among the museum's largest public programs, drawing 90 to 100 people to each offering.
Longtime fans of NatureScene  and NatureNotes  flocked to campus along with new generations of fans, especially home-school students and their families eager to interact with one of South Carolina's treasures.
To celebrate its 40th anniversary, the McKissick Museum established the Rudy Mancke Curator of Natural History Endowment, which pays homage to Mancke's passion for and impact on science education in South Carolina and beyond.
"Rudy was showered with honorary degrees and numerous awards throughout his lifetime, all recognitions so well deserved," says Lana Burgess, McKissick's interim director. "Still, he remained at his core a humble man dedicated to building an awareness of the natural world, and advocating for the collection, documentation and preservation of our changing environment in museums and herbariums, from which future generations can learn."