Featured Alumni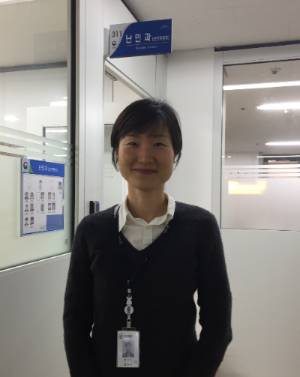 Why did you decide to pursue and MA/PhD in Anthropology?
I was a sociology major in my undergraduate program, and I was lucky enough to meet some anthropologists back then. My interest slowly evolved into auditing some anthropology classes while working full-time after graduation. I always was curious about other worlds, and/or immigrants/refugees' lives, and it looked natural for me to pursue anthropology for my advanced degree.
Tell us about your current position.
I am currently working as a Refugee Status Determination (RSD) officer at the Ministry of Justice of South Korean government. I work with about 10 other RSD officers, and we are dealing with appeal cases within refugee applications. The work has been challenging, as it involves writing legal statements and examining each applicant's refugee claim closely, but it certainly is a great learning experience. I have learned some Arabic and in addition to being exposed to different regions (mainly in conflict) in the world. In the near future, I hope I can find a placement in social integration program for asylum seekers, utilizing more fully of my past experience in assisting refugees/immigrants in America and South Korea.
Why did you choose our program?
First, I was impressed by the wide range of topics/areas/subfields of faculty members. The main focus of the program back then was 'diaspora,' and it certainly stood out to me as I was looking for people and programs with a diaspora/migration focus. People in the UofSC program were doing refugee/migration studies, East Asian pop culture and Women's studies - which were all my favorite subjects - and that drew me to the program. Also, the size of the department seemed ideal - not too big or too small. Plus, the state was known for its nicest weather and the city being close to the ocean. I thought it'd be a great benefit to a graduate student who often can feel lonely and stressful ;)
Did you get what you wanted from the graduate program in the Department of Anthropology?
Yes! Most importantly, I was very lucky to have the most thoughtful and insightful advisor and committee members. They seriously helped me develop and complete the PhD project. My project encompasses analyses of bureaucracy, inter-institutional relationships, refugee/migration movement, and affect/culture. It was far from a traditional anthropological project, but I was always feeling more excited and invigorated about my project after talking to supportive faculty on my committee. Other faculty members were all so great - some of them went out of their way to help support me in my career as well as in my personal life. Overall, it was very friendly and kind environment, one that I was able to work comfortably in. On top of that, I was able to earn a Women's and Gender Studies certificate, and gain expertise in visual anthropology which was always my side interest. After the completion of the program, I found being knowledgeable of and familiar with diverse fields greatly helps in seeking career.
What is your favorite thing about Columbia, SC?
The sun, food, parks and people! If I have to choose one, maybe I should give up tyring. Moving from a big city (Seoul), I appreciated all the natural environment that Columbia provided and the kindness of people I encountered there everyday.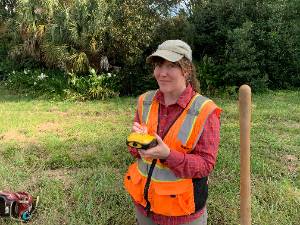 Why did you decide to do an MA in Anthropology?
I decided to apply to a graduate program in anthropology in 2011. I completed my undergraduate program in anthropology in 2007 and had been working consistently in the field of cultural resource management (CRM) archaeology for four years. At this point in my career I had been employed in both stewardship and research based archaeology, at a state park, and in contract archaeology, as a field technician for various CRM companies. With four years of experience under my belt, I knew that I loved working in archaeology and that this was the career path for me, but I also knew that to continue to advance in this career I would need a graduate degree.
Tell us about your current job:
Currently I am an Archaeologist for the South Carolina Department of Transportation (SCDOT). My primary responsibility in this role is to conduct cultural resource surveys in compliance with Section 106 of the National Historic Preservation Act (NRHP) for various transportation projects. I am responsible for all aspects of these surveys including, archival research, both archaeological and architectural history fieldwork, laboratory analysis, and primary authorship of cultural resource reports. Additionally, I manage consultants contracted by SCDOT to preform studies associated with the Section 106 process, review cultural resource reports submitted to SCDOT by consultants, and coordinate with the State Historic Preservation Office and Tribal Historic Preservation Officers.
Prior to accepting the position with the SCDOT, I worked as an Archaeological Field Director for the CRM firm New South Associates from 2015 to 2019. In this role I directed archaeological survey, testing, and data recovery projects and authored reports on behalf of various clients including several Departments of Transportation, the U.S. Army Corps of Engineers, local governments, and private entities.
Why did you choose our program?
Initially the most appealing aspect of Anthropology program at USC was the amount of funding provided. Of all the graduate programs I was accepted into, USC's was the only one offering guaranteed full funding. Knowing archaeology was not going to be a particularly lucrative career field, completing a graduate program with the least amount of debt possible made the most financial sense. Additionally, an offer of a research assistantship at the South Carolina Institute of Archaeology and Anthropology (SCIAA) was a great opportunity to continue to gain practical career experience while in the program. However, what really cemented my decision to attend USC was the sense of welcoming support I felt when I visited the department and spoke with current students and professors. Everyone I met with was incredibly helpful and encouraging and I got the sense that this was a department that everyone genuinely enjoyed being a part of.
Did you get what you wanted from the graduate program in the Department of Anthropology?
My time in the department was both academically challenging and rewarding. The program offered a good mix of both theoretical and practical classes that helped me hone my skills as a researcher. By the time I completed my degree I felt like I had grown as an archaeologist and a professional. After completing the program in 2014 I returned to working as a field technician in CRM, but was quickly promoted to a crew chief, and then a field director later that year. These promotions would not have happened had I not decided to obtain an MA.
Many aspects of the program's curriculum have proved to be very useful professionally. The Public Archaeology seminar provided me with a thorough understanding of the federal laws that drive much of archaeology within the US, and in particular have helped me navigate the Section 106 process, which is essential for my job. Additionally, my training in anthropological and archaeological theory has helped with both writing evaluations of NRHP eligibility and with the formulation of research questions that are necessary for Phase II Testing and Phase III data recovery projects.
What is your favorite thing about Columbia, SC?
When I moved here for graduate school I never expected to like Columbia, but it's been five years since I completed the program and I'm still here and proud to call Columbia home! Columbia has the perfect mix of small town charm and all the amenities of a capital city. Columbia is an up and coming city and there is always something to do or get involved with, from checking out the various cultural and food festivals, catching a movie at the local indie theater, grabbing drinks at one of the local breweries, or exploring the extensive river walk. But my absolute favorite thing is that the town is still small enough that you run into friends and familiar faces wherever you go. There is a strong sense of community here and it is easy to carve out your particular niche within it.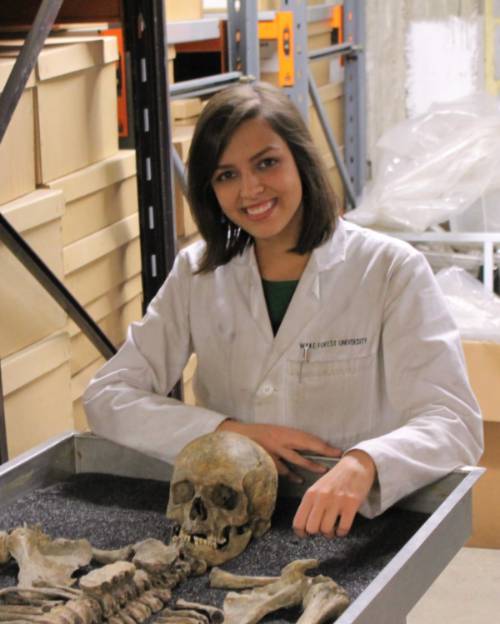 Why did you decide to pursue and MA/PhD in Anthropology?
At my undergraduate institution, I got a taste of independent research as a part of my honor's thesis. For me, the research process--collecting and analyzing data, examining and interpreting my findings, and contributing to our collective understanding of life in the past--was an exciting and empowering opportunity. Particularly, I was interested in learning more about the ways in which cultural and biological factors intersected to influence the experiences and health outcomes of individuals in the past. Those sorts of questions--and the holistic approaches used to answer them--are not found in any other discipline.
Tell us about your current position.
I am currently a Visiting Assistant Professor at the University of Nevada, Reno. My primary role is to teach several of the biological anthropology classes currently offered at the university, including Introduction to Physical Anthropology, Fundamentals of Forensic Anthropology, Human Osteology, Forensic Anthropology, Health and Disease in the Past, and Human Variation.
Why did you choose our program?
The faculty. The research and teaching interests of the faculty at UofSC coincided with my own research interests and goals. Even more importantly, I felt comfortable discussing my thoughts and ideas with various faculty members when I visited the campus. Those feelings of mutual respect and encouragement were not duplicated in every department I visited, and it became a huge factor in my decision.
Did you get what you wanted from the graduate program in the Department of Anthropology?
Absolutely. The faculty and other graduate students are very generous with their advice and materials, such that you have every opportunity to succeed if you put in the effort. My success is in no small part thanks to the support provided by the faculty of the department and my peers in the program: I was awarded a National Science Foundation fellowship on the first submission because other successful PhD students were willing to share their materials with me; I published multiple times before I completed my PhD because I had an advisor who provided outstanding mentorship over the course of my scholarly development; and I continue to produce innovative research thanks to the guidance and counsel of the members of the Department of Anthropology who were willing to take the time to provide feedback on my ideas.
What is your favorite thing about Columbia, SC?
The eats! There is something for everyone in Columbia, even though it's not a particularly large city. If you like Vietnamese, check out Decker Blvd. If you like proper southern barbecue, you will not go hungry. If you want to take a night on the town and visit a nicer dining establishment, there's no shortage of those venues either. As a graduate student, it was especially important for me to be able to get out of the house and take a mental health break every once in a while. Columbia had plenty of options for foodies and craft beverage connoisseurs alike.
Samantha L. Yaussy, PhD
Department of Anthropology
University of Nevada, Reno
Alumni