University of South Carolina theatre major Carly Siegel co-starred in a movie this summer.
She is one of 13 students who worked on and off camera to create Hero, a feature-length film produced by the Department of Theatre and Dance. For Siegel, a senior theatre major, the opportunity to act in a movie is a huge leg up toward her hopeful career in the film industry. 
"This really can help me get my foot in the door," Siegel says. "Having a full-blown film on your resume as an actor is a big deal. It will allow people to see that I can put in the work on a professional film." 
This is the second summer in a row that the Department of Theatre and Dance has produced a film, and it likely won't be the last. The department now aims to give more students experience in acting, costume design, filming, editing, and more by producing a film every year.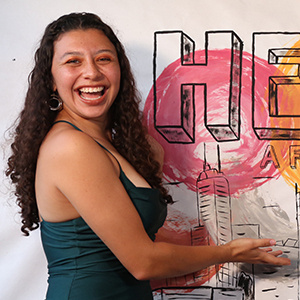 Dustin Whitehead, assistant professor of film and media performance, says having students put together a feature film gives them industry experience, outside of the harshness of Hollywood.
"We're right in the middle of what students do and what the industries do," Whitehead says. "Having a mostly student-run production expands what students see as possible. We make sure they have good experiences before hitting the industry."
A film a year may seem like an ambitious goal — and it is — but Whitehead is working to make it a sustainable one. He plans to build much of the planning and prep work into his courses this academic year so that students will be involved in every step of the process.
Whitehead also has a show of support for the idea. The SC Film Commission gave a grant to support the production of Hero, and the university and the College of Arts and Sciences provided funding. too.
Whitehead directed the film, which is a coming-of-age story about Jess, a driven pre-med student attending UofSC, and Tre, the boyfriend she meets at college. Siegel played the part of Jess while fellow theatre student Anthony Currie took up the mantle of Tre.
As a first-generation student, Jess's focus is on getting her degree and starting a meaningful career. But her plans are complicated when her relationship with Tre results in an unplanned pregnancy. Jess must now learn to navigate through a different future than she originally envisioned while Tre struggles to become the hero their child deserves.  
Along with flexing her acting chops, Seigel gained some behind-the-scenes experience. After filming wrapped on her scenes, Siegel jumped back in as a production assistant, which involved taking care of many on-set demands.  
Whether it was dropping off food or water, moving props, buying supplies for the crew or making excel sheets to organize receipts, Siegel says it's all experience that she values.
"Connections are your biggest advantage in the film industry and being on set builds those connections," she says. "It's challenging, it's time consuming but it's a great learning experience, and I loved every minute of it. I can't wait to do it again." 
Hero cast and crew 
| | | |
| --- | --- | --- |
| Name  | Role on Set  | UofSC Affiliation  |
| Aaliyah Broadwater  | Actor  | Student  |
| Angela Scott  | Costume PA  | Student  |
| Anthony Currie  | Lead Actor  | Student  |
| Carl Siegel  | Actor/Office PA  | Student  |
| Caroline McGee  | Art PA  | Student  |
| Ella Tocci  | Costume PA  | Student  |
| Jada Mack  | Boom Operator  | Student  |
| Jennifer O'Briant  | Location Manager  | Student  |
| John Boulay  | Actor  | Student   |
| Josiah Burton  | Actor  | Student  |
| Kyla Little  | Costume Designer  | Grad Student  |
| Mckenna Mikels  | Set PA  | Student   |
| Nakoa Zurlo  | Unit Production Manager  | Student  |
| Jordan Postal  | Production Designer  | Alum  |
| Lilly Heidari  | Script Supervisor  | Alum  |
| Susan Swavely  | Casting Director/2nd Assistant Director  | Alum  |
| Zion Shakur  | 1st Assistant Camera  | Alum  |
| David Britt  | Actor  | Faculty  |
| Doris Page-Forshee  | Background Actor  | Faculty  |
| Dustin Whitehead  | Director  | Faculty  |
| Hanne van der lest  | Production Coordinator  | Faculty  |
| Kristy Hall  | Costume Mentor  | Faculty  |
| Marybeth Craig  | Intimacy Coordinator  | Faculty  |
| Olivia Waldrop  | Choreographer  | Faculty  |
| Patrick Rutledge  | Camera Operator  | Faculty  |