Relevant Links
---
Students who complete the designated curriculum will receive a certificate of concentration. This certificate is intended to signify the student's specialization and interest in Children's Law. The award of the certificate will be noted on the student's law school transcript and they will receive a certificate recognizing their achievement.
Students in the program will have a wide variety of classes available to them in the areas of child protection, education law, juvenile justice, and family law. They will receive informal advisement and mentoring from the experienced group of law faculty that teach in these areas. Students in the program will also receive exposure to speakers and seminars focused in this area. The program will also provide career counseling and information on prospective employers throughout the United States. Students who successfully complete the certificate program should be well prepared to enter into practice in an area of children's law.
The University of South Carolina School of Law believes it is well positioned to become a national leader among law schools in this specialty, and there is a need for more lawyers in South Carolina and throughout the nation in this area of practice. The University of South Carolina has become known for its leadership in the area of children's law through its affiliation with the University of South Carolina's Children's Law Center. The Children's Law Center was established in 1995. The Children's Law Center provides over 300 training programs a year for attorneys, case workers, guardians ad litem, and law enforcement.
In order to satisfy all of the requirements for the University of South Carolina's Children's Law Concentration program, students must:
Take at least four courses in the program curriculum;
Meet the law school graduation writing requirement either through one of the designated writing certificate program courses or an approved Supervised Legal Writing paper; (eligible courses are listed below)

All students, including current 3Ls, must complete a 30 page paper on a children's law related topic. Though students may have any faculty member act as their advisor, it is preferable that a Children's Law Concentration (CLC) affiliated faculty member be chosen. If another faculty member is selected, prior approval from a CLC faculty member must be received. The CLC faculty members are listed below.
3L students who would like to earn the Concentration designation but who have not completed a 30 page CLC related paper must do so their first full semester or enroll in a course that meets the Children's Law writing requirement. See below for current list of courses that meet the requirement.
Complete one of the designated CLC experiential courses;
Attend the required CLC speaker series presentation.

All participating students are required to attend presentations each year in a CLC sponsored speaker series.
Participating students must attend two presentations during their 2nd year and 2 presentations during their 3rd year to graduate with a CLC.
The following courses are in included in the Children's Law Concentration curriculum:
Advanced Family Law (Writing)
Caretaking, the Family, and the Law (Writing)
Carolina Health Advocacy Medicolegal PartnerShip (CHAMPs) (Experiential)
Children & the Courts
Children's Law Externship (Experiential)
Constitutional Issues in Public Education
Domestic Violence Clinic (Experiential)
Education Law and Policy
Education Rights Clinic (Experiential)
Family Law
Gender-Based Violence Seminar (Writing)
Immigration and Family Law Skills Workshop (Experiential)
Juvenile Justice (Writing)
Juvenile Justice Clinic (Experiential)
Parent, Children and the State
Poverty Law
Race, Class and Education (Writing)
Special Education Law
Supervised Legal Research I (Writing)
The following faculty will be affiliated with the Children's Law Concentration Program. These faculty will be available to teach courses in the curriculum, supervise writing requirement papers, advise students in the program, and to provide mentorship.
---
Contact Us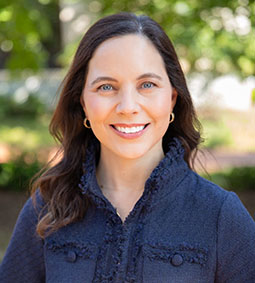 Stephanie Nye
Director of Externships and Special Academic Programs
Contact Stephanie
803-777-1451