Emily Gibbs, Externship at Roper St. Francis
What are you most excited to learn?
This summer I am working alongside an RN on the Postpartum unit at Roper St. Francis. I'm looking forward to observing the workflow of an RN and getting the chance to implement the skills I've learned. I am excited to get some more hands-on learning experience by providing quality care to postpartum moms and babies!
Zahria Simmons, Summer 2023 USC Orientation Leader
What has been the best part of your experience as an orientation leader this summer?
The best part of being an orientation leader is connecting with incoming freshmen and being there for them when they need me the most. This is such a big transition and it's great knowing I can be a guide to them.
Why did you choose USC Nursing?
I chose USC Nursing, because it had the best program out of all my other choices. The NCLEX pass rate on the first try, were extremely high and that was one of my main requirements when looking at nursing programs. I had a chance to meet with the College of Nursing during Admitted Students Day and completely fell in love with the program and the things they wanted to do for their students.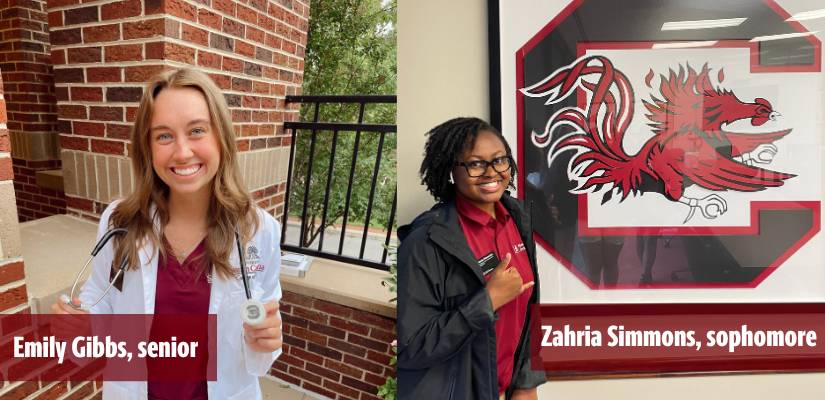 Kaley McGuire, Externship at Prisma Baptist
What will you be learning this summer?
I'm doing an externship through Prisma Health where we get assigned to a RN. We shadow them, getting a better idea of "why they do what they do" and understanding the thinking process behind caring for patients. I am currently at Prisma Baptist on the postpartum floor taking care of mothers and babies that were just born. I also had the chance to be on the NICU floor which is where I want to be when I graduate. That was the most exciting for me so far. I also have classes with opportunities for education throughout the program like emergency preparedness, cardiac arrhythmia and tips from a new grad.
Rose Ferguson, Externship at the Shepherd Center
How impactful has your externship been?
My externship is at the Shepherd Center of Atlanta, Georgia in the Spinal Cord Injury department. This experience has been incredibly valuable. I have one on one instruction for each skill which has boosted my confidence in what I already knew going into this program.
I have learned about all aspects of rehabilitation care for spinal cord injuries such as how to help a patient get ready for their day, adjust to their new strategies to accomplish tasks on their own and cope with their injury and new way of life post-injury. Along with these aspects I have learned specific nursing skills such as how to pass meds, wound care, proper turning and sitting techniques to prevent wounds, post-op care, and so much more! The Shepherd Center has created an environment where I am constantly learning and growing as a student nurse among some of the best and kindest staff I could ask to teach me.