Getting Started
To access the Alternative Formats, click on the button that looks like a capital A with a down arrow beside the file.
Different types of files have different Alternative Formats that can be downloaded.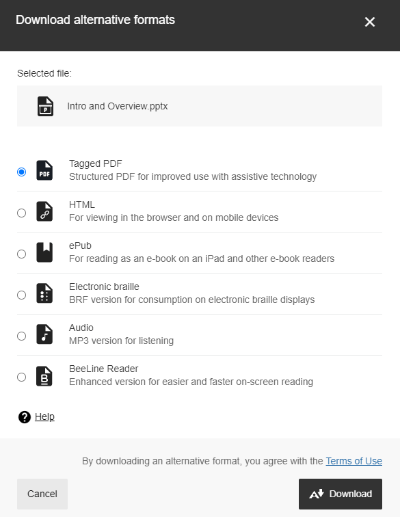 Documents and presentations are typical. The alternative format choices are:
Audio (mp3)
Immersive Reader
Electronic Braille
ePub
HTML
BeeLine Reader
Tagged PDF
Some PDF files have the option to download an OCRed PDF file, which uses Optical Character Recognition (OCR) to attempt to interpret the text in scanned material.
Image files do not have Alternative Formats.
Files contained in password protected areas (such as publisher content linked from your class site) do not have Alternative Formats created.
Alternative Format Options
Information about each format – and a chart "Which format should I use?" - can be found on Blackboard Help Alternative Format webpage.
A quick look at each format
Free Online Version of Blackboard Ally
Blackboard provides a free online version of Blackboard Ally called File Transformer that allows everyone to use the Alternative Formats feature. It is used to convert files to alternative formats without having the file loaded into a Blackboard class site.
Other formats
Library Reference
The instructor can provide library reference information about a published document that you can see in Alternative Format. You will only see this option if the library reference information was provided for the document within Blackboard.
This is different than the eReserve system offered at the University of South Carolina, where you are linked directly to an electronic version of the document. The Library Reference feature in Blackboard just gives you the citation information to help you find the article in a local library.
Translated Version
Translated files of course materials are NOT available at the University of South Carolina.