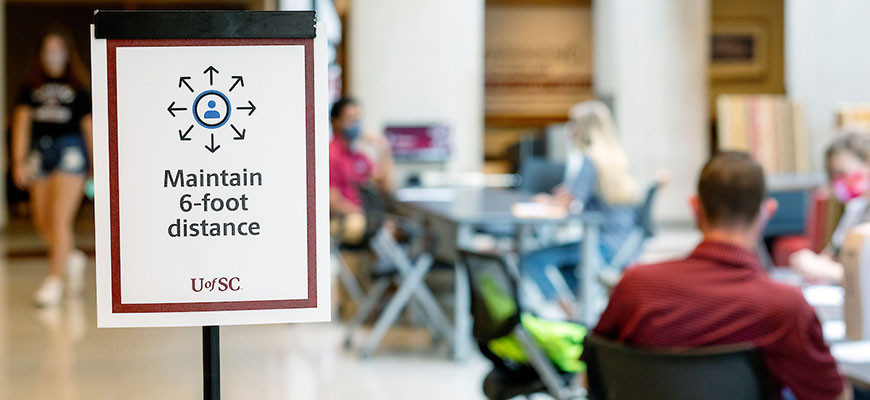 University rolls out changes to meet the "new normal"
Handwashing stations, dining changes, Wi-Fi and more help students navigate altered campus
---
By Koby Padgett,
kpadgett@sc.edu
, 803-576-6701
---
As students embark on this unprecedented semester, they're encountering many campus changes designed to help them navigate a new environment — safely.
Hundreds of hand-sanitizing dispensers and handwashing stations have been deployed throughout campus over the summer. Signage has been placed in major classrooms and in common areas to remind campus community members about face covering and physical-distancing guidelines. Other safety measures include new plexiglass installations in dining and other areas, increased cleaning of high-touch area and an increase in outdoor trash receptacles.
A major change to dining comes in the form of the expanded use of the Grubhub app, which now extends to more than 20 locations on campus, including popular spots like Panera Bread, Chick-fil-A and Starbucks. The Facilities Department also has worked with Dining Services to add outdoor seating areas throughout campus. New tables and chairs have been spaced out around the Darla Moore School of Business, the Colloquium, Capstone Hall and the Russell House to provide for dining and workspaces.
Some campus areas now require use of the CarolinaCard for entry, including Thomas Cooper Library (including to access Starbucks) and the Strom Thurmond Wellness and Fitness Center.
The university's Wi-Fi has also been upgraded; students should login using the eduroam network. Also, new study and learn spots with expanded Wi-Fi access are available across campus. Some of the spots include the atrium of the Science and Technology Building, the top floor of Close-Hipp and the concourse of the Carolina Coliseum, among other places.
Other recent changes include:
Parking: There are new pay-on-foot kiosks to the top two levels of the Bull Street Garage to help ease congestion at the pay booth on the fourth level. Other changes include Parking spaces added to the AD7 lot off Barnwell Street and the new AD3 lot off Gadsden Street. The old AD3 lot is now the Gadsden Devine Lot, which will be reserved for credentialed students starting Sept. 1.
Postal Services: There is a new postal branch in the Carolina Coliseum for student mail and package pickup. Outdoor Amazon Lockers have been added at the Pendleton Street Garage by the Parking Services office, at the Student Enrollment Service Center at 1244 Blossom St. and outside Close-Hipp off College Street.
---
Share this Story! Let friends in your social network know what you are reading about
---