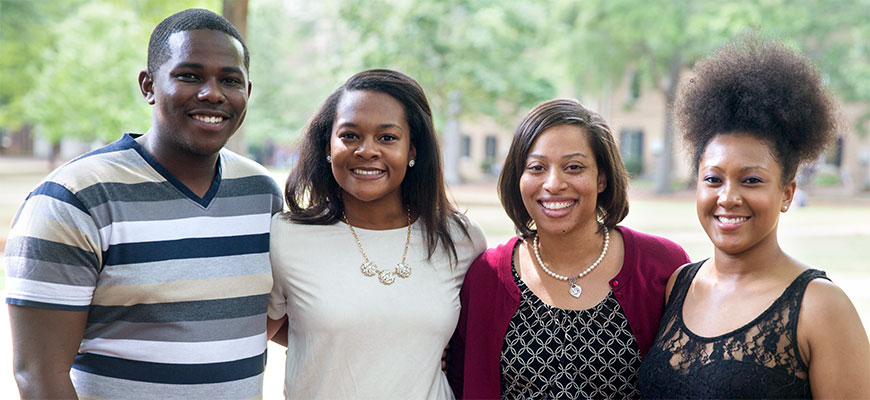 There's a M.A.P.P. for that
---
By Craig Brandhorst,
803-777-3681
, CRAIGB1@mailbox.sc.edu
---
When Tamaragail Tarrant arrived on the University of South Carolina campus four years ago, the Simpsonville, S.C., native was shy, she says, eager to get the most from her college experience but a little quiet, especially in large groups.
Talking to the biology major at the end of her final spring semester at Carolina, though, you can't help wondering if she's describing somebody else — a roommate or a classmate, perhaps, somebody other than the confident new graduate describing her college experience and her plans to go to pharmacy school. "I tell people that I'm shy, and they say, 'You're not shy,' but I really am," she insists. "I like intimate environments. I still can't do a roomful of 100 people."
What Tarrant can do, and what she does extremely well, is one-on-one — thanks in part, she says, to her involvement with the university's Multicultural Assistance Peer Program (M.A.P.P.). Tarrant got involved with the student-to-student mentoring initiative at the beginning of her freshman year and stayed involved for the rest of her time on campus, mentoring seven students in the next three years and actively participating in monthly meetings.
"I'm one of those kids who is always looking for something to do, and I figured M.A.P.P. would be a great program to help me transition into college," she says. "And I really loved the experience and wanted to make sure other students had as good an experience as I had."
Administered by Carolina's Office of Multicultural Student Affairs, M.A.P.P. is aimed at students who self-identify as multicultural in their admissions applications. If they state that they identify as African-American, Native American, Latino, Pacific Islander or any other underrepresented race or ethnicity, the office sends them an email inviting them to apply before they even get to campus.
"College is hard and not just because of your classes," says Nakia Strickland, the program's director. "We help these students adapt to a new culture, a new social environment, and we want to to make sure that transition is as smooth as possible."
M.A.P.P. gives presentations every year at orientation and at an annual event for multicultural students put on by the Office of Admissions. Students fill out an application, then attend a meet-and-greet in the Russell House Ballroom where they identify three preferred mentors based on short, casual conversations. Using those preferences and additional information provided in the students' applications, Strickland and her graduate assistant match the incoming freshmen with mentors based on their interests.
"Of course, some mentors end up being very popular and they get picked really fast," says Strickland. "So then we go to majors, and if we can't do majors, we do hometowns, and if we can't do hometowns, we find something else in common, because they all fill out detailed applications."


College is hard and not just because of your classes. We help these students adapt to a new culture, a new social environment, and we want to to make sure that transition is as smooth as possible.

Nakia Strickland, program director of M.A.P.P.

Four years on, Tarrant doesn't remember how she first heard about the program, only that its mission and philosophy were appealing, especially to an only child who chose Carolina, in part, because it wasn't too far from home. The kickoff event that fall was fun, she says, and then having a campus connection to help her adjust to her new home away from home was a godsend.
"I'll just be blunt — If it hadn't been for M.A.P.P., I probably would have transferred," she says. "Like Nakia said, college is hard, and it's a huge culture shock for a lot of us. You start to think, 'I could just go to a much smaller college, or even a tech school, and then go back to college later,' but then you have this whole network of mentors who want you to stay, and they help you want to stay. It's a major reason why I'm still here and didn't take the easy way out, which I'm glad I didn't do."
The power of networking
M.A.P.P. isn't unique. Similar programs exist at other colleges and universities around the country. Strickland herself participated in a multicultural mentoring program as an undergraduate at the University of Louisville. But while Strickland's personal experiences helped shape her vision for M.A.P.P., she is quick to remind her mentors and her mentees that the program is larger than any one individual.
"I try to take some things from the program I went through as an undergraduate and infuse them into this program, but M.A.P.P. is not just me, it's not just my graduate assistant," says Strickland, who took over the program in 2013. "It's all the mentors and mentees working together. We don't just choose topics that we think students care about; we rely on input from the mentors and mentees to find out what they want to talk about."
St. Stephen, S.C. native Trevor Priouleau agrees. "It's kind of like a family feel," says the junior finance major, who was originally matched up with Tarrant's boyfriend, Dequarius Leverette, freshman year. Leverette then introduced him to Tarrant, who became something of a big sister.
"Tamara called probably once a day for a while, just to check in on me, to let me know about events that were going on, things I needed to know," says Prioleau. "And honestly, if it wasn't for Tamara I wouldn't have the job I have now. She connected me with a friend of hers who sent my resume to his boss. I'm still working at that same job I've had since freshman year. There are so many connections built out of this program."
Indeed, since getting involved with M.A.P.P., things snowballed — in a good way. He became a mentor himself during his sophomore year and spent so much time talking to prospective mentees at this past year's Russell House Ballroom meet and greet that, as Tarrant says with a laugh, "He lost his voice!"
Piroleau laughs with his former mentor. "A lot of people think I'm really extroverted, but I'm actually very shy, too," he says. "But when somebody gets to know me, I just open up like a jack in the box."
It's that Trevor Prioleau — the outgoing, sociable, gregarious Trevor Prioleau — who hopes to launch a mentoring program of his own after college. In fact, he has already laid the ground work, developing a web site and working on talks he can give to teenagers who come from similar backgrounds. Last year, through Carolina's TRiO Upward Bound program, he spoke to students at his high school alma mater about the college experience.
"Even if somebody doesn't want to go to college, I want to help them make sure that they have a plan in place when they finish high school," he says.
For now, though, Prioleau is still mentoring Carolina students like freshman Kennette Smalls, who arrived on campus last fall from Summerville and applied to M.A.P.P. "to help me find where I fit in at the university and just to better myself as a person."
"And I agree with the culture shock thing," says Smalls, who hopes to one day be a pediatric nurse practitioner. "In high school, you're used to maybe a thousand kids. You come here and — yes, diversity is good, but it's also nice to see people that are like you."
Smalls is undecided if she'll become a mentor herself at this point — "I'm a little shy myself," she says, "though listening to everybody else, I think maybe I could do it" — but even if she opts not to take an underclassman under her wing, she knows she made the right choice getting involved.
"I feel like M.A.P.P. is what you make it," she says. "You get involved with the program, you meet with your mentor and you mingle with the other mentees, you'll get what you want and what you need out of it."
Asking questions, finding answers
Of course, M.A.P.P.'s success is also predicated on the notion that mentoring is a two-way street — that the mentors can learn as much from their mentees as the other way around.
"Trevor and my other mentees have taught me so much," says Tarrant. "All of my mentees were outgoing, so that was a new experience — having to establish that relationship with someone else rather than them reaching out to me. But I also like to think that I did something right, too, since some of them decided to become mentees and give back as well."
That willingness to learn and to put the mentee's needs ahead of their own egos is something Strickland likes to see in all M.A.P.P. mentors.
"I'm not necessarily looking for someone who knows all the answers — I don't know all the answers myself," says Strickland. "I'm looking for someone who, if they don't know the answer, they will tell their mentee, 'You know what? I don't know, but give me a minute and I'll find out.' I'm looking for people with good personalities, even if they're a little shy, who can make the mentee feel comfortable."
The friendships and contacts the students make through the program, meanwhile, don't only pay off on campus. Ideally, they pay off later in life as well.
"USC's motto is 'No Limits,' and honestly, that's what M.A.P.P. is, too," says Prioleau. "With M.A.P.P. you have access to resources, you always have somebody to talk to, you have more than enough friends. And then it goes way beyond your college experience. These are people you will keep up with even after you graduate."
---
Share this Story! Let friends in your social network know what you are reading about
---