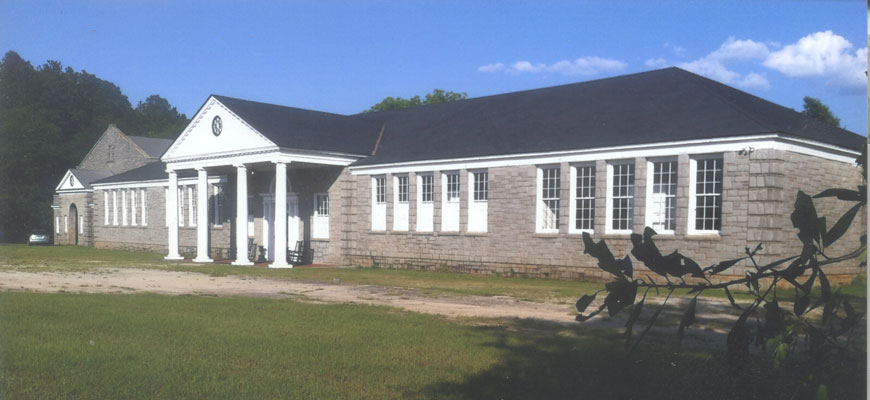 Home sweet home
Carolinians make homes out of interesting spaces large and small
---
By Megan Sexton,
msexton@mailbox.sc.edu
, 803-777-1421
---
A dream home can take many forms — a restored turn-of-the-century Victorian, an ultra-modern town house or perhaps a gleaming McMansion that serves as the ultimate status symbol in a world of vinyl-sided, cookie cutter neighborhoods.
Then there are the architectural outliers, the dream homes that actually begin as a dream or vision and are seemingly built from the inside out. Meet the Carolinians who have turned their dreams of home into reality in unlikely ways, one converting a sprawling schoolhouse; another turning a warehouse into elegant living space. The third has taken Henry David Thoreau's admonition "Simplify, simplify" to its logical conclusion, a home built on a philosophy of living that surpasses the physical dimensions of its walls.
Old school living
About 15 years ago, Chuck Herin was looking to pull up stakes in Columbia. He had earned a music degree in 1978 from Carolina, played cello in the South Carolina Philharmonic Orchestra for 26 years and renovated a home in the city's historic Elmwood Park neighborhood.
But he wanted a place where he could live and run his business, Pegheds, which designs and manufactures tuning pegs for cellos, violins and Flamenco guitars. He discovered the Greenbrier School in Winnsboro, S.C., a sprawling elementary school built with blue granite quarried from the surrounding Fairfield County hills.
"I could have been in an industrial park or I could have something that was architecturally significant. I chose this," Herin says. "An artist doesn't care about money. I didn't do it to get rich, I did it to save a building.
The abandoned school, built around 1940, was so dilapidated that it had been condemned and was about to be demolished. Most of the windows were broken, and the gym roof had collapsed. Herin offered $150,000 for all three buildings and the 10.5 acre-schoolyard.
His offer was accepted, and he got to work renovating his new home. He hasn't stopped. He turned two adjacent classrooms into a workshop, where he cranks out tuning pegs that are shipped to musicians and orchestras around the world. Across the 9-foot-wide hallway, a first-grade classroom was transformed into his living room. The kitchen is in the old third-grade classroom, while the master bath occupies a former restroom (the individual stalls were removed). The gymnasium roof has been repaired, and the school's hardwood floors were restored. Wall lockers on the main hallway were replaced with church pews, purchased from a Presbyterian church in Tennessee.
"One reason I like it is because it's a reminder of when people used to work with their hands," he says. "Every single thing was done by hand, including picking up 65-by-18-foot trusses that were carried by gangs of men on their shoulders. They didn't have a hydraulic crane that towered 100 feet in the air."
The property's upkeep and ongoing renovation have been more extensive than Herin ever imagined that day he spotted the old school on S.C. Hwy. 269. But 14 years later, he says he still loves the spot where he lives and works.
"This week I've been getting prices for putting air conditioning into the gymnasium," Herin says. "I keep working on it as I can afford it. I'm not setting any deadline to finish."
Thinking inside the box
Joab Dick didn't start out to be a remodeling contractor. After earning a finance degree at Carolina, he worked for Merrill Lynch for five years before rethinking his career path. "I knew I didn't want to do the stock market anymore," he says. "I got rid of my ties."
He ran luxury yachts in the Caribbean for a few years before moving back to Columbia. Growing up, he loved working with model airplanes and puzzles, and he was drawn to historic buildings. He became a carpenter, then a cabinetmaker, then worked on renovations at the Woodrow Wilson boyhood home and the Seibels House in Columbia. He also did a little time behind bars — renovating and brieflly living in an old jailhouse built in 1804 in West Columbia. "They called me Jailhouse Joab," he quips.
He also was inspired by Clark Ellefson, a Columbia artist, furniture designer and Carolina graduate, who was among the first to combine a work and living space on Lincoln Street in Columbia's downtown Vista.
"What I like about these spaces is they're all different, but they have an existing footprint, so it forces you to be creative," Dick says. "Living in a place as you're designing it, you get to feel it out. You figure it out as you go. You look at what you've got and you try to make it aesthetically pleasing as possible and not overdo it."
Dick went on to purchase, renovate and live in the Hanger Loft apartments near the Owens Field airport in Columbia, and he now rents those units through Airbnb. His latest home is also in a light industrial area. The back of the old commercial building is Dick's office and living space, and he has turned the front into a sleek Airbnb apartment. Even though the building was run down, he could see its potential. He gutted it and installed new plumbing, wiring and insulation.
"In an industrial area, there are no rules. Nobody's going to tell you to turn the music down," he says. "I like living outside the box. If I'm going to be in a box, I want to design it."
The simple life
Jeff Abrams is the project manager for one of USC's latest building projects, the large, new student health center. But when it comes to personal living space, he prefers to keep things simple — and small.
He started dreaming about a simple home decades ago, when he lived on the West Coast and the cost of living forced him to live with roommates. An architect, he began sketching and designing what a single person truly needs in a house. He feels there's freedom in simplicity.
What he created is something he calls a Basic Personal Shelter, or BPS. It's small — 240 square feet — but the house he built about 27 years ago on the edge of the Carolina campus fits his lifestyle. He put together a booklet that explains how he designed a house to meet the needs of a modern, single person, and he is spreading the word to others who are interested in his philosophy.
He says his 12-by-20-foot house is nothing special, similar to jeans and a T-shirt. He'd like to go even smaller, hoping to build a 12-by-12 house on a tiny lot he purchased next door.
But Abrams is adamant that his house is not part of the "tiny house" movement; his home has normal size rooms and is not a "doll house," he says. "This is the simplicity movement. I love the simplicity of it. The ease to take care of it. It's all you need.
"When you're not spending all your time focused on taking care of stuff, the complexities of life expose themselves to you. You set yourself free to absorb it all."
---
Share this Story! Let friends in your social network know what you are reading about
---