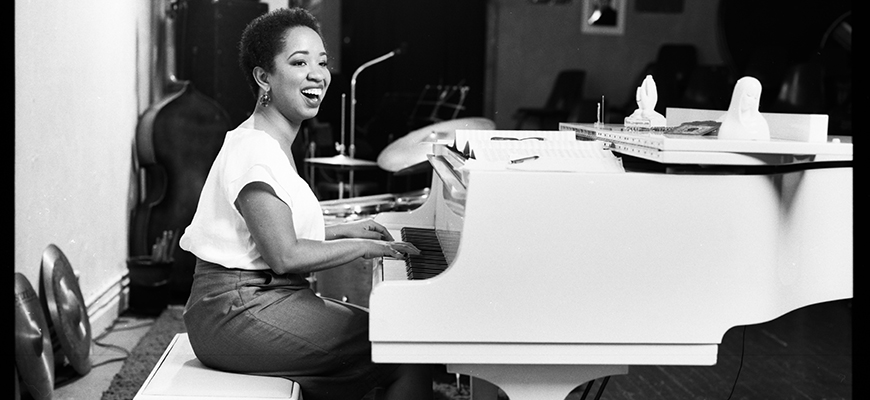 Key of social justice
Composer and pianist to focus on music, inspiration and activism in two upcoming lectures
---
By Mary-Kathryn Craft,
craftm@mailbox.sc.edu
, 803-576-6195
---
Chants of Black Lives Matter protestors mingled with soothing instrumental notes and rhythmic intensity make up Courtney Bryan's multilayered musical composition "Sanctum for orchestra and recorded sound."
Premier pianist and composer Bryan will discuss the piece, her music's overall ties to social justice and her inspirations across various genres during two public lectures Friday, Dec. 8 at the University of South Carolina.
"Sanctum…" was commissioned and premiered by the American Composers Orchestra at Lincoln Center in New York and features the voice of police brutality survivor Marlene Pinnock of Los Angeles, and recorded chants from demonstrators in Ferguson, Missouri.
"Courtney Bryan is a wonderful example of a successful contemporary classical composer, who also focuses on social themes in her pieces," says Birgitta Johnson, assistant professor of ethnomusicology in the School of Music and African American Studies Program. "What I like about her visit to the university is it serves dual roles. She will show our young composers in the School of Music how to be a working composer in today's market, and she will also speak to a broader audience interested in the intersection between art and activism."
Johnson, who originally invited Bryan to Carolina to speak to her class, saw several opportunities for the composer to connect with more students and the greater community.
As keynote speaker for the School of Music's Luise E. Peake Music and Culture Colloquium, Bryan will give a talk and demonstration titled "Inspiration, Improvisation and Art Activism" Friday afternoon (Dec. 8) at the School of Music Recital Hall.
Bryan also will deliver the annual Adrenée Glover Freeman Memorial Lecture at Johnson Performance Hall in the Darla Moore School of Business. In this public talk and performance, Bryan will focus on "Black Women's Collaborations and Composing in the Key of Social Justice." Both events are free and open to the public and will feature some live performance and recorded elements.
"She really wants all of the talks to be interactive," Johnson says. "We'll have the grand piano out, and she'll bring in sound samples."
One of Bryan's chief inspirations for "Sanctum…" was the recorded sermonette "The Praying Slave Lady" by gospel artist Shirley Caesar.
Bryan's piece "Yet Unheard," was commissioned for and performed during the 2016 "Sing Her Name" fundraising concert for Black Lives Matter on the anniversary of Texas motorist Sandra Bland's death in police custody. For this work, she collaborated with poet Sharan Strange, vocalist Helga Davis and The Dream Unfinished activist orchestra in New York to bring attention to often overlooked African American women impacted by police violence.
Bryan will also discuss her contemporary arrangements of spirituals for her album "This Little Light of Mine." The School of Music Library recently debuted a display connecting works from the album to holdings in the school's Center for Southern African-American Music collection.
---
Share this Story! Let friends in your social network know what you are reading about
---