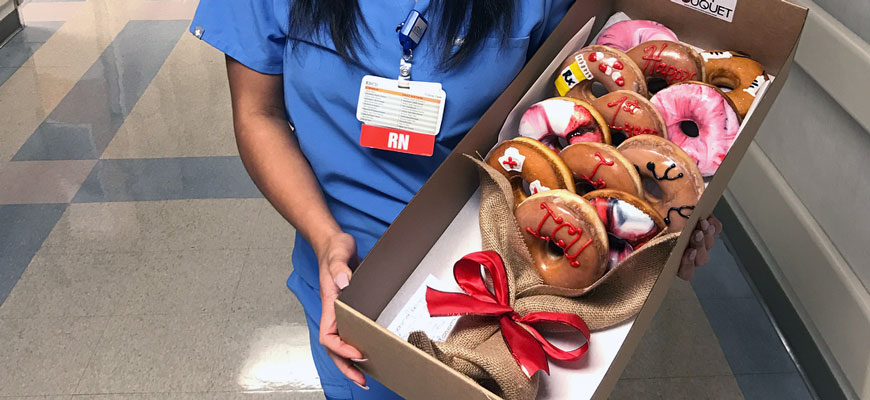 Fast food
Nursing doctoral candidate studies eating habits of shift nurses
---
By Page Ivey,
pivey@mailbox.sc.edu
, 803-777-3085
---
Nurses do the bulk of health care duties, but who is looking out for their health?
Cynthia Horton Dias, a nursing Ph.D. candidate, wants to help shine the spotlight on nurse health — particularly dietary health.
"Shift work nurses get a 30-minute break, and they're responsible for the patient the whole time," Horton Dias says. "So that limits how far away from the unit they can go, the types of food they're eating because they have to eat quickly. They might be interrupted during their break, so they want to be nearby, they want to be accessible. All these things influence their eating."
Horton Dias is working on a study with Robin Estrada in the College of Nursing that asks nurses about their dietary behaviors and what kinds of things encourage or discourage healthy eating while at work. For her dissertation, she will expand on what the nurses have told her to evaluate hospitals based on those influencers.
Horton Dias is continuing to work as a nurse while she completes her Ph.D. at the University of South Carolina College of Nursing. She recently was named a Jonas Nurse Leaders Scholar. The Jonas program was created in 2008 to support the educational development of nursing doctoral students, helping to increase the number of advanced practice nurses and health care leaders as well as nursing school faculty.
"With these grants, the Jonas Center is addressing a critical need for more nurses and the faculty to prepare them," says Jeannette Andrews, dean of the College of Nursing. "The College of Nursing is proud to be part of this national effort to stem the nursing faculty shortage and prepare future nurses as America's health care system continues to evolve."
During her dozen years working as a nurse, Horton Dias spent about five years as a nurse educator. It was that role, helping develop policies and improve quality, that led her to the Ph.D. program.
"Being a part of those quality improvement projects that we had and creating the practice guidelines for nurses, you really use research to translate it to evidence-based practice," Horton Dias says. "When I was a bedside nurse, I was always just receiving that information. But actually looking at the evidence and setting those practices really got me interested in research. I wanted to be the one asking the questions and gaining that knowledge first hand."
---
Share this Story! Let friends in your social network know what you are reading about
---