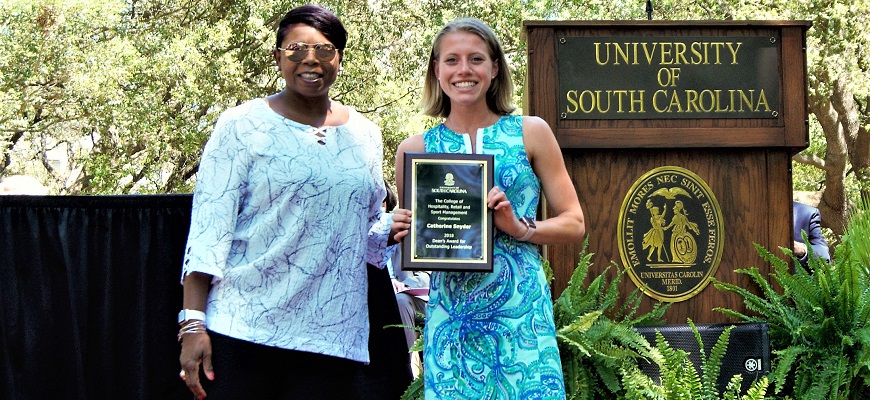 Leading the way
---
By Allen Wallace,
awallace@sc.edu
, 803-777-5667
---
Catherine Snyder did not come to the University of South Carolina with the intention of becoming a leader almost immediately. However, when the opportunity came, she was ready to make the most of it.
Snyder graduates in May, having completed her bachelor's in hospitality management in just three years, and as the recipient of the 2018 Dean's Award for Outstanding Leadership.
The award is given each year to a graduating senior in the College of Hospitality, Retail and Sport Management who has positively impacted the college through service as an ambassador and as a student organization leader, and Snyder more than fits the bill.
Snyder was still a freshman when a friend invited her to join the UofSC chapter of the National Society of Minorities in Hospitality. Just weeks later, she attended the organization's national conference with her fellow Gamecocks. Soon after that, with most of the group's leadership team graduating, decided to put her name forward in the officers' election.
The kind of impression she had made in her short time became clear when the group elected her president, a role she has held ever since. That was the beginning of Snyder's evolution into a leader in her college and university.
"The university offered trainings for leading an organization and I learned a lot," she says. "I also had the support of Glenna Gillentine," the faculty member and National Society of Minorities in Hospitality adviser who quickly became a mentor and friend to Snyder.
"I am constantly in awe of Catherine. She's not only a good example but also has a way of motivating others," Gillentine said. "From the moment she got here, she jumped in with both feet."
Under Snyder's leadership, the Carolina chapter of the club grew in numbers and in activities. She launched a community service partnership with the Family Shelter in Columbia, in which club members cooked meals for all the shelter's residents. The effort strengthened the bond between the group members and created one with those they served, in addition to giving the students a chance to put skills learned in hospitality management classes into practice.
"It was trying to get our name out there a little more, to retain everyone and do more," Snyder said of the increased activity in the club under her leadership. "NSMH is about promoting diversity in the hospitality industry."
Snyder has also served for two years as a College of Hospitality, Retail and Sport Management ambassador. She has helped organize homecoming and countless other HRSM events in that role, as well as meeting with prospective students and being one of the faces of the college. At the age of 20, Snyder is unquestionably a leader.
"I think it comes naturally now," she says. "At first, it was hard developing the skills, but now I'm the one trying to motivate everybody to get everything done."
"Catherine is an absolutely wonderful leader; she is insanely organized and productive throughout every minute of the day," says Tayler Metivier, a fellow ambassador and club officer. "She is always projecting the hospitality spirit in every aspect of her life and is beyond approachable that I do not think anyone could say a negative word about her personally or professionally."
Those skills helped her earn a place in the Marriott Voyage Global Leadership Development Program. As one of the elite students chosen by the hotel chain, she will head to Dallas-Fort Worth after graduation and spend 12-18 months learning from the company's leaders and immersing herself in hotel operations, adding to knowledge gained in the classroom and through internships.
There is a certain amount of pressure that comes with the prestige of being chosen by one of the world's largest hotel chains to be one of its future leaders, but Snyder is not afraid.
"I feel very prepared," she says. "Our faculty and staff have been there through all of it, supporting me. I feel confident."
Snyder has been aware in her third year that her time on campus is drawing to a close and in the National Society of Minorities in Hospitality and as an ambassador has taken care to pass on what she has learned about succeeding.
"I've been able to get close to some freshmen and give them advice," she says. "Don't be afraid to put yourself out there. Be a part of organizations and clubs, make friends in classes, make connections with professors. It makes a difference."
---
Share this Story! Let friends in your social network know what you are reading about
---