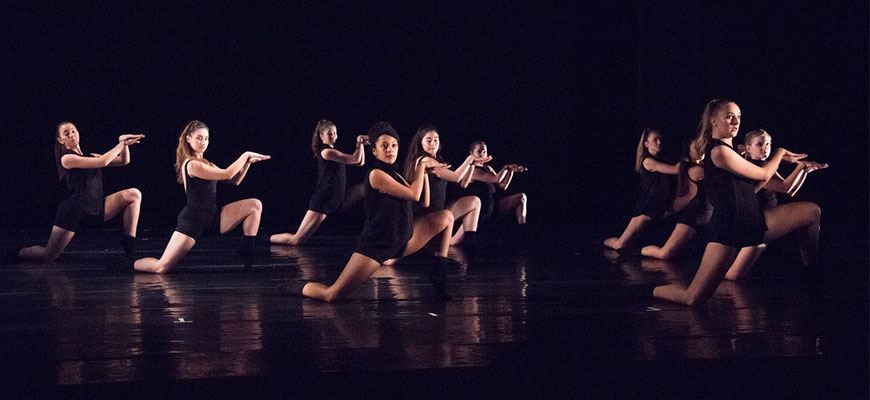 Student showcase
Student Choreography Showcase displays a variety of styles
---
By Taylor Evans,
mrassist@mailbox.sc.edu
, 803-777-7704
---
The public is invited to enjoy the creations of five students at the Student Choreography Showcase at 7 p.m. Friday (April 27) and 2 p.m. Saturday (April 28) at the Drayton Hall Theatre. These showcases feature works that were chosen from 12 pieces presented at the Fall 2017 Student Choreography Showcase.
Student choreographers must create works, hold auditions, teach combinations, choose performers and run rehearsals to participate in the showcase.
The students' pieces cover a wide range of topics and dance styles. Sophomore dance major Caroline Beverly says spectators can expect to see inventive pieces at the event.
"I think students go outside of the box a bit more and the genre is a bit all over the place," says Beverly. "I definitely think that since students haven't found their niche and they are still looking into what style they like to choreograph in, you get to see a lot of creativity in the pieces."
Beverly's piece, "In Tandem," is a contemporary work performed by six female dancers. She says it is inspired by the idea of vulnerability, which is communicated through extensive partner work.
"Being independent is great, but at the end of the day, you will need somebody to help you out of certain situations," Beverly says. "I wanted to have the weight transfer in there a lot because you've got to have that trust for someone to lift you up."
Beverly says the open exchange of ideas between student choreographers and student performers will come across in the pieces.
"It's a collaborative work and I just feel like the whole process usually runs very smoothly and it's a lot of fun," says Beverly. "I think that comes out, and you can tell that when people are performing."
Senior dance minor Michael McManus' piece, "Youthful Bliss," involves dancers performing in high heels. With contemporary, jazz and hip-hop influences, McManus says the piece has a lively feel that will engage the audience.
"It draws a lot of reference to just having a good time with your friends, going to a club or a bar and really just enjoying the music," says McManus. "I think it will be really fun for the audience to see, and I think they'll be surprised because this style of movement is not something that is always shown in concert dance here at USC."
McManus says the appeal of the Student Choreography Showcase is the diversity of themes.
"You're getting five different voices," says McManus. "None of us are coming in with the exact same message or even the same background in dance, so we're all trying to share something very different."
Tickets for the Student Choreography Showcase are available through the Department of Theatre and Dance's website.
---
Share this Story! Let friends in your social network know what you are reading about
---