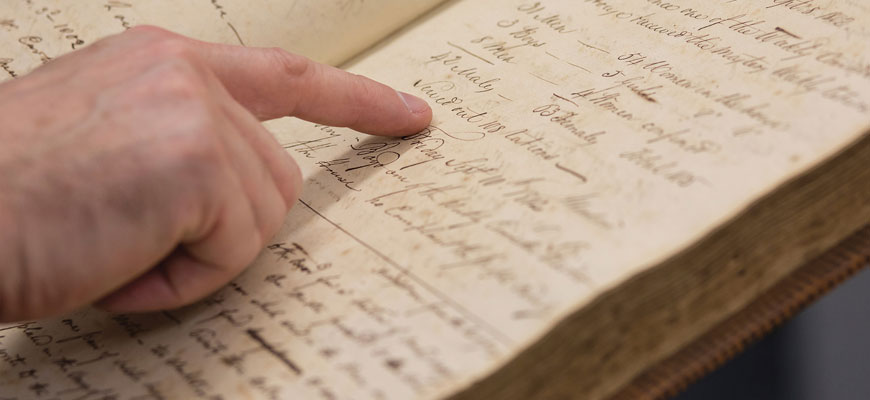 Time traveler
When alumnus Nic Butler spins yarns about historic Charleston, people listen
---
By Chris Horn,
chorn@sc.edu
, 803-777-3687
---
If you want to delve deep into the history of Charleston, you could take a guided tour of the city and, along with the steady clop-clop of horseshoes on the cobblestone streets, hear some lively stories about the coastal city's past. But if your time and money are limited, and you want only authentic and never-before-heard stories of Charleston lore, check out the Charleston Time Machine. Nic Butler will be your personal tour guide, and you won't even have to get up from your chair.
Butler got the idea for the Charleston Time Machine — the history podcast he produces at the Charleston County Public Library — a few years ago. But the genesis of his historical research began when he was wrapping up bachelor's and master's degrees in music at the University of South Carolina in the early 1990s.
"I started out with a bachelor's in classical guitar performance, and I was a decent performer, but I found that I enjoyed the history more, and digesting it and writing about it came more naturally," Butler says. So in graduate school, he studied the history of guitar music — Why does a guitar have six strings? How is this Italian guitar music different from this Spanish selection? — and planned to become a music history professor.
But even as he launched into a music history Ph.D. program at Indiana University, he found himself becoming more interested in the social history of music than in its technical roots, and that meant asking different sorts of questions: What does this type of music mean for society? Why don't we know more about America's first orchestra, the St. Cecilia Society in Charleston?
"At this point, I'm beginning to think, 'I want to do original research on all kinds of history. Do I really want to go back into the classroom and just teach music history for the next 30 years?' " Butler says.
He answered his own question with an emphatic 'No!' and when an archival job opened in Charleston, Butler landed it and immediately felt like a kid in candy store. A few years later he became an archivist, then historian of local history for the Charleston County Public Library.
Butler's public programming was immediately popular, and he launched the Charleston Time Machine as a sort of umbrella name for his public lectures. Butler's premise is that almost any archival document — including old letters and newspapers — is like a time machine. "A grandmother talking to a child about the past is a time machine, we're all time machines," he says.
Butler enjoyed producing the lecture series, but it became unsatisfying from an historian's point of view, he says. If someone missed a live lecture, there was no do-over. The content was gone.
But when the library launched a low-power radio station in 2015, it needed programming, and Charleston Time Machine morphed into a radio program and accompanying podcast, which Butler has produced nearly every week for the past year.
The premise is simple: Butler finds a topic — usually some obscure but interesting item from Charleston's past — spends a couple of days researching it, then writes a 2,000-word script.
"Once I started doing original research, I realized, holy smokes, there is so much history that no one has written up about Charleston," he says. "There are thousands of stories that haven't been told, so I don't think I'll ever exhaust the resources."
Recent topics on Charleston Time Machine include the tornado of 1811, the earthquake of 1886, correcting the Colonial calendar in 1752, how Longitude Lane in Charleston got its name, the French and Spanish invasion of the city in 1706 and the city's first Thanksgiving Day celebrations. And Butler doesn't dodge hard topics such as the city's history of segregation and its landscape of slavery.
"The intention is to facilitate a better understanding of how we got to where we are today," he says. "And also how history is done — there's no fixed narrative. We still have a lot to learn."
And Butler still has a ways to go. The historical research that started as public lectures and turned into a blog, a radio program and a podcast might have yet another iteration — a book.
"I've got several book-length projects in mind. What if I were to serialize each of them into multiple podcasts? I'd have the script for a book," he says. "That's where I'd like to head with this, providing a more robust written record on each topic. 99 percent of it is original research."
Ultimately, Butler hopes to emulate the success of Walter Edgar, UofSC's history professor emeritus, whose weekly offerings on S.C. Public Radio reach a statewide audience and beyond. Following in the footsteps of the grandmaster of state history? Not a bad strategy for someone who has already turned his passion for history into a pretty cool job.
---
Share this Story! Let friends in your social network know what you are reading about
---