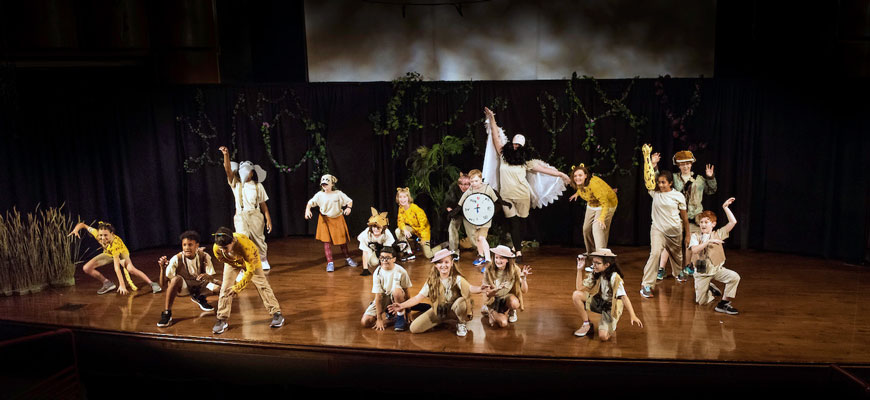 A glimpse into the future
UofSC's summer programs help students decide career paths, develop interests
---
By Ross Stevens,
mrassist@mailbox.sc.edu
---
Each summer, middle and high school students from around the world have the opportunity to get a hands-on college experience through multiple summer camps operated by the University of South Carolina.
The Carolina Opera Experience, led by the School of Music's opera director Ellen Schlaefer, gives fifth- through 10th-graders the opportunity to learn what goes into the making of a musical production.
Campers learn everything from set lighting to costume design. They work with professional-level opera singers, designers and directors to put on a performance at the end of the week.
"It introduces them to an aspect of the whole opera experience that they wouldn't have thought of beforehand," says Luke Melnyk, a counselor at this year's opera camp and a past camper. "They learn a lot about how we create music, choreography and blocking and how that all comes together. They even make their own props and costumes."
The Carolina Master Scholars Adventure Series, provides a broad range of learning experiences to rising sixth through 12th grade students. The program offers 18 unique courses over five weeks of summer.
William Hoskins, a doctoral candidate in the computer science program, leads a course where students learn how to model, animate and program their own video game.
"They are figuring out if this is something they want to do in the longer term, or maybe they're learning a skill that they didn't know they had," Hoskins says.
In the 15 years the Adventure Series has been operating, it has seen campers from 26 states and four different countries.
Silvia Atim, a chemistry professor, leads two interactive camps where students learn about the different applications of chemistry.
"It creates a little bit of passion," Atim says. "Some of them might have never thought of following a chemistry career because they have never seen so many applications. I think this camp exposes them to a lot of things."See what's been happening on and around campus this week.
University instructors teach classes in the mornings and afternoons, with time for recreational activities in between. They also partake in evening events, like bowling night, attending Columbia Fireflies games, and movie nights. Students end the camp by presenting their week-long project to the staff and parents.
While the camps are an excellent learning experience, students also have an opportunity to give back to their community.
For the 10th year, the Adventure Series is working with Carolina Gives Back. The program partners with a different local charity organization each week, giving campers and university staff the opportunity to make an impact beyond campus.
---
Learn more
To learn more about Carolina summer camps, visit the Carolina Master Scholars Adventure Series webpage and the Carolina Opera Experience webpage.
---
Share this Story! Let friends in your social network know what you are reading about
---