Back in the picture
Marcus Lattimore returns to Carolina focused on the future
Every Carolina fan knows Marcus Lattimore's story — the rise to stardom, the early life in the spotlight, how he became a recognizable athlete at age 16, then a top national recruit, then went on to earn SEC freshman of the year honors and set a Gamecock record for rushing touchdowns in three shortened seasons.
Fans know about the torn ACL and MCL, suffered in 2011, that put an early end to Lattimore's sophomore season. They know about the year of agonizing work he put in to make his body whole again, to be able to perform once more at a top level — until another hit, this one in October 2012, tore every ligament in his right knee and dislocated his kneecap.
And then the entire college football world watched as it all slipped away — the Heisman Trophy talk, the professional football career, Lattimore's chance to earn a star-sized paycheck. ESPN described him as "arguably the most talented player of his generation never to play in the NFL," his future derailed by injury.
But while football fans may know the hard facts of his rise and fall as an athlete, Lattimore himself knows something deeper. He knows how to wear both the glory and the heartache with grace, and he's using the lessons life has taught him to inspire others as the South Carolina football program's director of player development, a role he took on in January 2018.
"Those tough times, the things I've been through and the adversity I faced — people have gravitated toward that because of some of the things they are going through in their lives," the former Gamecock running back says. "Everybody goes through tough times and situations; mine was just on the stage where everyone could see it. Because mine was broadcast in front of millions of people, I've been able to use it.
"Everything that has happened in my life, whether it be the adversity or the celebrity, I try to use it, I use it for good. That time in my life has helped a lot of people."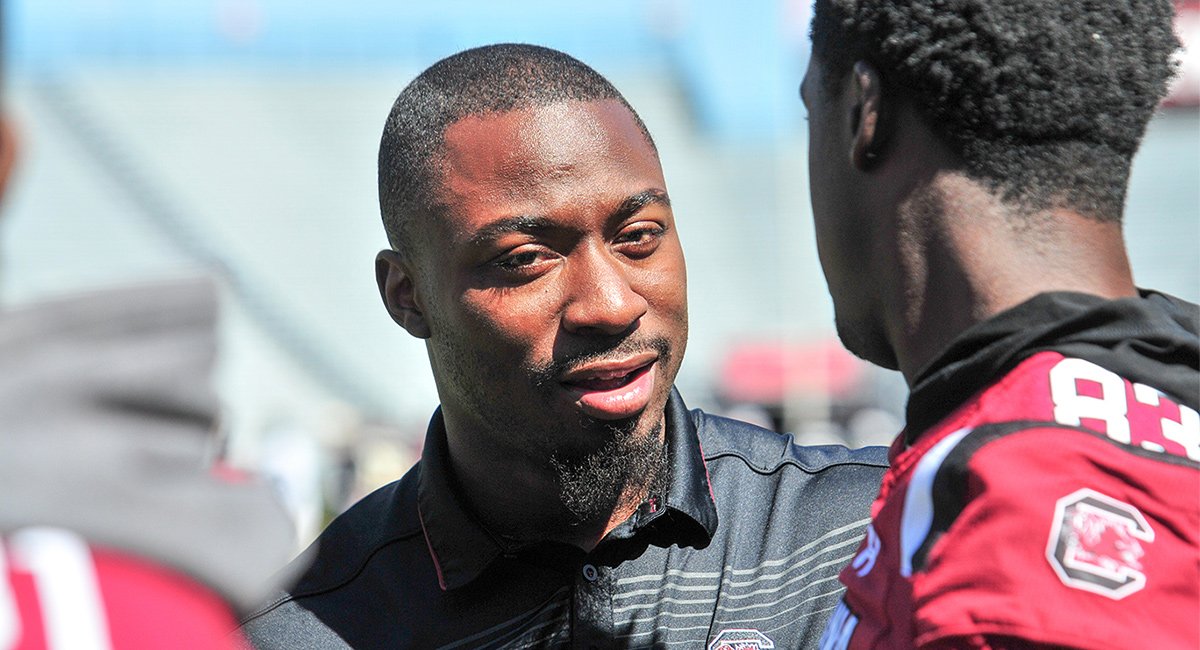 'I've walked in your shoes'
Lattimore, '16, brings plenty of perspective to his new role with the Gamecocks, not all of it relating to football. He knows something about grief, for example, having lost two of his grandparents within weeks of one another following his first knee injury. He can also talk about the importance of a college education, having returned to the classroom after a final attempt to return to football with the San Francisco 49ers fell apart in 2014.
Not surprisingly, young players like to bend his ear. The door to his office in Williams-Brice Stadium is seldom closed, and the chairs are rarely empty. He says about 70 percent of his job involves serving as a mentor or big brother to players on the football team, helping guide them through issues beyond the playing field.
He advises one player on what to consider when looking for an apartment, then listens to another who is dealing with a recent breakup with his girlfriend. One day he's giving advice to a player about how to talk with coaches about playing time, the next he's offering words of support to a player after the death of a grandmother.
"My mission is to get to know the players on the team, building that relationship. I've been at every practice, every workout," he says. "I think the trust and relationship grows organically when they see that you care about them, and that you're around, and that you don't have any hidden agenda."
Just a few months into the job, he estimated he'd had 40 to 50 players visit his office. "It's been heartwarming to see that, because they know I'm not going to go back and tell coach or tell mom or tell dad," he says. "You can trust me with anything you have, because I've walked in your shoes."
He also brings in speakers for weekly sessions on everything from financial planning to sexual assault, and he organizes mandatory community service projects for the team.
"Marcus is a great Gamecock," says head football coach Will Muschamp. "He is giving back to his school, a school where he faced both triumph and tragedy. He is making a difference every day in our players and in our university."
Shameik Blackshear is one of those players. The defensive end was highly recruited out of Bluffton High School, but injuries his senior year of high school and off-the-field issues have hampered his career at Carolina. The redshirt junior says he has sought out Lattimore for advice and an empathetic ear.



"Marcus is a cool dude. He's a guy I can talk to about what I want to do, whether it's serving the community or reaching out to others — not football stuff, but personal type things," Blackshear says. "I'm trying to work on making my people skills better, doing a better job interacting with people or in crowds. I believe what he tells me. I had some major adversity in college and at the end of high school. Talking to somebody who has been through what I have, it helps me buy in more to what he has to say."
And Lattimore recognizes aspects of his own personal experience in many of the players. He says that having someone in the role he now occupies would have helped tremendously during his own playing days.
"In football, and in all sports, you're taught at a young age to tough it out, to be hard and don't say anything, but you've got to have somebody to talk to," he says. "With this job, it's become way more evident to me that the game is mental. Every single day is a mental battle of putting positive thoughts in your mind and making sure you're healthy mentally. If you are healthy mentally, you perform better than anybody on the field because you don't have 20 pounds of stress weighing you down."
And he's been pleasantly surprised by the communication skills of the players on the team.
"When I was in the locker room, I was, by nature, an intro­vert. I was shy," he says. "Somebody had to come to me for me to address something that was going on in my life. These guys in this locker room have no shame. They'll sit down with you and talk to you and really share their heart. When I was that age, that's something I wouldn't have done. That takes a lot of courage and a lot of heart to come in here and speak with someone you really don't know, to tell them what's going on in your life. That's probably been the best part of the job."
It's hard to think of Lattimore as shy. He's been in the spotlight since he was a teenager, a football phenom coming out of Byrnes High School in Duncan, South Carolina, who was considered the nation's No. 1 tailback recruit. But Lattimore has never seen that attention as a burden. Even today — years removed from his glory days on the field at Williams-Brice — he's recognized everywhere he goes in South Carolina and willingly stops for a photo, an autograph or a conversation.
"Every interaction I have with someone is a positive one. Even with Clemson fans," he says with a laugh. "Everywhere you go, someone knows who you are. I use it to remind me that people are watching. I have to be somewhat of a role model, not just for younger kids but for older people as well. All ages and all walks of life – a lot of people are watching me. I know that, and I remember that. It's an opportunity for me to leave a great legacy of how things should be. I use it as motivation every day."
'The truth about life'
Lattimore is especially mindful of how he communicates with players on the Carolina football team, using his own story to show them the importance of making good use of their time on campus.
"Nothing in life is guaranteed, I know that firsthand," he says. "So many high school athletes — virtually everyone — has an aspiration of playing in the NFL. I hope it happens for everyone, but the statistics show it just won't. My job here is to make sure they know the truth about life and reality. I educate them on that."
That means making sure they understand the opportunities offered to them as student athletes and that they use that education to propel them in the next phase of their lives. For Lattimore, who completed his degree in public health in 2016 before taking a job as head football coach for a year at Columbia's Heathwood Hall Episcopal School, being a student athlete means getting an education — on the field, in the classroom and beyond.
"When they lay their head on the pillow at night and when they leave this university, I want them to feel comfortable in their skin and to know who they are," he says. "I want them to have life skills and know how to conduct themselves outside the football arena. We get so caught up in the football world and athletic bubble that we don't get a chance to experience life. I want them to have connections, have a network and know the importance of community service. All of that will help them in the next phase of their life."
As for Lattimore's future, he says he truly enjoys his new position and the chance he has to affect players' lives every day. He also is struck by how little he knew about what went on behind the scenes to help him succeed while he was a player.
"You went to class, you worked out, you went to practice, you went to study hall. You did exactly what coach told you," he says. "Now that I'm on the other side of things, what I've enjoyed most is seeing how much goes into it from an operational standpoint. Something as simple as practice takes meticulous planning every single day."
And Lattimore is taking mental notes, learning how things work and figuring out how to maximize his impact on both the players and the program. "I eventually see myself in a leadership role, but it probably won't be coaching, I can say that," he says. "I enjoy football, I love the game, but I think I love the operational side more — putting the pieces of a puzzle together and making it work. Those things excite me."