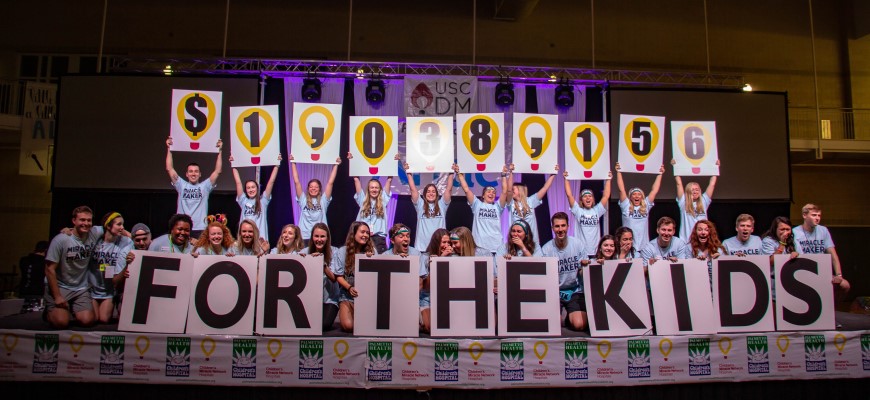 Land of a million dances
Dance Marathon tops $1 million for the second straight year
---
By Allen Wallace,
awallace@sc.edu
, 803-777-5667
---
More than 1,500 people inside Strom Thurmond Wellness and Fitness Center shouted together at the top of their lungs. Across campus at Capstone, the lights ringing the top of the building turned garnet. The sound and glow were all for people about three miles away: the kids, families and staff at Prisma Health Children's Hospital.
There was important news to share: University of South Carolina Dance Marathon raised $1,038,156 for the hospital, breaking the record set last year.
"Let's make this so loud they can hear us at the hospital," Dance Marathon president Kaity Lynch said. "Let them know there is a group of students fighting for them on a Saturday night."
"You embody the very best of Carolina. You make this the best university not in the state, that's a no-brainer, but in the whole world."

President Harris Pastides
The student organization worked for a year to raise the money, culminating with Saturday's 14-hour Main Event. The money will fund the hospital's Child Life program, designed to make hospital stays and treatments as comfortable as possible and support the kids and their families.
Perhaps just as important, many of the students visit the hospital, host events for the kids and their families and form bonds with them that last far beyond graduation. Miracle Kids, as the hospital's patients are known, have been part of weddings for several Dance Marathon alumni.
"They make it so much better, so much easier for the kids to go through everything they have to go through," says Crystal Hewitt, whose daughter Ellington was treated at the children's hospital after being born with spina bifida. "It's not just an event, it's a relationship."
UofSC's Dance Marathon has raised nearly $4 million in the past five years, completely funding the Child Life program and providing enough beyond that for other hospital projects, including a new playground now in progress, specially designed for children undergoing treatment.
"They are young entrepreneurs, but more important they are fabulous citizens," says Prisma Health Foundation president Samuel Tenenbaum. "They're taking care of the kids and it's incredible."
Dance Marathon also has become a mentoring organization, partnering with 11 local high schools to launch mini-marathons, in which the high school students raise money, see the South Carolina team's passion and become the next generation of leaders in Columbia and elsewhere.
The university students, in addition to serving countless kids and families, learn skills that will help them no matter where they go in life.
"I have grown so much as a person being in this position," says Caroline Grier, director for mini-marathons. "Not taking it all on myself has been a big thing for me, learning to work with others. I'm not going to be able to plan five minis by myself. That's why I have committee members, and they're amazing."
Student after student speaks of the confidence and skills they have gained through participating: organization, public speaking, leadership, time management — the list goes on.
Watching them inspired South Carolina President Harris Pastides in 2015 to tell that year's team that he would write a letter of recommendation for job interviews or graduate school for any one of them who asked. He and first lady Patricia Moore-Pastides attended Saturday night and expressed their admiration again.
"You embody the very best of Carolina. You make this the best university not in the state — that's a no-brainer — but in the whole world," Pastides said. "And you know why? Nobody forced you to be here. You're not getting credit for this. You're not getting paid for this. You're not going to Five Points because of this."
"Look at yourself. Individually you are regular people. Together you have power," Moore-Pastides added. "You come together in a group like this and you can really make change. Don't ever feel helpless or hopeless."
Lindsey Brown Priester and Tyler Priester very nearly lost their child when he fell into a swimming pool. He is fully healthy again now, but Brown Priester could not hold back tears when she told the students about giving him CPR and fearing he would not make it. She thanked them for their support of the hospital that saved his life.
"This is pretty amazing to see a bunch of college students do that," she said. "Keep dancing for this second chance at life, because it is so special."
Kendel Davy is a senior and a South Carolina cheerleader. In high school, she worked with elementary-age cheerleaders and visited with a girl named Riley through Riley's battle with cancer until the child passed away.
Davy has dedicated herself to Dance Marathon and to the Miracle Kids in Riley's honor, and has become especially close to Ellington Hewitt. Ellington was born with spina bifida and her parents were told she would never walk. But, she beat the odds and on Saturday night, she was walking, running and dancing all through Main Event.
Ellington, who loves cheerleading, wore a Gamecocks cheer uniform, and Davy's teammates made her part of the squad.
"Everyone deserves to be able to wear a Gamecock cheerleading uniform," Davy said later, standing on stage with Ellington beside her.
Main Event marks the end of Dance Marathon's 2019 campaign, but after a brief break, students will choose new leaders and begin the journey toward 2020 and another million dollars or more. Students interested in participating and anyone interested in donating can find more information at the Dance Marathon website.
---
Share this Story! Let friends in your social network know what you are reading about
---