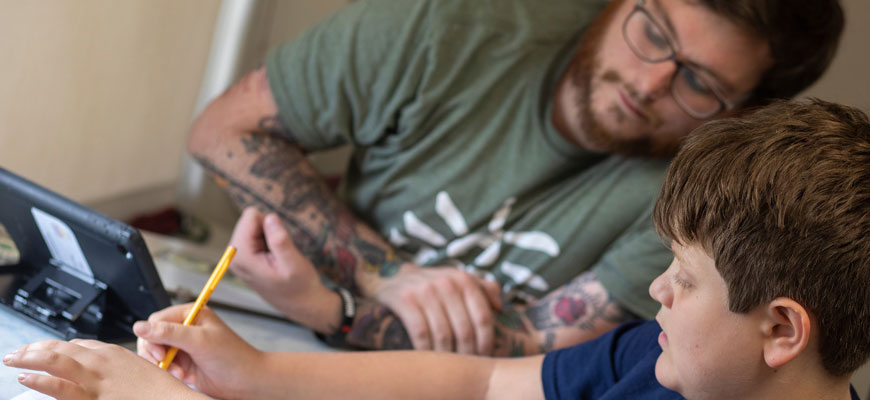 Cause for hope
2 moms' nonprofit give lifeline to families coping with autism
---
By Chris Horn,
chorn@sc.edu
, 803-777-3687
---
When Susan Sachs' son Michael was born in 1992, autism was still a relatively rare diagnosis — one in 2,500 children — and public awareness was slight.
"Michael had a normal development, he was precocious, talking early, walking early, and then, just within a matter of weeks, we lost him," says Sachs, the pain in her voice still fresh. When Sachs says "lost," she means that her happy, communicative son slipped into the abyss of autism, withdrawn and non-communicative.
At the time, she didn't know Lisa Lane, another mother in South Carolina's Upstate region. Lane's young son, Colby, would also be diagnosed with autism spectrum disorder. But both mothers learned about a therapy called applied behavior analysis, or ABA. It seemed like the only life raft in sight.
"The autism diagnosis is very traumatic, and it's frightening. When I saw ABA therapy and the potential that it could hold for my child — and I know Lisa felt exactly the same way —
I recognized in one moment that it was going to be life-changing for him. Whatever I had to do to have it, as a family we would do it," Sachs says.
Now considered the gold standard for children with autism, ABA therapy was difficult to find back then and typically wasn't covered by insurance. Sachs and Lane met while their sons were sharing the same early interventionist, and their fierce commitment to finding help for their sons soon expanded into a desire to help other families in the same boat.
In 1997, Sachs and Lane formed a nonprofit called Project HOPE Foundation to establish a preschool for children on the autism spectrum. Sachs' and Lane's education at Carolina was vital for launching and running the foundation — Sachs had earned a master's of social work in 1979 and had 10 years of corporate management experience, while Lane had earned undergraduate and master's degrees before completing a law degree in 1986.
By 2007, autism awareness had become far more mainstream — one in 59 children are now diagnosed with autism spectrum disorder — and funding became available for ABA therapy on a statewide level. The problem was still that few providers were available.
"So parents knew there was this wonderful, evidence-based, life-changing practice out there, but they couldn't find it," Lane says. "We were able to start another program under our nonprofit that would provide ABA therapy, and that has now grown to serve about 300 people every day at our six clinics across the Upstate and in Greenwood."
In fact, Project HOPE's clinics are now primary training sites and places of employment for more than 200 staff members. The daily therapy is intensive and can be exhausting, but the results are gratifying. Most children with autism who receive ABA therapy make significant, measurable progress, and nearly half of them are eventually able to mainstream into society. The number often improves if therapy starts before age 3.
When Wendy Rothermel's son Cade was diagnosed with autism spectrum disorder, her family life was upside down, punctuated by his frequent temper tantrums. A trip to Disney World ended early because of Cade's erratic behavior, and the Rothermels huddled together, unsure how to help him. They soon connected with Project HOPE, and Cade's therapy began.
There's two things that got us through this, and I'm not going to be shy about it — Project HOPE Foundation and the grace of God. Without those two, I don't know where we would be.

Wendy Rothermel
"When he started, he was doing about 30 hours a week, and this was intense one-on-one with his therapist. It was tough as a mom because I would think he was doing too much. But I'll be honest with you, the first few weeks we were able to get potty trained, and life just started changing," Rothermel says. "We still had things we had to adjust to as a family, but immediately we had results."
Seven years later, Cade graduated from HOPE Academy and started fifth grade as a mainstream student in a regular school.
"He went to camp this year for the first time," Rothermel says. "I would have never thought it possible that he would be able to go to camp and spend the night by himself with no therapist, with nobody he knows, but he did it. He took care of everything.
"There's two things that got us through this, and I'm not going to be shy about it — Project HOPE Foundation and the grace of God. Without those two, I don't know where we would be."
Not every child on the autism spectrum achieves that level of success at Project HOPE, but everyone makes progress day by day, Sachs and Lane say.
More than 20 years after launching Project HOPE, Sachs and Lane point with pride to the adult employment program their foundation supports. They're also making plans for a future residential facility for adults on the autism spectrum who need some level of social support to live by themselves. But there is still a long way to go. Project HOPE's resources are limited, and more providers of ABA therapy are needed throughout the state.
"We're constantly looking at ways to serve more families," Sachs says. "Everyone needs hope."
---
Share this Story! Let friends in your social network know what you are reading about
---