Patient-centered approach deepens medical students' understanding of addiction
2nd-year students shadow patients, learn interview techniques in summer scholarship program
---
By Alyssa Yancey,
alyssa.yancey@uscmed.sc.edu
, 407-312-2636
---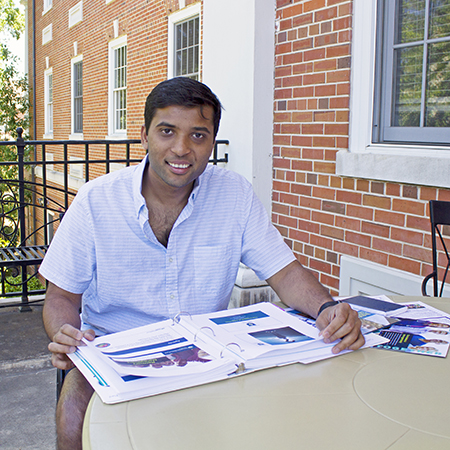 According to the Surgeon General's Report on Alcohol, Drugs and Health (November 2016), more than 20 million Americans are battling a substance use disorder, while the number of people dying from overdosing on opioids has increased to more than 130 every day.
Tarak Patel, a second-year medical student at the University of South Carolina School of Medicine Columbia, had witnessed the devastation of addiction while volunteering at hospitals and free clinics, but he only had a surface-level understanding of the complexities of the issue.
That changed earlier this summer when Patel participated in the Summer Institute for Medical Students (SIMS) at the Hazelden Betty Ford Foundation in Center City, Minnesota. The Hazelden Betty Ford Foundation is the nation's largest nonprofit addiction treatment provider. The foundation offers prevention and recovery solutions nationwide and across the entire continuum of care for youth and adults.
The weeklong scholarship program brings medical students from around the world together to learn from the leading experts in addiction studies. Patel participated in the program to gain a better understanding of addiction, in the hopes of being able to provide better care to his future patients.
In addition to educational presentations, students also shadow patients undergoing treatment at the center.
"Before I did the program, I had preconceptions about people with addictions. After getting to know my one-on-one buddy and others in the program, I understand that addiction is a complex and chronic disease that requires careful treatment," Patel says.
Students learned about motivational interviewing, a more patient-centered approach to collecting a patient's history and determining his or her diagnosis. Patel learned the value of motivational interviewing firsthand during an exercise in which he played the role of a physician interviewing a noncompliant patient.
"I asked him why he was there if he didn't want to listen, but he kept asking 'Can I leave, so I can go hunt and play golf?' " Patel says. "What they taught us was that you're supposed to take that and turn it around and ask him about his golf game. Then, he would be able to tell you that he has to urinate a lot during his game, and you could prescribe short-acting insulin that he could take before he plays.
"You have to tie your treatment plan in with their lifestyle. I was poking on all those negatives and it wasn't working, but the moment I turned it around and made it part of his life it made all the difference."
Learning about motivational interviewing and getting to know the patients at the center was eye-opening for Patel, who hopes to eventually be an emergency medicine physician.
"I realized once they get to know you, even just a little, they really open up," Patel says. "As a future physician, that's what I wanted to know. How do I approach people where they don't have any walls anymore? That was my learning experience right there. Don't just judge them, just let them speak."
Patel is already putting his new knowledge and skills to work as one of eight rising second-year students participating in a shadowing program at Lexington Medical Center aimed at exposing students to clinical opportunities earlier.
"I've only done a few shifts of my preceptorship so far, but I've already been able to use motivational interviewing and see how it might be able to keep some patients out of the hospital longer," Patel says.
A second School of Medicine Columbia student Rony Saleeb also was selected to participate in SIMS. He'll attend a session at the Hazelden Betty Ford Foundation location in Rancho Mirage, California, next month. Patel hopes he and Saleeb can present what they learned during their experiences to their classmates during a lecture in the fall.
Patel says he is thankful for the experience and the insight it gave him as he continues his medical education.
"I know a lot of times medicine is measured in minutes today, but what I learned at Hazelden Betty Ford is that taking an extra minute may be what makes a big difference in someone's life," he says.
---
Share this Story! Let friends in your social network know what you are reading about
---