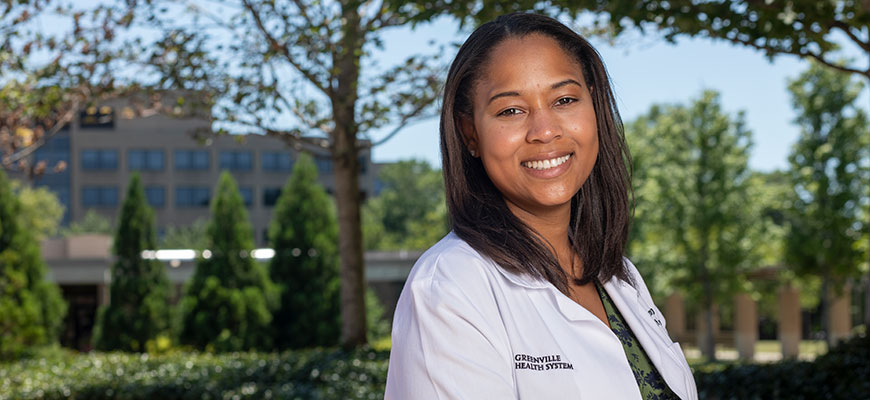 Leap of faith pays off for Greenville medical school graduate
Experiential focus leads UofSC School of Medicine Greenville to enrollment growth, impact on health
---
By David Lee,
leedh4@mailbox.sc.edu
, 803-777-7548
---
As Dr. Kizer Stovall walked the unfinished halls of the University of South Carolina School of Medicine Greenville, she wondered whether it was the right place to pursue her goal of being a physician.
"I remember walking through halls not even built yet," Stovall says. "There was drywall in some places. I wore a hard hat. I was thinking, 'What am I getting myself into?'"
After conversations with faculty and staff, however, the aspiring physician saw her future through the protective glasses worn at the construction site.
"It was the first interview where I wasn't just a number," she says. "I felt like I was a future physician trying to serve a community. It felt wonderful."
Now, Stovall is on track to accomplish her goals and improve the health of South Carolinians. The Columbia native, who earned her undergraduate degree from the South Carolina Honors College, is a part of the first School of Medicine Greenville class to complete residency. She finished in June and is set to join Prisma Health­–Upstate, which partners with the four-year school to provide comprehensive medical education to students. She's joining Prisma Health­–Upstate, Internal Medicine Associates in Greenville as a general practitioner in outpatient primary care.
Founding Dean Dr. Jerry Youkey, who is retiring in September in a transition to newly announced Dean Dr. Marjorie Jenkins, notes that several students completing residency are staying in the Greenville area.
They're "functioning at a high level," Youkey says. "They leave here well-prepared."
Bolstering the physician workforce was an early goal for the school when it began in 2012. Those efforts are already bearing fruit with students completing residencies in the area and staying to provide medical care to the next generation of South Carolinians.
It's so unique to have such a voice in your curriculum. They really cared about the hands-on experience.

Kizer Stovall
Stovall's growth as a future physician coincided with the school's development, from the early hard-hat visits in a new building to donning her white coat in front of the same place others are now vying to attend.
While Stovall worked toward completing a medical degree and residency, the School of Medicine Greenville was busy growing its class sizes to provide premier medical education and training. The school's inaugural class included 53 students; it has since grown to more than 100 per class. The school has also celebrated a 100 percent residency placement rate since conception.
"The school has been successful beyond my expectations," Youkey says.
Youkey attributes the unique curriculum for much of the school's rapid growth and student success.
The road map begins with an introduction to core clinical skills in EMT training and students passing required exams to receive EMT certification. Through this training, students begin their career as an active member of an interprofessional health care team.
The School of Medicine Greenville is also the first medical school in the country to fully incorporate education in nutrition, physical activity, behavior change and self-care into all four years of its undergraduate curriculum. In addition, there are numerous student interest groups that further enhance medical education while impacting the health care of communities.
For Stovall, the newness of the School of Medicine Greenville turned out to be a distinct advantage — enabling her to help shape her experience.
"Here, they said they had a plan and we were at the center of it," Stovall says. "It's so unique to have such a voice in your curriculum. They really cared about the hands-on experience."
Stovall's leap of faith proved wise and beneficial to her, the school and Prisma Health–Upstate. The school and health care system have put her on the path to serving her community in an impactful way.
"It was the best choice in my career, coming to Greenville," she says. "In my mind, when I was looking at a medical school, I knew it'd be incredibly hard and difficult. I wanted to pick a place where I had family away from home.
"That stayed true the entire time I was there. It's still true now. It was like meeting your new family. They help you along the way to make sure you're the best doctor you can be."
---
Share this Story! Let friends in your social network know what you are reading about
---