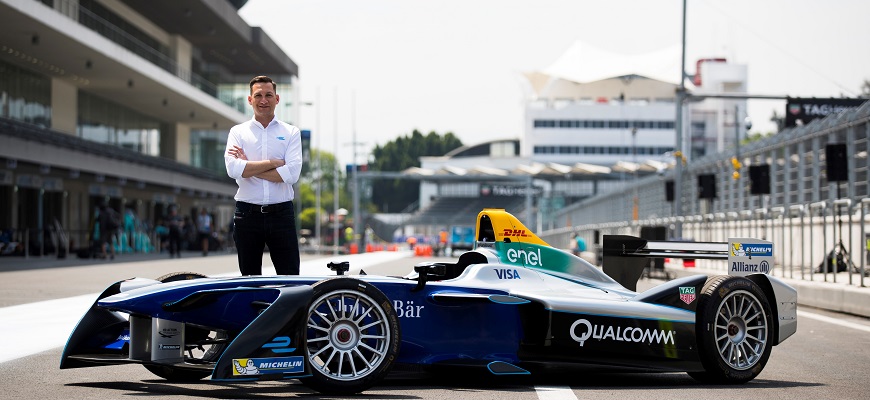 Gamecock grad entertains the world — one arena at a time
'98 grad Sam Piccione returns this month to the campus where his high-flying career got its start
---
By Bryony Wardell,
wardellb@mailbox.sc.edu
, 803-777-6491
---
From stadiums in Shanghai to arenas in Atlanta, millions of people around the world share sport and live entertainment experiences brought to life by the world's leading moment makers. The roar of a game day crowd or excitement from the seats of a sold-out show reverberates in the hearts and minds of fans. These are the types of experiences that lifelong memories, family traditions and cross-cultural communities are built upon.
Behind the bright lights, beyond the stage, Oak View Group has built a global family of companies that have become known as the leading force in the sport and live entertainment industry. It takes commitment and experience to lead one of those divisions – something University of South Carolina alumnus Sam Piccione III knows firsthand.
"I came to South Carolina because of the faculty. Dr. Tom Regan and Dr. Guy Lewis were deciding factors for me."

-Sam Piccione III, president, Oak View Group International
Piccione, president of Oak View Group International, never imagined moving from Columbia to Los Angeles then to China and finally across the pond to London before the age of 40. But the sports and live entertainment industry is truly global for Piccione as his 20-year career has taken him to 41 countries so far.
"Our industry is so connected and growing every day," says Piccione. "I feel very fortunate to have a career in sports and live entertainment that has put me in the middle of historic events, epic venues and unforgettable memories over the last two decades."
Based out of OVG International's London headquarters, Piccione is tasked with building the company's team and global footprint in the UK, Europe, Middle East and Asia. That footprint is made in the form of landmark arenas and venues in capital markets around the world.
"These arenas are bigger than their square feet and number of seats. They are heroes that host everyone's favorite content," says Piccione. "They provide a sense of place in the community; filled with a city's most exciting moments and serving as pillars for tourism and economic growth."
Oak View Group was founded in 2015 by Tim Leiweke and Irving Azoff, two of the live entertainment and event industry's most influential executives, to create a positive disruption to business as usual in the music, sports and live entertainment industry.
Oak View Group is now leading arena development projects in Milan, Italy; Seattle, Washington; Belmont, New York; The University of Texas in Austin and in Palm Springs, California. The company recently announced its interest in a potential new arena with Manchester City Football Club at the Etihad Campus in East Manchester.
Originally from New Jersey, Piccione was the first member of his family to graduate college and followed his passion for sport and entertainment management to South Carolina.
"I came to South Carolina because of the faculty," says Piccione. "Dr. Tom Regan and Dr. Guy Lewis were deciding factors for me."
That decision, along with a lot of hard work and drive to innovate positive change, has paid off with pivotal career milestones that have led Piccione to his current role in London.
"My first big milestone was getting hired full time at the Angels baseball team from an internship and being part of the club when they won their first World Series in 2002. Second was moving to China sight unseen in 2008 for the Beijing Olympic games."
China would prove to be a life-changer personally and professionally for Piccione, who met his wife in Shanghai and built a new industry market there in five years, including selling two naming rights deals.
"Third was moving to London in 2013, which delivered substantial European experience while closing two more naming rights deals in Berlin and Paris."
From there, Piccione joined the FIA Formula E Championship at the start of Season 2 as the organization's first chief commercial officer. "Being part of such a meaningful sports property, which has positively impacted the world, and getting to work with some of the most passionate and hard-working people I have ever met was incredibly rewarding and set the stage for my next step."
In 2018, Piccione reunited with his former boss and mentor Tim Leiweke to help launch the international division of OVG. The two worked together previously at AEG.
"We are a positive disruptor in a very predictable industry of arena development, and we're embarking on over $4 billion in new arena development in capital markets around the world at the same time," says Piccione. "I tend to gravitate to 'never been done before!'"
While that type of work schedule is demanding, Piccione returns to his alma matter when he can — supporting the program's impact on entrepreneurship and visionary leadership in South Carolina's capital city. He is the keynote speaker for the Thomas H. Regan Executive Lecture Series this fall — an event named after the same professor who started Piccione's academic journey at South Carolina. The event is free and open to the public and will take place at 5:30 p.m. Sept. 12 at Capstone Conference Center.
---
Share this Story! Let friends in your social network know what you are reading about
---