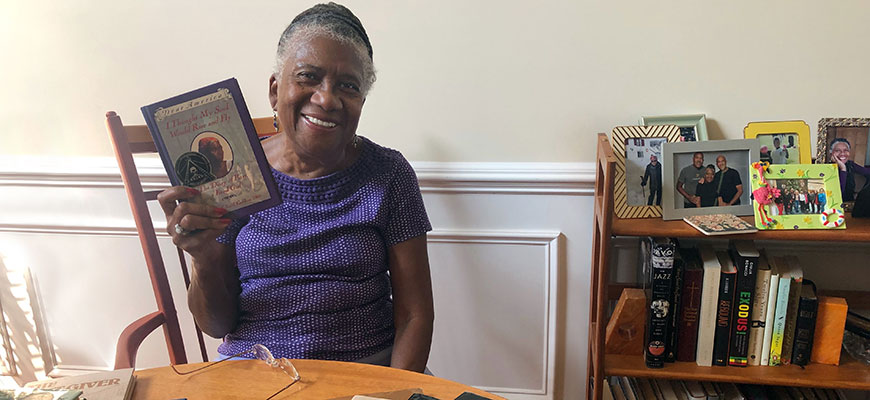 Award-winning SC author Joyce Hansen featured at Fall Literary Festival
Event brings trio of writers to campus, including James Ellroy, Li-Young Lee
---
By Annika Dahlgren
---
What was your favorite book growing up? You might think of The Magic Tree House series, Junie B. Jones series or The Boxcar Children series. When Joyce Hansen, an award-winning young adult author, was learning to read, she and her mother picked up Alice and Wonderland and read it over and over again. Those early reading experiences inspired her passion for storytelling, a joy that turned into a career.
A native New Yorker, Hansen set the scene for her stories in the city. She has published short stories and 16 books of contemporary and historical fiction and nonfiction specializing in African American history for younger readers. The four-time Coretta Scott King Honor Book Award winner wrote the books Which Way Freedom, The Gift-Giver and I Thought My Soul Would Rise and Fly.
"When I was a child, I saw no books with children who looked like me or who even lived in a city. We learned to read from the Dick and Jane books, set in a generic suburbia with their little dog Spot," Hansen says. "Fortunately, I loved books and stories before I knew how to read because my mother read to me. So little blue-eyed Dick and Jane didn't disturb me too much. I was learning how to put those letters together and read those simple words on my own. That's what fascinated me."
Hansen, who now lives in Lexington, South Carolina, will be featured at this year's Fall Literary Festival, an annual event that celebrates great writers, readers, fans and friends. It is a partnership between University Libraries and the English department in the College of Arts and Sciences. Hansen will read at 6 p.m. Oct. 29 in the program room in the Ernest F. Hollings Special Collections Library, which is entered through Thomas Cooper Library. She will be joined by authors James Ellroy, speaking Wednesday (Oct. 16), and poet Li-Young Lee, speaking Oct. 22. Ellroy wrote international bestsellers The Black Dahlia, The Big Nowhere, L.A. Confidential and White Jazz, three of which were adapted for film. Lee wrote five critically acclaimed poetry books including The Undressing, Behind My Eyes and a chapbook The Word From His Song.
Hansen will speak about her writing process and what compelled her to write several of her books. She hopes her discussion encourages people who want to write to follow their passions, especially those interested in children's books.
"The words come first — whether it's a new invention, an archaeological discovery, an idea for a movie, an opera or lyrics of a song. Things will be described and written about before they become a reality," Hansen says of her writing process. "Telling stories never grows old. Our species requires stories. There will always be a place for writers somewhere on the planet, despite changes in the publishing industry.
"In the end we have to sit down and write. We have to be brave enough to write and fail and try and write again until we have some understanding about writing and about ourselves. A famous writer once said that writing is the most self-taught of all of the arts."
Hansen's current project is an adult book about her father who was a photographer in Harlem. His story will be told through his photographs that capture the people and events of Harlem dating from the 1940s to the 1980s.
University Libraries connect people with books, collections, ideas and other people in the community. The Fall Literary Festival is an opportunity for the community to participate in author discussions that advance social and cultural understanding.
---
Share this Story! Let friends in your social network know what you are reading about
---