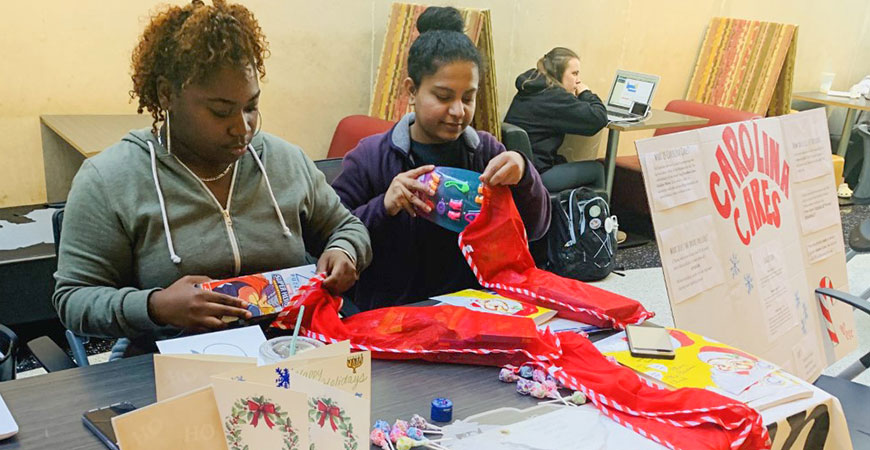 UofSC students spread holiday cheer through giving
Get in the spirit of the season with projects, events on campus
---
By Josh German,
jgerman@email.sc.edu
---
As students and faculty prepare for winter break, the approaching holidays mean more than just a break from classes for the members of the Carolina Service Council. This season is one of the most active times of the year for the organization as they participate in multiple service projects to spread holiday cheer through Carolina Cares.
Started at the University of South Carolina 51 years ago, Carolina Cares began with members of student government who wanted to hold a toy drive for the community. This initiative evolved over the years into what is now an annual event held by the Carolina Service Council.
Now the council partners with Salvation Army of the Midlands and is its largest stocking supplier. These holiday stockings include letters, gifts and treats that are handed out to children throughout the Midlands. Events director Tori Gilliard uses this opportunity to challenge herself to help give back as much as she can.
"Last year, we had over 500 stockings with an average of about 10 toys each, so you can just imagine how many boys and girls were able to have a great Christmas," Gilliard says. "That's what really draws me. It's not just a food drive; it's not just a toy drive. It's more than that because you know that it's going to these children and that they kind of rely on you for that special feeling."
As director of events for the Carolina Service Council — in only her second year at UofSC — Gilliard uses her passion for service to create an open environment where students come together to make a difference in the community that surrounds the university.
"I started in Carolina Service Council my freshman year, and I think the reason that I'm director of events this year is because I was such a huge advocate for Carolina Cares last year. I just really got involved with it," she says.
Carolina Cares has allowed Gilliard to continue her dedication to service, which started in high school, and to have a direct impact in the community.
"I've always worked with the elderly or with the sick, and I've been to plenty of hospitals," Gilliard says, adding that working with kids is a new rewarding opportunity.
Gilliard traces her love for community service to her childhood and the example set by her parents. She recalled one of her yearly family vacations to Turks and Caicos where her parents made sure that before they left the islands, they donated books to a local ministry and the community around it.
"I would ask my mom 'Mommy, why am I giving away my books?' At the time, I just didn't get it," Gilliard says. "I had the privilege of going and staying at this resort, going to the beach and zip lining — all those fun things — but my mom and dad made sure to let us know that, 'Yes, we're going to do that, but we're also going to share some of those benefits with others.' That's that balance that I think everyone should have."
Gilliard, who is from New Jersey, says she wanted to continue her background of community service during her time at UofSC.
"I knew if I was going to spend four years here, maybe five, I wanted to get involved," she says. "I want to know about the community. I want to know the people. I want to know what the issues are going on and make an impact."
Being a student brings its own set of obstacles to navigate. From exams, projects and career aspirations, to finding yourself and your passions, being a student is more than simply taking classes. For Gilliard, service is just as valuable as the other responsibilities that being a student requires.
"The whole point of our organization is that people can come in and express the need in the community, and then we, as an organization, can come up with different ways that we can give back," Gilliard says.
The Carolina Service Council does service projects throughout the year. The organization takes monthly trips to the Ronald McDonald House to make dinner for families of children in the hospital. They also feed the homeless at Finlay Park every Wednesday and members volunteer with Habitat for Humanity.
"It's so easy, in college especially, to get caught up in your own mess, your own issues — finals and friendships and relationships," Gilliard says. "I just think there's just so much that you kind of just push aside when we get so caught up in our own lives, and I like to remind myself that it's just more life out there and that we need to take care of each other."
Help stuff a stocking
The Carolina Service Council is accepting donations for the stocking drive through Dec. 3. Anyone who wants to help can check out a stocking 11 a.m. to 2 p.m. Monday through Friday in the second floor lobby at Russell House. Monetary donations are also accepted via cash, check or Venmo (usc_csc). All funds are used to buy toys for the stockings.
---
More ways to get in the holiday spirit on campus
Christmahannakwanizka
7 p.m. Dec. 3 in Russell House Ballroom A
Chrismahanukwanzika, sponsored by the Office of Multicultural Student Affairs, is a celebration of international religious and cultural traditions through music, food and fun.
65th Annual Tree Lighting Ceremony
6 p.m. Dec. 5 on the Horseshoe
The annual UofSC Tree Lighting will wrap up the fall semester as the South Carolina community heads into the holiday season.
UofSC Concert Choir Christmas Concert
Dec. 6 and 8
The university's premier choral ensemble presents its final concert of the semester at 7:30 p.m. Dec. 6 at Shandon Presbyterian Church (607 Woodrow St., Columbia) and at 6:30 p.m. Dec. 8 at St. Joseph Catholic Church (3512 Devine St. Columbia). The concert program features canticles and carols for the Christmas season. This performance that has been a beloved tradition in Columbia for more than 50 years.
Nature of Winter with Rudy Mancke
Noon Dec. 10 at McKissick Museum
Join McKissick Museum for the winter installment of our popular lunchtime lecture series with Rudy Mancke. Visitors are encouraged to bring objects of interest (no live animals) for Mancke to examine.
---
Share this Story! Let friends in your social network know what you are reading about
---