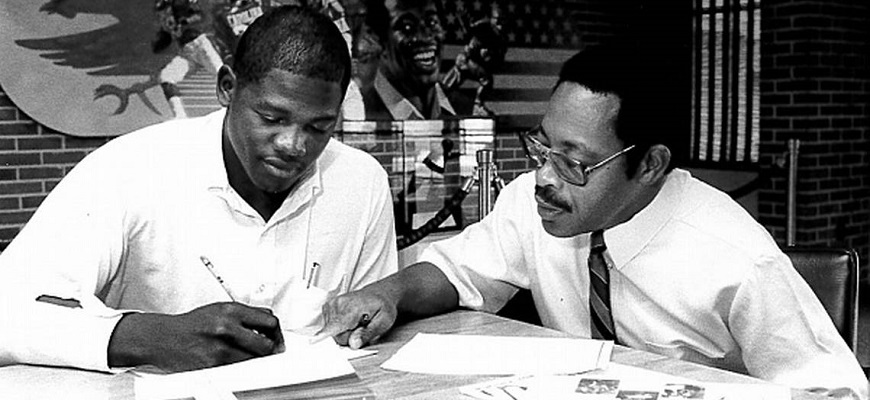 Scholarship honors legacy of UofSC's first African American football coach
---
By Allen Wallace,
awallace@sc.edu
, 8037775667
---
Almost a year has passed since Coach Harold White died, but his impact lives on. As author Chuck Palahniuk wrote, "The goal isn't to live forever; the goal is to create something that will." Coach White helped make many touchdowns happen in his life, but hitting that final goal was the most important of all.
White, the first African American football coach at the University of South Carolina, came to the Gamecocks as a football graduate assistant in 1971. He eventually became the university's senior associate athletics director for academic support and student services and remained in that position until his retirement in 2007. He knew and loved football, but the game was never his first priority.
"Education is of the utmost importance in our family," says Lilly White, Harold White's widow. "The opportunity to help someone further their education is just a joy. Harold was really, really into it."
"If it wasn't for him, a lot of us players wouldn't have made it. He was our heart."

George Rogers
"Coach" became part of White's name and remained so even after it was no longer his official title. It was a term of respect from all who knew him, and a symbol of the role he played, helping countless students make the most of their opportunities in the classroom.
"He was my shadow," says College of Hospitality, Retail and Sport Management alumnus and Gamecocks football legend George Rogers. "If it wasn't for him, a lot of us players wouldn't have made it. He was our heart."
After his retirement, the Harold A. White Scholarship was established to assist students pursuing graduate degrees in sport and entertainment management at South Carolina. Nothing could have pleased the coach more.
"He was just tickled pink when he retired and they decided to set this up in his honor," Lilly White says. "He came to an event one day and there was a parent there who came over and said 'You're Harold White. I've been wanting to meet you. My son has your scholarship.' Oh, that made his day."
The scholarship remains in place after Coach White's passing. Lilly White returned to campus in October 2019 for a luncheon with HRSM scholarship donors and recipients, and met Jessica Rademacher, a graduate student in her final semester who was helped by the coach's legacy.
Rademacher never had an opportunity to meet Coach White, but she was able to express her gratitude to his widow. She spoke of the challenges of making ends meet as a grad student and how the scholarship helped make it possible for her to earn her degree.
"Whatever I couldn't cover on my own, I knew I had that extra money," Rademacher says. "I didn't have to call home and ask."
Rademacher interned with Gamecock athletics while finishing grad school, and with her master's degree completed in December 2019, she will carry White's legacy into her career in sport and entertainment management.
Another recipient of the Harold A. White Scholarship, Evelyn Susana Jara-Pazmino, followed White into a career working with college students. She is now an assistant professor of sport management at the University of West Georgia.
"We appreciate the support of Coach White and his family and the lasting impact this gift has on our students," says Matt Brown, chair of the sport and entertainment management department. "Coach White stressed education and helped numerous student-athletes while at South Carolina. Through his generosity, students in our program continue to be impacted by his legacy."
In tribute to White's impact and legacy, a fund has been established through the Athletics Department for the Harold White Naming Opportunity Memorial, with a goal of raising $100,000.
---
Share this Story! Let friends in your social network know what you are reading about
---